A9-M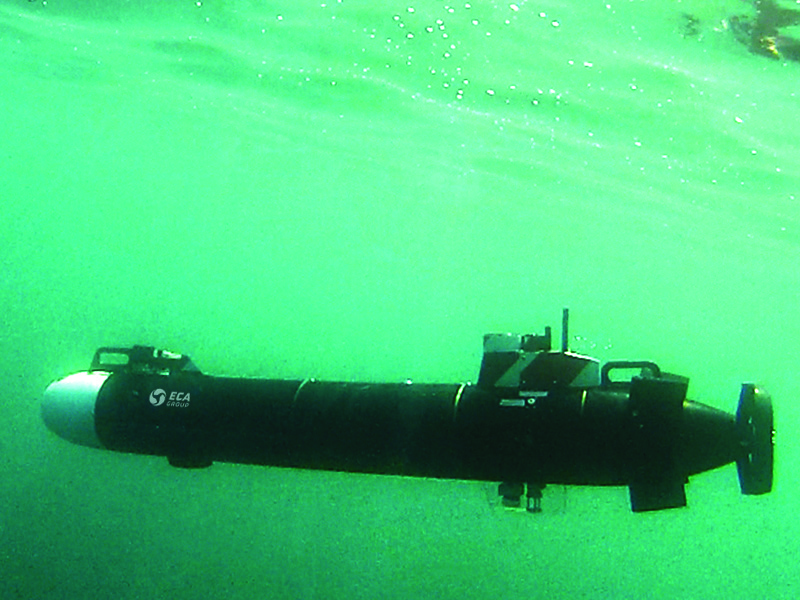 Photo courtesy of ECA Group
The A9-M is a man-portable autonomous underwater vehicle developed by France's ECA Group.  The vehicle is designed with reduced magnetic and acoustic signatures to minimize the risk while conducting mine detection and identification missions.  The UUV can travel at speeds of up to 5 knots and has an endurance to 20 hours.  The A9-M weighs 70 kg allowing it to be launched from a cradle on a small craft.  It is equipped with a high resolution side-scan sonar, video camera, and inertial navigation system.
The A9-M is a component in ECA's "MCM Mission Module for Coastal Mine Warfare."
ECA Group Awarded Contract for Mine Counter Measures AUVs
9 October 2015 - ECA Group has been awarded a new contract for the delivery of two, man portable Autonomous Underwater Vehicles (AUVs) A9-M for an amount over 1 million Euros.
ECA Group has been awarded a new contract for the delivery of two man portable Autonomous Underwater Vehicles (AUVs) A9-M for an amount over 1 million Euros. Successfully used by the French Navy and several others since 2013, the A9-M will quickly join a NATO Navy.
This AUV solution developed by ECA Group, is specifically designed for underwater survey and in particular for Mine Counter-Measure (MCM) operations in shallow and medium water.
The A9M can be used as a standalone system with its own mission management software. It can also be integrated in a more comprehensive robotic system able to fulfill all MCM operations. This MCM robotic package, fully developed by ECA Group, combines the A-9M AUV for mine detection and classification, SEASCAN MK2 ROV for mine identification, K-STER C for mine neutralization, and the UMIS (Unmanned Mine Counter Measure Information System) mission management system dedicated to MCM.
ECA Group to Develop AUVs for French-UK Mine Countermeasures
11 April 2015 - ECA Group is a partner in the Maritime Mine Counter Measures (MMCM) program, which the European Union defense agency awarded to Thalès (in partnership with BAE Systems) on 27 March 2015.
Aimed at the British and French navies, this programme will develop a prototype autonomous system for the detection and neutralisation of sea mines and underwater improvised explosive devices. The programme comprises three stages, two of which are optional. In the first stage, which represents several million euros and should be completed in 2015 and 2016, ECA Group will design the Autonomous Underwater Vehicles (AUV) and its Launch and Recovery System (LARS).
ECA Group has filed several patents for the latter system, which falls under its areas of expertise. The systems will be manufactured and delivered during the following stages of the programme, which represent more than €10 million. They will enable the French and British navies to perform operational assessments. ECA Group's participation in this programme confirms its leading position - worldwide and especially in Europe, over a period spanning more than 30 years in the unmanned neutralisation of underwater mines. 
ECA Group's range of mine countermeasure AUVs includes the A9-M, A18-M and A27-M. This comprehensive and complementary range of vehicles carrying the various sensors required to detect, identify and locate mines can operate in shallow water and in the deep sea. The autonomous underwater vehicle designed for the MMCM programme will be derived from the A27-M, the largest AUV in the range. It will include the most recent SAMDIS sonar from Thalès. The LARS will enable this AUV to be launched in the most challenging sea conditions from non-specialised vessels.

comments powered by