Remote Environmental Monitoring Unit System (REMUS)
The REMUS Autonomous Undersea Vehicle (AUV) was first developed in the late 1990s for the Woods Hole Oceanographic Institute by Hydroid, a subsidiary of Kongsberg Maritime. The man-portable class 36 kg REMUS 100 AUV is used by the U.S. Navy for shallow water mine countermeasures (MCM) and hydrographic reconaissance. The Japanese Defense Ministry operates four of the REMUS 600 meter variants and one REMUS 100 for seafloor mapping and MCM.
At least three variants of the REMUS are in service in the U.S. Navy:
MK 18 Mod 1 Swordfish UUV -
Based on the REMUS 100, the Swordfish is designed to Search, Classify, and Map (SCM) the Very Shallow Water (VSW) Region (10‐40 ft). The Navy has a total of 24 Swordfish vehicles: EOD Mobile Unit 1 San Diego, CA : 4 Systems (12 Block A Vehicles), Mobile Diving and Salvage Unit 2 (MDSU‐2), Norfolk, VA: 1 System (3 Block A Vehicles), Naval Oceanographic and Mine Warfare Command (NOMWC), Stennis, MS: 3 Systems (9 Block B vehicles)

MK 18 Mod 2 Kingfish UUV -
The Kingfish is based on the REMUS 600 and has increased area coverage rate (ACR), increased endurance, and will serve as a platform for advanced sensors. The Kingfish Small Synthetic Aperture Sonar Module (SSAM) configuration provides wider swath, higher resolution imagery, and buried target detection.
In July 2012 the U.S. Navy deployed the first wave of Mk 18 Mod 2 Kingfish UUVs to the Middle East for search, classify, and mapping missions.  The user operational evaluation system (UOES) period was executed to develop MCM concepts of operations and integrate with other MCM assets in theater In February 2013, additional Kingfish UUVs arrived in the FIFTH Fleet Area of Responsibility. A final tranche was deployed in October 2013. 
The U.S. Navy currently operates Kingfish with contractors, but the systems will transition to military operation by September 2015.
Littoral Battlespace Sensing (LBS UUV) - 
Also based on the REMUS 600, U.S. Space and Naval Warfare Systems Command (SPAWAR) in San Diego has ordered three LBS UUVs for environmental surveys of ocean, coastal, and inshore waters. 
The Remus 600's 5.2-kilowatt-hour rechargeable lithium ion battery enables the UUV to operate for up to 70 hours on a charge at speeds of 5 knots to a depth of 1,970 feet.

Latest News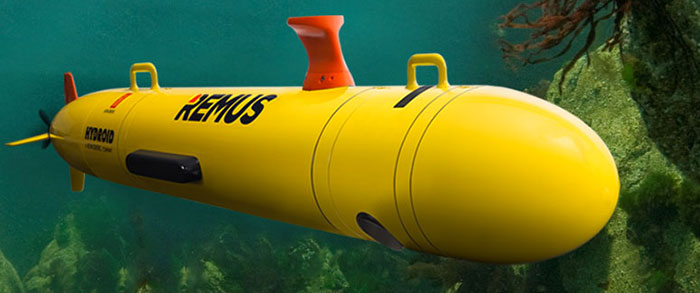 Hydroid Introduces the New Generation REMUS 100 AUV
15 March 2016 - Hydroid has announced the release of the New Generation REMUS 100 AUV. The autonomous underwater vehicle features advanced technology and capabilities that are the first of their kind in the industry, enabling customers to have increased autonomy and creativity during missions.
The New Generation REMUS 100 AUV combines the reliability of the original REMUS 100 AUV that customers know and trust with new features and capabilities, such as advanced core electronics, a flexible navigation suite with an exclusive conformal Doppler Velocity Log (DVL) and an open architecture platform for advanced autonomy. The vehicle was created over a period of two years, and is designed based on feedback from the world's largest AUV user community.
"The New Generation REMUS 100 AUV has impressive capabilities not previously seen on a man-portable vehicle," said Duane Fotheringham, president of Hydroid. "We are confident that we have created a vehicle that fulfils our customers' needs for leading technology, while maintaining the core offerings of the REMUS brand they have trusted for years. Thanks to the New Generation REMUS 100, we are continuing to pave the way for future unmanned underwater technology."
Design upgrades
Advanced Core Electronics: The New Generation REMUS 100 features cutting-edge core electronics designed to replace not only the previous REMUS mother-board but also the CPU stack, emergency board and six serial cards. The new core electronics board is smaller and lighter than the components it replaces, and it uses an ARM + FPGA architecture that makes it both potent and versatile while consuming less than 5W of power — about 25 percent of the power required by the earlier version.
Flexible Navigation Suite: The New Generation REMUS 100 includes an exclusive conformal design, phased array transducer 300kHz DVL in the rear of the vehicle. This design significantly increases bottom-tracking range to improve overall navigation performance. In addition, the REMUS 100 will now be available with a choice of inertial navigation system (INS) to suit each customer's navigation needs and budget.
High Capacity Battery Pack: Equipped with two or three (depending on the model) of Hydroid's latest 18650 Li-Ion based packs, the New Generation REMUS 100 AUVs will carry more energy than ever before. The packs use 3.2Ah Li-Ion cells and have the same electrical configuration as the REMUS 600 pack currently in use.
Modular Elliptical Nose: The redesigned elliptical nose on the New Generation REMUS 100 can reduce drag by 20 percent. In addition, it's acoustically transparent, so that the acoustic communications (ACOMMS) transducer can be relocated inside the nose. Because the new nose uses the same modular interface on the existing REMUS 100, it can be easily integrated on both current payload modules and the New Generation REMUS 100.
Open Architecture: The New Generation REMUS 100 expands on existing REMUS capabilities by adding an open architecture platform for advanced autonomy making the vehicle more versatile. This platform is realised with a publish subscribe database based on a Robotic Operating System (ROS) on a second processor. The new REMUS "front seat" performs control functions using well-tested, reliable proprietary control software. The "back seat" performs mission tasks, such as side scan sonar data logging and extensibility using Hydroid, customer or third party applications.
The New Generation REMUS 100 is designed so that customers with existing payload modules can have them easily transferred to the new model. Hydroid will continue to support the original REMUS 100 vehicle for customers by request.
US Navy Submarine Returns from Deployment with REMUS 600
25 July 2015 - USS North Dakota (SSN 784) returned on the 20th of July from a two-month deployment to the Mediterranean Sea, where she deployed the REMUS 600 unmanned underwater vehicle.  The UUV was launched and recovered from a dry deck shelter attached to the hull of the Virginia Class submarine.
Navy Includes LBS-UUV on Unfunded List
3 April 2014 - In a letter to the Chairman of the House Armed Services Committee, Representative "Buck" McKeon, the Chief of Naval Operations requested $6 million for the Littoral Battlespace Sensing Unmanned Underwater Vehicle (LBS-UUV) on the Pentagon's Fiscal Year 2015 Unfunded Priorities list.
The unfunded requirements list, sometimes referred to as "UFR," contains items that did not make the budget submissions of the services and combatant commanders.  Admiral Greenert notes that "while the investments presented here are important, they are not of a higher priority than items in our PR-15 budget submission."  Based on Hydroid's REMUS 600, the Navy wants the LBS UUVs for environmental surveys of ocean, coastal, and inshore waters. The list also included $9 million for a related program, the Persistent Littoral Undersea Surveillance Network (PLUSNet). 
Navy Awards Hydroid REMUS Sustainment Contract
11 November 2013 - The Naval Surface Warfare Center (NSWC) Indian Head Explosive Ordnance Disposal Technology Division in Indian Head, Maryland announced an award totaling $26.2 million to Kongsberg Maritime's Hydroid subsidiary.  The contract will support the Navy with training, maintenance, and upgrades to the MK 18 Mod 2 Swordfish Unmanned Underwater Vehicles, which are based on Kongsberg's REMUS 600.  The contract runs through September 2018.
U.S. Navy Acquires more REMUS Unmanned Underwater Vehicles
19 September 2013 - Naval Sea Systems Command, Naval Surface Warfare Center, Indian Head Division has announced a sole source contract to Hydroid to acquire up to $36.5 million in REMUS unmanned underwater vehicles and repair parts.  The Navy will purchase an undisclosed number of both the MK 18 Mod 1 Swordfish (based on the REMUS 100) and MK 18 Mod 2 Kingfish (based on the REMUS 600) for very shallow water (VSW) and shallow water (SW) mine countermeasures (VSW MCM).
---
Polish Navy Selects REMUS 100
1 June 2013 - The Polish Navy has contracted to purchase two REMUS 100 systems intended for harbor defense missions. These systems will be the first autonomous underwater systems used by Poland's Navy, which up to now has used remotely operated vehicles from  "Flaming" class mine-hunters which had been converted from domestically built minesweepers.   These UUVs will be used protect the Naval Bases in Gdynia and Swinoujscie.
---
Kraken Completes Successful Sonar Trials with  REMUS AUV
ST. JOHN'S, NEWFOUNDLAND – 17 May 2013 – Kraken Sonar Systems Inc. announced today that a Cooperative Research and Development Agreement (CRADA) with the U.S. Navy's Naval Undersea Warfare Center (NUWC) in Newport, Rhode Island was a complete success.
---
U.S. Navy Adds to REMUS Fleet
21 April 2013 - The Naval Undersea Warfare Center (NUWC) in Newport, Rhode Island will acquire another REMUS 100 unmanned underwater vehicle from Hydroid, Inc. NUWC, the U.S. Navy's primary research and engineering center for underwater and submarine warfare, will add the man-portable vehicle to its existing fleet for continued research and testing.
German Navy to Purchase Six REMUS AUVs
3 October 2012 - Koblenz Germany's Federal Office of Defence Technology and Procurement (BWB) has announced the purchase of six REMUS 100 autonomous underwater vehicles. The system had been extensively tested on the Baltic Sea with the Technical Center for Ships and Naval Weapons, Marine Technology and Research (WTD 71) in Eckernförde, one of ten Technical and Research Centres of the Bundeswehr. The vehicles will support very shallow water mine counter-measures for Germany's Navy.
In May 2012, the REMUS had successfully operated with Germany's mine hunter Rottweill (M1061) during Operation Open Spirit which removed 15 World War II-era mines in Estonian waters.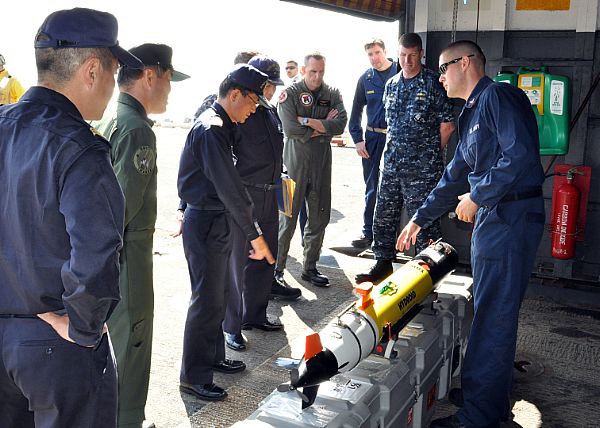 EAST CHINA SEA (Dec. 6, 2010) Aerographer's Mate 2nd Class Jason Fisher, left, briefs Japan Maritime Self-Defense Force officers on the capabilities a remote environmental monitoring unit (REMUS 100) aboard the amphibious transport dock ship USS Denver (LPD 9) during Keen Sword 2011. The REMUS 100 is an unmanned undersea vehicle used for mine detection. Keen Sword is the 10th joint training exercise since 1986 involving Japan Maritime Self-Defense Force and the U.S. military. (U.S. Navy photo by Mass Communication Specialist 3rd Class Bryan Blair/Released)

---
Video Vault
U.S. 5TH FLEET AREA OF RESPONSIBILITY (Sept. 20, 2012) Civilian contractors operate a Mk 18 Mod 2 Kingfish Unmanned Underwater Vehicle (UUV) in support of International Mine Countermeasures Exercise (IMCMEX) 2012 as part of Task Force South. IMCMEX 12 includes navies from more than 30 countries and focuses on promoting regional security through mine countermeasure operations in the U.S. 5th Fleet area of responsibility. The Kingfish uses side scan sonar to search and discover objects of interest. This marks the first time these UUVs have been added to mine countermeasure operations in the U.S. 5th Fleet area of responsibility. (U.S. Navy video by Mass Communication Specialist 2nd Class Blake Midnight/Released)
---
British Royal Navy Sailors use an autonomous underwater vehicle, Remus 100, to scan for potential mines during International Mine Countermeasures Exercise (IMCMEX) 12.
---
Explosive Ordnance Disposal Mobile Unit One (EODMU-1) test the REMUS 600 (US Navy Video)