Autonomous Mobile Periscope System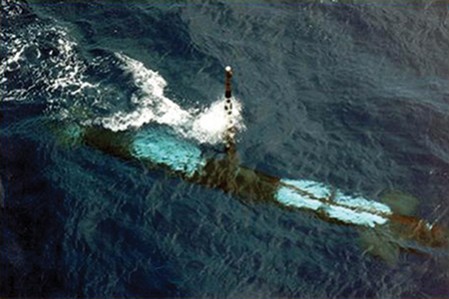 Photo courtesy AMPS Corporation.
U.S. Navy Carderock Division engineers and the URS corporation developed a 26-foot-long, 2 foot diameter, 3,500-pound autonomous underwater vehicle to serve as an affordable proxy for diesel electric submarines for U.S. Navy training at the Pacific Missile Test Range near Hawaii.
The Autonomous Mobile Periscope System (AMPS) provides a simulated low radar cross section periscope target and can broadcast simulated submarine sounds for detection by sonobuoys and other acoustic systems. AMPS has a five hour endurance and can be launched and recovered by the Pacific Missile Range Facility's 85 foot range support boats without a crane.