Large Displacement Unmanned Underwater Vehicle Innovative Naval Prototype (LDUUV INP)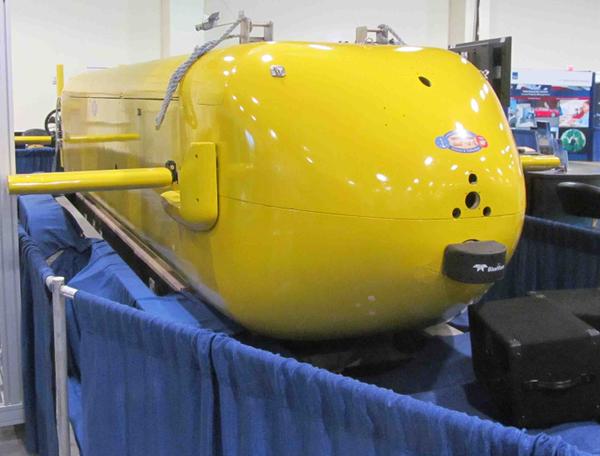 13 April 2015 - ONR LDUUV prototype at the Sea-Air-Space Exposition in Baltimore (ONR Photo)

The Office of Naval Research's Large Displacement Unmanned Underwater Vehicle Innovative Naval Prototype (LDUUV INP) program will develop a large unmanned submersible able to conduct missions longer than 70 days in open ocean and littoral seas. LDUUV will be launched from a pier or a variety of platforms, including the Littoral Combat Ship (LCS) and the Virginia class nuclear submarine via its payload module or an enhanced dry deck shelter. The craft's missions will include ISR, acoustic surveillance, Anti-submarine Warfare, mine counter-measures, and offensive operations.
The vehicle's manufacturing and development phase will begin in 2015 with testing planned for 2018.  According to the Navy's ISR Capabilities Division, LDUUV will reach initial operating capability as a squadron by 2020 and full rate production by 2025.
ONR Technology Development Awards
In 2011, ONR issued broad area announcements (BAA) requesting proposals to develop three technologies for the LDUUV program: energy systems, autonomy in the littorals, and endurance technologies. In June 2012, ONR awarded a $5.9 million three-year, sole-source contract to Hydroid Inc. to develop an autonomy testing system. Hydroid will use its REMUS vehicle to test these technologies.
In July 2012, ONR awarded FuelCell Energy, Inc. an 18 month $3.8-million Phase I contract to develop and test an 1,800 kWh Hybrid Solid Oxide Fuel Cell (SOFC)-Battery power system. The SOFC fuel cell technology was developed by Versa Power Systems, a company partially owned by FuelCell Energy. Other development partners include NASA's Lyndon B. Johnson Space Center Energy Systems Division, Yardney Technical Products, Inc., Naval Underwater Warfare Center (NUWC), and Pacific Northwest National Laboratory (PNNL). Sierra Lobo Inc. of Fremont, Ohio was also awarded a $20 million research contract to develop a cryogenic fuel cell-powered undersea vehicle energy system.
On 20 July 2012, Hamilton Sundstrand was awarded an $18 million contract to develop an energy-dense air independent power system for the program. The system will consist of a Proton Exchange Membrane Fuel Cell (PEMFC), and cryogenically-stored fuel and oxidant. Other propulsion development awardees include General Atomics in San Diego; Lynntech Inc. in College Station, Texas; and NexTech Materials Ltd. in Lewis Center, Ohio.
Future Deployment
The LDUUV prototype's navigation algorithms and sense-and-avoid technologies were tested in 2016 with a cruise from San Francisco to San Diego. The Program Executive Office for Littoral Combat Ships' (PEO LCS) Unmanned Maritime Systems program office (PMS 406) designated the vehicle "Snakehead."
Latest News
General Atomics Awarded Contract From Office of Naval Research for new LDUUV Motor

20 December 2017 - General Atomics Electromagnetic Systems (GA-EMS) announced today that it has been awarded a contract from the Office of Naval Research (ONR) to design and deliver an advanced permanent-magnet propulsion motor intended for use in large displacement unmanned undersea vehicles (LDUUVs).
"GA-EMS has taken a leadership role and committed significant internal resources to researching and developing new and unique electric power and energy technologies to support a variety of undersea vehicles and platforms," stated Rolf Ziesing, vice president of Programs at GA-EMS. "After completing a review of our motor's capabilities and the applicability for undersea operations, we are very excited to take the next step to design and deliver a second-generation propulsion motor to ONR for further evaluation and eventual on-vehicle testing."
Over the next 18 to 20 months, GA-EMS will design, build, and test the advanced permanent-magnet propulsion motor and deliver a complete motor system to ONR. Characterization and testing of the motor system will be conducted by the Pennsylvania State University Applied Research Laboratory (PSU-ARL). PSU-ARL is a center of excellence supporting the US Navy and ONR for undersea propulsion modeling and testing. In 2015, ONR funded a successful year-long study with GA-EMS and PSU-ARL to assess the operating characteristics of the motor's design.

Large Displacement Unmanned Underwater Vehicle Program Achieves Acquisition Milestone
3 September 2015 - The Naval Sea Systems Command received a risk-reduction decision approval August 17, known as a Milestone A decision, for the Large Displacement Unmanned Underwater Vehicle (LDUUV) program.

Milestone A approval grants the program the authority to move into the next phase of development, which will allow the Navy to commit resources to mature technology and reduce risks prior to production and fielding. 

LDUUV will be capable of being stowed, launched and recovered by multiple-host platforms, including littoral combat ships, Virginia-class submarines and Ohio-class guided-missile submarines. The craft is being developed by the Unmanned Maritime Systems Program Office, which is part of the Program Executive Office Littoral Combat Ships (PEO LCS).

Following the successful Milestone A decision, a draft LDUUV request-for-proposals was released on the Federal Business Opportunities website. An industry day is scheduled for September 14 in Washington, D.C., at which the Unmanned Maritime Systems Program Office will host a presentation and discussion for the industry community on LDUUV requirements. 

PEO LCS is affiliated with Naval Sea Systems Command, and provides a single program executive responsible for acquiring and sustaining mission capabilities of the littoral combat ship class, beginning with procurement and ending with fleet employment and sustainment. The combined capability of LCS and LCS mission systems is designed to dominate the littoral battle space and provide U.S. forces with assured access to coastal areas.
ONR to Hold Industry Day on LDUUV Antisubmarine Warfare Packages
20 November 2014 - Tomorrow, the Office of Naval Research will hold a classified industry day in Arlington, Virginia to inform industry concerning research areas desired for the development of an Anti-submarine Warfare Mission Package (ASWMP) for ONR's future Large Displacement Unmanned Undersea Vehicle (LDUUV). 
The research intent is to develop, integrate, and test ASW mission packages for a pre-selected surrogate LDUUV platform.  The effort will develop technology related to hardware and software simulations, mission autonomy, situational awareness, and undersea sensors then validate these capabilities during at-sea testing.
Metron Awarded Contract for Autonomy Work
22 May 2013 - Officials of the Space and Naval Warfare (SPAWAR) Systems Center Pacific in San Diego, on behalf of Office of Naval Research (ONR), awarded a $7.3 million contract to Metron Inc. of Reston for integration and testing of autonomy and mission planning software for deployment on the Navy's future Large Displacement Unmanned Undersea Vehicle (LDUUV).  LDUUV autonomy integration involves software, computer hardware, and sensors.  Metron's one-year contract includes two, one-year options which, if exercised, would bring the potential total value of the contract to $18.3 million.  The work will be completed in Reston, Virginia and Alameda, California and should be finished by March 2014 with options to extend through March 2016.