India's Naval Drones 
Indian Naval Drone News
Reliance Group Partners with SAAB on Indian UAV Program
22 March 2015 - The Anil Ambani-led Reliance and Defense Aerospace Group has partnered with SAAB on a tender to produce up to 50 ship-launched unmanned helicopters.  
SAAB produces the Skeldar maritime UAV, in naval service with several European countries. The last day of submissions for the proposal worth up to ₹1,000 crore (10 billion) rupees was extended to 19 March.
Indian Navy to Acquire Shipboard UAVs
3 March 2015 - The Indian Navy has released a request for information (RFI) to industry seeking details about available naval shipborne unmanned aerial systems (NSUAS).  
The Navy intends to acquire up to fifty unmanned aerial vehicles for intelligence, surveillance, and reconnaissance to complement the its land-based UAV squadrons.  The drones should be capable of operating from shore or naval vessels from 50 meters in length, with or without a flight deck.
Indian Navy Heron Crashes
13 December 2013 - An Heron UAV from Indian Naval Air Station (INS) Parundu crashed in to a grove of coconut trees at Atusilankattuvalasai near Ramnad.  The aircraft designated INAS 922 had been commissioned last year.
There were no casualties and the local naval commander attributed the crash to technical issues.  A Navy Heron had previously crashed short of the runway in May 2010 at Kochi.
India to Place Naval Drones at Behala
20 July 2013 - The Navy and the Airports Authority of India (AAI) announced that India's Navy will base Heron and Searcher MK II unmanned aerial vehicles (UAVs) at the Behala airport. The drones will support surveillance and coastal security missions over the Bay of Bengal for the Navy's Eastern Naval Command.  The Navy will use 15 acres of the airfield from AAI on a 30-year lease.
India Looks to UAVs to Prevent Future Terrorism
28 April 2013 - India's growing maritime unmanned aerial vehicle fleet is being put through its paces to prepare for another Mumbai-style complex terrorist attack.
---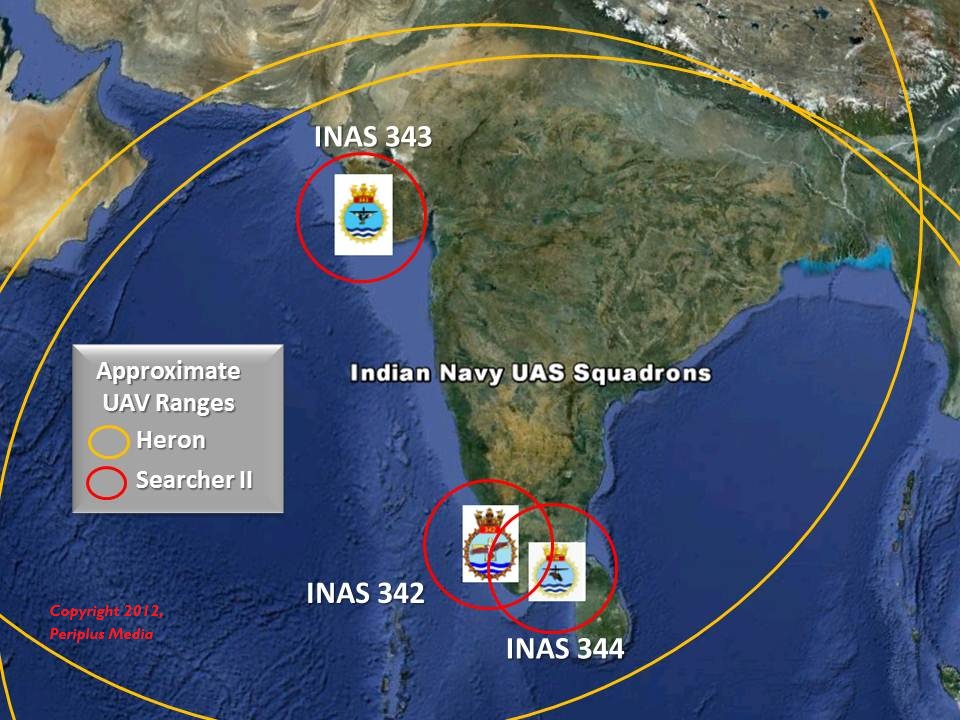 India's three UAV bases.
India's Growing Unmanned Naval Fleet
30 August 2012 - With millions of square km to patrol, unmanned drones are becoming increasingly important for India's Navy.
comments powered by