Autonomous Aerial Cargo Utility System (AACUS) Innovative Naval Prototype (INP)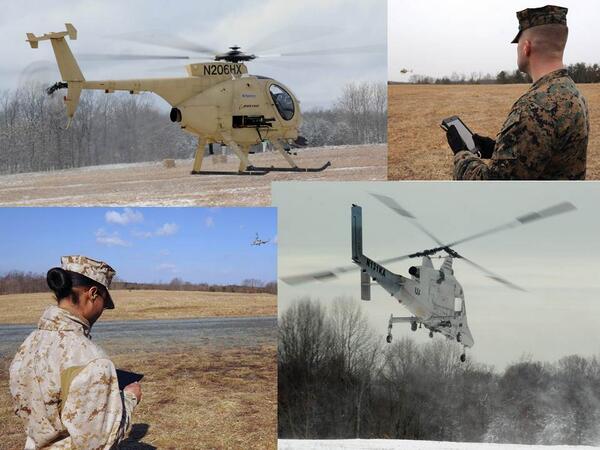 Images courtesy of ONR.
The Autonomous Aerial Cargo Utility System (AACUS) is an Innovative Naval Prototype (INP) sponsored by the Office of Naval Research (ONR). The AACUS requirement first appeared in an ONR broad area announcement in December 2011 and a $28 million contract were awarded to Aurora Flight Sciences and a $13.5 million contract to Lockheed Martin to develop the prototype system in September 2012.
The primary objective of the AACUS program is to develop advanced autonomous capabilities to enable rapid cargo delivery by unmanned and potentially optionally-manned Vertical Take Off and Landing (VTOL) aircraft.  The prototype system can autonomously find appropriate landing sites and be controlled by a tablet or other mobile device without any specialized training.  Lockheed's Open-Architecture Planning and Trajectory Intelligence for Managing Unmanned Systems (OPTIMUS) architecture is a platform agnostic control system.
AACUS can be fitted to different helicopters including the K-MAX and unmanned Little Bird. ACCUS Phase 1 testing was held at Quantico Marine Corps Base, VA. In addition to combat resupply and logistics, AACUS could be used for casualty evacuation.
Aurora Flight Sciences to Develop Unmanned Huey
13 November 2016 - Aurora Flight Sciences continues to break ground on the development of advanced autonomous capabilities for vertical take-off and landing (VTOL) systems. Aurora's work on the Autonomous Aerial Cargo Utility System (AACUS) program will be leveraged to integrate the company's Tactical Autonomous Aerial Logistics System (TALOS) on a UH-1H helicopter. The primary goal of the AACUS program is to enable rapid cargo delivery by unmanned, and potentially optionally-manned, VTOL systems. AACUS encompasses the development and implementation of VTOL-based obstacle detection and avoidance, and allows for autonomous landings at unprepared, off-field, non-cooperative landing sites. AACUS also enables dynamic contingency planning to the point of landing, with goal-based supervisory control by any field personnel with no special training.
At the AACUS flight testing event held today in Northern Virginia, the AACUS program demonstrated on a manned Bell 206 the perception and planning capabilities required for autonomous takeoff, transit and landing. "We know how to make things fly, we've been doing it for over 100 years," said Retired Brig. Gen. Frank Kelley, the Deputy Assistant Secretary of the Navy for Unmanned Systems. "What we don't yet know how to do, is how to couple aircraft and autonomous systems together, but great programs like this are helping us get there."
Aurora's TALOS system has been demonstrated previously on a Boeing H-6U Unmanned Little Bird flown autonomously, and three different human-piloted Bell 206 aircraft. "The arrival of a Huey as our third test platform frames a key point for future customers – the TALOS system is platform agnostic; you're not buying a new fleet of helicopters, you're buying a capability set for your current fleet," said John Wissler, Vice President of Aurora's R&D Center in Cambridge, Massachusetts. "TALOS is not an aircraft, nor is it a robot flying an aircraft –TALOS is transferable intelligence designed with both manned and unmanned aircraft requirements in mind. The value of TALOS can be described in a few words – platform agnostic, scalable autonomy, onboard sensing of the environment, and on-board intelligence that no other system in the world can provide."
Commercial applications for the TALOS technology are also being explored by Aurora. "Think of the civilian first responder pilot attempting to land in a remote, storm-ravaged area at night – TALOS senses and alerts to power lines and landing zone obstacles well before the pilot and informs the pilot's maneuvers," said Wissler.
The final phase of the AACUS program will transition the TALOS system onto an autonomous UH-1H platform currently under development at Aurora, with culminating demonstrations occurring in 2017-2018. Aurora's TALOS system is being developed for the AACUS program with funding from the Office of Naval Research.
Aurora Flight Sciences Wins Unmanned Cargo Contract Extension
16 November 2015 - The Office of Naval Research (ONR) has awarded Aurora Flight Sciences an $11.1 million contract modification for work on the Autonomous Aerial Cargo Utility System (AACUS). The contract modification will continue flight testing and development of AACUS across a variety of unmanned and manned systems. Contract work should be completed by February 2017.

Kutta Technologies Develops Technology for Autonomous Aerial Resupply
30 January 2015 - Kutta Technologies announced today that they are a key member on the Office of the Naval Research's (ONR) Autonomous Aerial Cargo Unmanned Resupply System (AACUS) team.
Kutta, working in partnership with Aurora Flight Sciences, developed the Human Machine Interface (HMI) technologies for the Main Operating Base (MOB) and Combat Outpost (COP). The application Kutta developed in the Phase I competition runs on a commercial-off-the-shelf (COTS) iPad Mini and allows a Marine in the field to request needed supplies and denote the actual locations of where to precisely drop them. Once the request for supplies is made, it is routed through the system and the software autonomously generates a safe route to the landing zones. The safe route takes into account terrain, the airspace allocated to the mission, and other mission-specific parameters to ensure a successful resupply. Once the unmanned resupply aircraft is within range, it scans the desired landing zone and negotiates with the COP operator to determine a suitable landing location.
All the HMI devices were developed using thorough human factors engineering design methodologies known as Cognitive Task Analysis. "Our goal was to design an intuitive user interface that allows an operator to accomplish a successful mission with only 15 minutes of training," said, James Bona, Software Developer for Kutta Technologies. During the ONR flight demonstration, Kutta exceeded all HMI benchmarks and enabled the COP operator to flawlessly supervise 13 successful unmanned approaches and two planned wave-offs.
"Recently, Amazon® demonstrated a small unmanned aircraft in a controlled environment that someday may deliver books to your doorstep. We actually did it with a large helicopter, in winter condition, and with blowing snow. Our system could carry cases of books or medical supplies that could save lives. This is no longer a dream. The technology is possible today." – said Doug Limbaugh, CEO of Kutta Technologies.
In the Phase 2, Kutta will integrate its Federal Aviation Administration (FAA) certifiable Ground Control Station known as the UGCS-178 into the MOB and further enhance the COP interface on an Android platform.
---
Lockheed Demonstrates OPTIMUS System for Autonomous K-MAX Landing
9 May 2014 - Lockheed Martin OPTIMUS technology aboard a K-MAX unmanned helicopter showcased its autonomous capabilities in March 2014 as part of the Office of Naval Research Autonomous Aerial Cargo/Utility System (AACUS). During the demonstration, an active duty Marine interfaced with the mission system's handheld flight control device to complete a resupply mission. The system successfully planned, routed and executed the mission without requiring user input.
---
Aurora Flight Sciences Awarded Phase II AACUS Contract
7 May 2014 - Aurora Flight Sciences has been down-selected over Lockheed Martin for a $13.7 million contract to complete development of the autonomous aerial cargo/delivery system (AACUS).
The ONR-awarded contract will run 13 months and allow Aurora to improve the software and sensors that enable an untrained operator to land an unmanned Little Bird using just an Apple iPad mini.
A future Phase III contract could see the implementation of the AACUS system on rotary wing craft in the Marine Corps inventory such as the CH-53 heavy lift helicopter or MV-22 tilt-rotor.
Video Vault
comments powered by