Littoral Combat Ship
Unmanned Systems
MQ-8C Fire Scout Ground Turns and Telemetry Testing onboard USS Montgomery (LCS 8)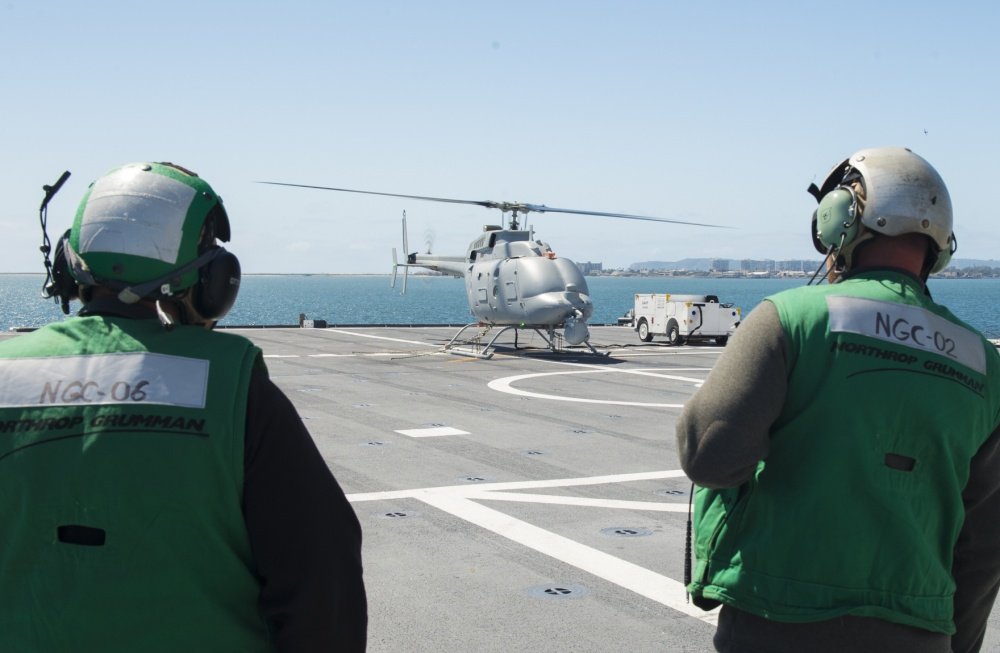 27 March 2017 - Northrop Grumman employees support MQ-8C ground turns and telemetry tests on board littoral combat ship USS Montgomery (LCS 8) while moored at Naval Base San Diego. This was the first test of the MQ-8C version of the Fire Scout on board an LCS. At see testing is planned later this spring. (U.S. Navy photo by Mass Communication Specialist 3rd Class Zachary Eshleman)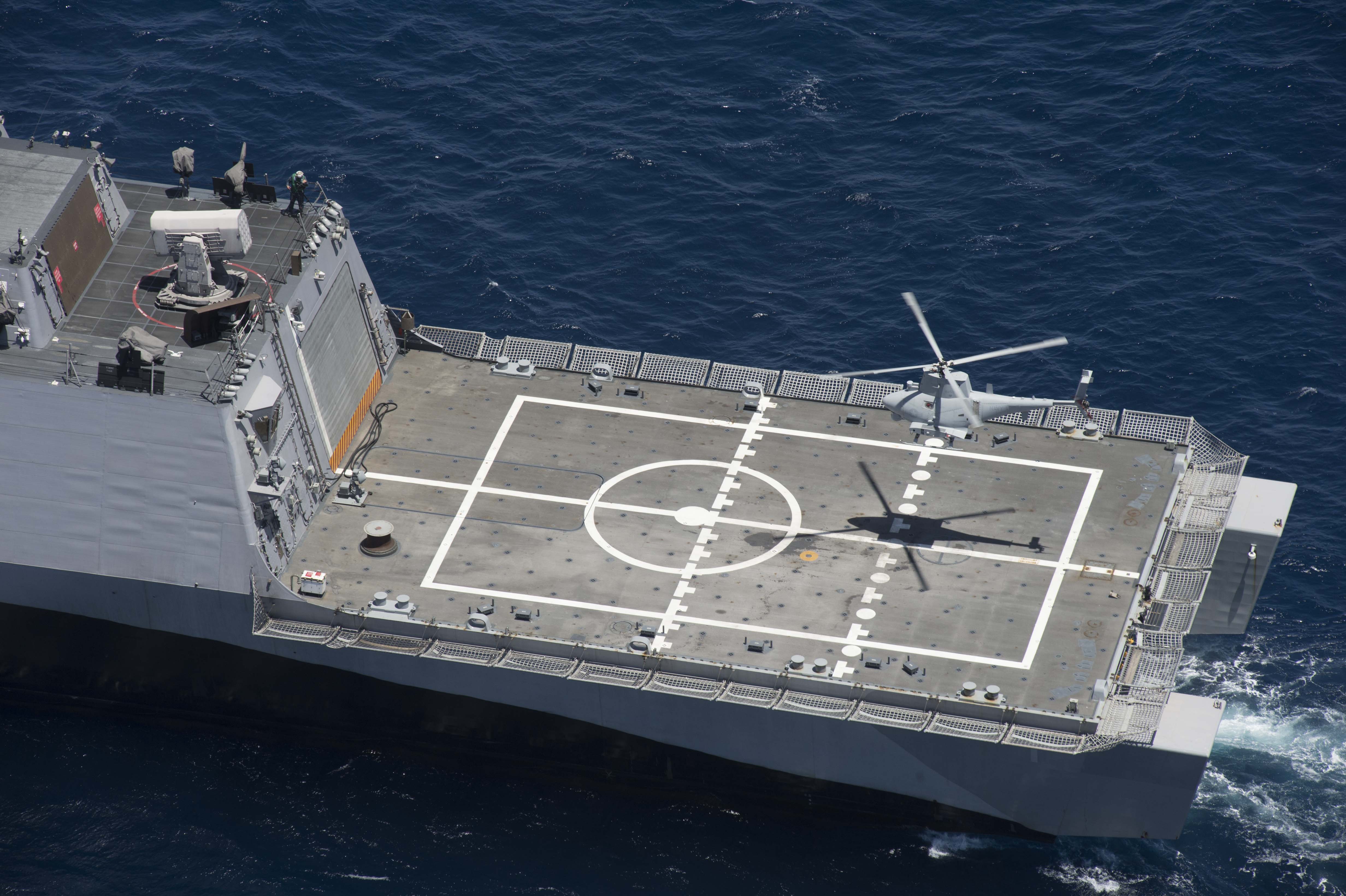 12 May 2014 - An MQ-8B Fire Scout unmanned helicopter assigned to Helicopter Maritime Strike Squadron (HSM) 35 prepares to land on the littoral combat ship USS Freedom (LCS 1) during visit, board, search and seizure (VBSS) training off the coast of Southern California. The training marked the first time a littoral combat ship, an MQ-8B Fire Scout unmanned helicopter and an SH-60R Sea Hawk helicopter conducted integrated VBSS training. (U.S. Navy photo)
Littoral Combat Ship Deploys with Upgraded UAS Controls
27 April 2016 - Raytheon Company and the U.S. Navy's Naval Air Systems Command have deployed advanced mission control for the MQ-8 Fire Scout, an unmanned helicopter, aboard the Littoral Combat Ship USS Coronado (LCS-4), which will deploy this summer.
Navy control hardware and Raytheon control software were combined for robust, flexible command and control of Fire Scout missions in littoral waters. USS Coronado is one of the Navy's newest Littoral Combat Ships, designed to operate close to shorelines. Coronado's deployment of Fire Scout extends the fleet's situational awareness.
"Raytheon's UAV ground controls help support Navy missions without putting sailors' lives at risk," said Todd Probert, vice president of Mission Support and Modernization at Raytheon IIS. "Our innovative technology is helping the U.S. military evolve standards of performance and reliability as they accomplish their critical missions more efficiently and effectively.
"Navy hardware and Raytheon's software are built with an open architecture, maximizing flexibility to add new technology as needed. Under a related effort, the Navy's Common Control System, or NCCS, will be able to control any air, ground, surface and subsurface vehicles as they deploy with the fleet.
Built on the flexible foundation of Fire Scout Mission Control Station (MCS), that capability will reduce Navy-wide implementation costs and training requirements for unmanned systems. "Our new Fire Scout MCS enables Fire Scout to bring more mission to more areas," said Captain Jeff Dodge, U.S. Navy, Fire Scout program manager.
"Fire Scout is a proven capability in dynamic littoral environments, and now provides the potential for multiple platforms to be controlled from a single MCS aboard the ship."
USS Coronado is the first Littoral Combat Ship to use this upgraded Fire Scout MCS operationally, after logging 600+ hours of testing.     
LCS Fort Worth to Deploy with Fire Scout
17 September 2014 - USS Fort Worth (LCS 3) will embark the MQ-8B Fire Scout vertical take-off unmanned aerial vehicle during its 16-month Western Pacific forward deployment later this year.  The ship will base out of Singapore and be equipped with mine countermeasures (MCM) equipment.  Fort Worth previously conducted Fire Scout testing on the Point Mugu Test Range November 5-13, 2013.  The ship uses a UCARS (UAV Common Automated Recovery System) to autonomously land the drone.
Fire Scout Supports LCS VBSS Training
12 May 2014 - An MQ-8B Fire Scout assigned to HSM-35 supports Visit, Board, Search, and Seizure training from USS Freedom (LCS-1) while operating in the Pacific Ocean off Southern California.
NAVSEA Tests Automated Inventory Tracking for LCS Unmanned Systems
18 October 2013 - Naval Sea System Command engineers successfully demonstrated the new Mission Package Automated Inventory Information System (MPAIIS) at the Littoral Combat Ship (LCS) Mission Package Support Facility, NAVSEA announced October 17.
The MPAIIS system is designed to provide asset tracking, inventory control and configuration management using radio frequency technology to conduct fast and accurate inventories of mission package equipment containers. 
The support containers for the AQS-20 Minehunting Sonar System and the Remote Minehunting System (RMS) for mission package two were selected for the initial MPAIIS demonstration. Using passive radio frequency identification (pRFID) tags, more than 500 unique items were successfully inventoried and entered into the MPAIIS database.
"From 16 person hours for the 'Q-20' support container and 76 person hours for the RMS container, to less than 15 minutes total,"  said Robert Gibson, project lead for NSWC PCD's Unmanned Systems Technology Branch, "The projected time savings will assist the MPSF (Mission Package Support Facility) in meeting their turnaround times required for LCS support."
The system's software, developed by Naval Surface Warfare Center Panama City Division (NSWC PCD) engineers, is coupled with commercial off-the-shelf hardware and pRFID tags to form a comprehensive inventory system. MPAIIS can dramatically reduce the time required to ready mission package support containers for deployment.
Following system demonstration, the NSWC PCD team also provided user training to MPSF personnel where a tester was able to conduct an inventory on the Q-20 support container in less than five minutes using MPAIIS for the first time, and with minimal training.
"I appreciate the effort Panama City provided in proving out the concept for Mission Module tools and parts tracking," said Andrew Payor, the principle assistant program manager for LCS West Coast Operations (PEO LCS PMS 505). "As we work to fully implement this capability for LCS the improvements to inventory accuracy and reduction in the time to conduct inventories will have a positive impact on our support of the LCS Fleet."
During the training, the system and documentation was validated as operational and MPSF took ownership of MPAIIS on Sept. 25 to continue further system assessment.
The Naval Surface Warfare Center Panama City Division conducts research, development, test and evaluation, in-service support of mine warfare systems, mines, naval special warfare systems, diving and life support systems, amphibious/expeditionary maneuver warfare systems, and other missions that occur primarily in coastal (littoral) regions.  It is a field activity of Naval Sea Systems Command.
comments powered by