RQ-21A Blackjack (Integrator)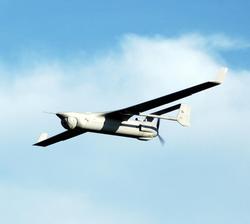 U.S. Navy Photo
Insitu's 61kg, twin-boomed RQ-21A Integrator is based on the ScanEagle UAS. Although heavier than the ScanEagle, Integrator has a common ground control system, catapult launcher and Skyhook recovery system. The RQ-21A's 37.5 pounds payload capacity includes Day/Night Full Motion Video (FMV) cameras, an infrared marker and laser range finder, and Automatic Identification System (AIS) receivers.  Integrator flies higher (16,000 feet) and longer than ScanEagle, with a 15 hour endurance. 
In 2010, the aircraft won the Department of the Navy's STUAS contract and the Navy and Marine Corps will purchase a total of 36 systems, each with five aircraft. The Integrator will conduct persistent maritime and land-based tactical Reconnaissance, Surveillance, and Target Acquisition (RSTA) missions ashore and afloat.  The Dutch Navy has also purchased five systems
Integrator began shipboard testing in early 2013 ahead of a decision to move into low-rate initial production (LRIP).  However, during the Navy's Fiscal Year 2014 budget request briefing on April 10, 2013, Rear Admiral Joseph Mulloy said the STUAS would be "truncated" into a "Marine Corps program moving on Navy ships."  The Marine Corps has nick-named the RQ-21 "Blackjack."
In November 2013, the Navy awarded an $8.8 million contract to Boeing Insitu Inc. for one low-rate-initial-production Blackjack system, to include air vehicles, ground control stations, launch and recovery equipment, and air vehicle support equipment.
Boeing Insitu Awarded Navy Contract for Blackjack UAS
18 December 2014 - The Naval Air Systems Command has awarded Boeing's Insitu subsidiary a $41,076,746 firm-fixed-price contract for the procurement of three low rate initial production RQ-21A Blackjack unmanned aircraft systems.
This award provides for acquisition of the air vehicles, ground control stations, launch and recovery equipment, initial spares, system engineering, and program management services. Work will be performed in Bingen, Washington and is expected to be completed in January 2016. 
---
Insitu Integrate Demonstrates 24 Hour Long Flight
22 July 2014 – Insitu announced today the successful 24-hour flight of its Integrator unmanned aircraft.

The flight demonstrated Integrator's expanded endurance at an increased gross take-off weight with payload on board. The event is the first of several planned milestones for the platform aimed toward continuously increasing payload capacity and endurance for future missions.
'Today's flight is just the beginning," said Insitu Chief Engineer Peter Kunz. "We designed Integrator with growth in mind; high fuel capacity, large dedicated payload volumes and an aerodynamically and structurally efficient airframe have all been carefully implemented to allow the platform to change and adjust to our customers' priorities."

Integrator is a modular and flexible solution for both land and maritime operations, consisting of six payload spaces that can be customized with cameras, communication capabilities and a broad array of other payloads. The platform is also the basis for the RQ021A Blackjack, developed by Insitu under the United States Navy and United States Marine Corps program of record.

"Our customers require a flexible, long-endurance system," said Senior Vice President Insitu Programs Ryan Hartman. "Taking this first step to increase the gross take-off weight opens up more opportunities for us to integrate heavier payloads while maintaining long endurance for a multi-mission platform."
 U.S. Navy Begins Blackjack UAS Operational Testing
29 January 2014 - NAVAL AIR SYSTEMS COMMAND, PATUXENT RIVER, Md. – The Navy and Marine Corps' newest small unmanned aircraft system RQ-21A Blackjack began its initial operational test and evaluation (IOT&E) in early January at Marine Corps Air Ground Combat Center Twentynine Palms, California.
As part of IOT&E, this first low-rate initial production (LRIP) lot of the Blackjack, previously known as RQ-21A Small Tactical Unmanned Aircraft System (STUAS), will demonstrate the system's effectiveness and suitability in realistic combat conditions.
"Receiving the first production-level Blackjack is a great accomplishment for our government and industry team," said Col. James Rector, program manager for the Navy and Marine Corps STUAS program office, who oversees the RQ-21A program. "It is a very capable system that will meet the needs of our warfighters deployed on land or at sea with our Marine expeditionary units."
Air Test and Evaluation Squadron (VX) 1 is conducting ground and shipboard testing on Blackjack for the next several months. After completing IOT&E, the government and Insitu team will transition the system to Marine Unmanned Aerial Vehicle Squadron (VMU) 2, located at Marine Corps Air Station Cherry Point, N.C. for operational use.  A second LRIP lot, consisting of one system, is scheduled for delivery in the spring.
Lt. Col. Anthony Bolden, commanding officer for VMU-2, said the myriad of capabilities that come with the introduction of Blackjack will provide the Marine Air-Ground Task Force (MAGTF) with a platform that has the payload and persistence to significantly enhance situational awareness.
"RQ-21A brings a new level of flexibility and expeditionary capability not present in any UAS to date," Bolden said. "As a result, having and operating the Blackjack will posture the Marine UAV squadrons at the forefront of MAGTF operations."
---
JMSDF Considering RQ-21 Buy
12 January 2014 - According to the Japan Times, the Japanese Maritime Self Defense Force is considering the purchase of up to 19 RQ-21A Insitu unmanned air vehicles over the next five years.  The aircraft would launch from destroyers to bolster the JMSDF's monitoring capability in the East China Sea.  The JMSDF has also made investments to research the equipment needed to operate UAVs at sea.
---
Navy and Marine Corps Small Tactical UAS Enters Production Phase
21 May 13 - The Department of the Navy announced May 15 that the RQ-21A Small Tactical Unmanned Aircraft System (STUAS) received Milestone C approval authorizing the start of low rate initial production.
 With MS C approval, the RQ-21A program, managed by the Navy and Marine Corps STUAS program office (PMA-263) here at NAS Patuxent River, enters the production and deployment phase of the acquisition timeline, according to the PMA-263 Program Manager Col. Jim Rector.
 "This milestone allows us to provide our warfighter with a unique capability – an organic UAS capable of operations from both land and sea," said Rector.  "The RQ-21A will provide persistent maritime and land-based tactical Reconnaissance, Surveillance, and Target Acquisition data collection and dissemination capabilities."
The Navy awarded Insitu, Inc., an Engineering Manufacturing Development (EMD) contract for STUAS in July 2010.  Since then, the government/industry team has executed land-based developmental tests (DT), operational tests at China Lake, Calif. in December 2012 and conducted the first sea-based DT from USS Mesa Verde (LPD 19) in February.
Concurrently, Marines are flying an Early Operational Capability (EOC) system at Twenty Nine Palms, Calif. for pre-deployment preparation. Lessons learned from EOC will be applied to operational missions in theater.
The aircraft is based on Insitu's Scan Eagle UAS, which has flown more than 245,000 hours in support of Navy and Marine Corps forward deployed forces via a services contract. The RQ-21A system has a 25 pound payload capacity, ground control system, catapult launcher and unique recovery system, known as Skyhook, allowing the aircraft to recover without a runway.
The RQ-21A includes Day/Night Full Motion Video (FMV) cameras, infrared marker and laser range finder, and Automatic Identification System (AIS) receivers.  The ability to rapidly integrate payloads allows warfighters to quickly insert the most advanced and relevant payload for their land/maritime missions and counter-warfare actions.
"The expeditionary nature of the RQ-21A makes it possible to deploy a multi-intelligence capable UAS with minimal footprint, ideal for amphibious operations such as a Marine Expeditionary Unit conducts," Rector said. "The RQ-21A can be operated aboard ship, and then rapidly transported ashore as either a complete system or just a "spoke", or control center, making this system ideally suited for humanitarian or combat operations, where getting real-time intelligence to the on-scene commander is crucial."
The DoN plans to purchase a total of 36 STUAS systems, each with five aircraft.  Initial Operational Capability is scheduled for second quarter fiscal year 2014.
---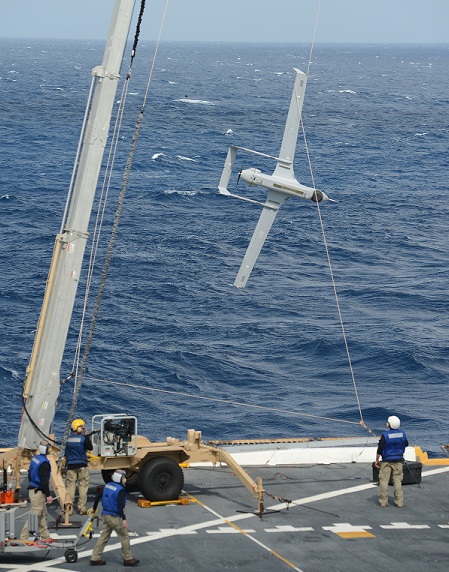 Integrator Completes First At-Sea Testing
13 February 2013 - The Navy's RQ-21A Small Tactical UAS completed its first operational take offs and landings at sea from the San Antonio class dock landing ship USS Mesa Verde (LPD-19).  The testing took place in the Gulf of Mexico on 10 February.  Above, the Integrator is recovered with Insitu's SkyHook capture rope (U.S. Navy Photo).
---
Integrator Tests New Synthetic Aperature Radar
10 October 2012 - Insitu Pacific announced that it successfully flew SELEX Galileo's PicoSAR, a compact Active Electronically Scanned Array (AESA) radar onboard an Integrator Small Tactical UAS at United States testing ranges. The PicoSAR features high-resolution Synthetic Aperature Radar (SAR) and Ground Moving Target Indicator (GMTI) modes. The radar can be mounted on a gimbal or the beam can be steered electronically.
---
RQ-21A Integrator Continues Flight Testing
13 September 2012 - The Navy's RQ-21A Small Tactical Unmanned Air System (STUAS) began developmental tests with a 66 minute flight on September 10 at Naval Air Weapons Station China Lake, California. According to Colonel Jim Rector, STUAS program manager (PMA-263), the system is on track for initial operational capability in 2013. A more capable derivative of the highly successful ScanEagle platform, each STUAS consists of five air vehicles, two ground control stations, multiple payloads, and associated launch, recovery, and support equipment. The system will conduct a variety of missions, including maritime domain awareness, maritime security operations, maritime interdiction operations, and support to Navy and Marine units operating within 50 nautical miles of the sea. Production models of the RQ-21A will be upgraded with a mid-wave infrared (MWIR) camera and an automatic identification system (AIS) system for maritime missions.
The testing was supported by Sailors and Marines from the Navy's Air Test and Evaluation Squadron (VX-30) "Bloodhounds," based at Naval Weapons Test Squadron Point Mugu. Previous flight tests occurred January 22, 2012 at the Marine Corps Air Ground Combat Center in Twentynine Palms, California with representatives from Marine Corps VMU-1 and VMU-3 squadrons in attendance.
---
Video Vault
Insitu promotional video of Integrator 2009-2010 ground-based testing including take-offs and recoveries.