Hammerhead USV-T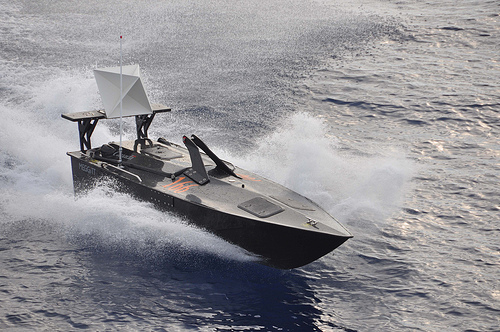 CARIBBEAN SEA (Sept. 10, 2013) A Hammerhead unmanned, remote controlled vehicle from the Canadian navy auxiliary oil replenishment ship HMCS Preserver (AOR 510) makes a close pass by the guided-missile frigate USS Rentz (FFG 46) during a live-fire exercise during the annual UNITAS multinational maritime exercise. (U.S. Navy photo by Lt. Cmdr. Corey Barker/Released)
Hammerhead is an unmanned surface vehicle target (USV-T) built by Canada's Meggitt Training Systems. The composite-hulled vessel can reach speeds of 40 knots with a gasoline-powered engine. A single operator can control up to four Hammerheads using the Universal Target Control System.
In May 2010, 16 Hammerheads were operated simultaneously to simulate a fast inshore attack craft (FIAC) boat swarm. The drone is designed to be expendable and costs less than $100,000 per unit. More than 190 Hammerheads have been sold to Canada, United Kingdom, South Africa, the United States, and Germany.
Hammerhead operating at speed in high sea state.
---
Video of May 2010 Swarm-ex off Vancouver Island (CFB Esquimalt).