Skeldar V-200 Maritime
---
Saab's Skeldar V-200 Maritime is medium range, rotary wing UAV. The aircraft, in service with the Swedish Navy, can carry a variety of payloads and sensors including a synthetic aperature radar (SAR), Moving Target Indicator, signals payload, 3D mapping, AIS transponder, and cargo hook.
---
Latest News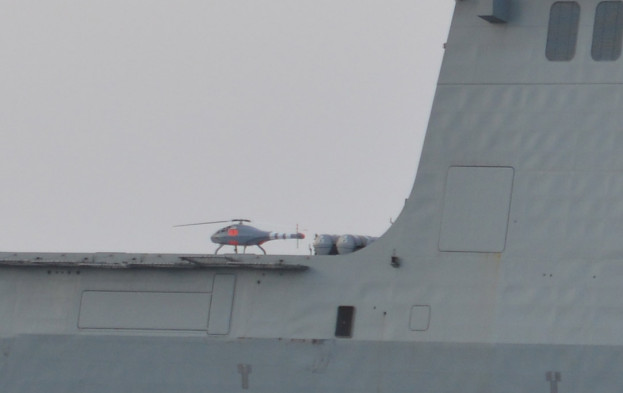 14 September 2013 - Skeldar V-200 that embarked Spanish warship ESPS Meteoro 10 September 2013 for the European Union's Operation Atalanta counter-piracy mission.
---
Skeldar UAS to Deploy with Spanish Navy
30 July 2013 - The Spanish Navy has announced that it has signed a contract with Saab to deploy the Skeldar V-200 unmanned air system for Operation Atalanta to combat piracy in the Indian Ocean.  The aircraft will be maintained and operated by Saab and embark on vessels in the  Buques de Acción Marítima (BAM).
---
Saab Signs Contract for Skeldar UAS for Maritime Operations

11 July 2013 - Defense and security company Saab has signed a contract to deploy the Skeldar Unmanned Aerial System (UAS) for maritime operations. Skeldar UAS will be operationally deployed with the customer before the end of this year and will be used in naval operations where the benefits of a Vertical Take Off and Landing UAS are most prominent.

Skeldar is a flexible multi-mission system set to successfully meet
mission objectives on land or at sea. It is based on the same smart
design and innovative technological solutions that have become the trade
mark for Saab's aeronautical products and systems.

"Skeldar UAS is an excellent choice for maritime operations thanks to
its high flight performance, heavy fuel engine and easy-to-maintenance
design. We continuously improve the system with the integration of new
sensors and different payload according to customer needs," says Lennart
Sindahl, Head of Saab's business area Aeronautics.

The industry's nature is such that depending on circumstances concerning
the product and customer, information regarding the customer will not be
announced.

Saab serves the global market with world-leading products, services and
solutions ranging from military defence to civil security. Saab has
operations and employees on all continents and constantly develops
adopts and improves new technology to meet customers' changing needs.
---
Skeldar V-200 Completes Testing Milestones
15 May 2013 -  Defence and security company Saab has verified a number of key capabilities of its Skeldar V-200 vertical lift UAS through flight campaigns at different sites in US and Sweden demonstrating the system's performance for both land and sea based operations. A number of successful customer demonstration flights have also been conducted.
High complexity flight envelopes such as fully autonomous flights were conducted in both day and night conditions demonstrating convoy shadowing capability, EO/IR sensor utilization, precision landing as well as long range missions using Tactical Hand-Over between Ground Control Stations using Saab's flexible stationary and mobile ground control station.  In addition, a heavy fuel engine has now been verified through extensive flight trials and an upgraded next generation version of the original design aviation fuel engine has been delivered and is now cleared for flight test. 
 "The Skeldar V-200 has passed yet another important milestone in the program with these key capabilities verified and demonstrated to various customers,"says Mikael Franzén, Director of Saab's Product Area Tactical UAS.
The unmanned system's built in safety functionality confirmed contingency behaviors in case of link loss including autonomous navigation in accordance to predefined parameters as well as auto landing and shut down.
 "The combination of two alternative engine types, a modular payload design, and the ability to incorporate and utilize a variety of data link systems, provides a true multi-mission capability for the Skeldar V-200 and a flexibility that enables the customer successfully meet their mission objectives on Land or at Sea," concludes Mikael Franzén. - Press release courtesy of Saab. 
---
Video Vault
Saab Skeldar promotional video.
---
Flight trials of SKELDAR V-200 from a ship in the Baltic Sea (Youtube, courtesy of Saab)
---
Skeldar M takes off from HMS Visby (K31).