MQ-4C Triton Broad Area Maritime Surveillance (BAMS)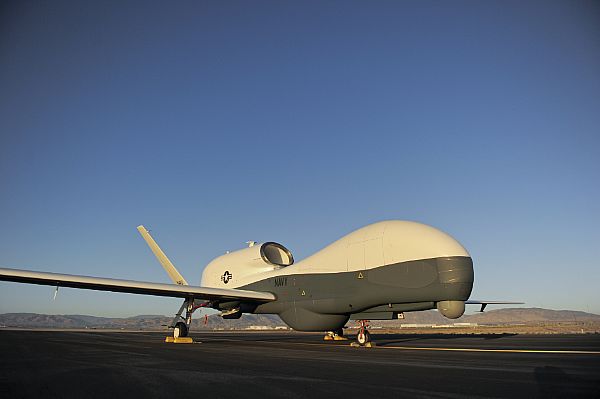 The U.S. Navy's Broad Area Maritime Surveillance (BAMS), now known as the Triton MQ-4C, is based on the Air Force's RQ-4B Global Hawk. The long endurance (2,000 nautical miles), high altitude drone is designed by Northrop Grumman to complement manned naval ISR aircraft such as the P-3C and P-8A. In addition to the Global Hawk's sensors, the Triton includes the AN/ZPY-3 multi-function active-sensor (MFAS) radar system, allowing it to survey more than 2.7 million square miles in a single mission.  A BAMS-D (Demonstrator) based on the RQ-4A variant crashed on June 11, 2012 approximately 22 miles from Patuxent River, Maryland due to a combination of a motor failure in the right inboard ruddervator, and pilot error in responding to the casualty.
Other BAMS-D aircraft have flown operational missions in the Middle East.  BAMS-D surpassed 10,000 flight hours April 1, 2013.
Triton was expected to be operational in 2015 with a total of 68 aircraft to be procured.  However, in April 2013, the Navy announced that production has shifted from FY14 to FY15 due to additional testing requirements and technical issues related to the aircraft's double-tail rudder and software integration for maritime sensors. Triton's operational assessment will begin in September 2015.
The Navy is building a mission-control complex for all BAMs operations at Jacksonville Naval Air Station, Florida.
Australia has expressed an interested in buying up to seven Tritons and associated equipment for $2.5 Billion.

Navy Approves Triton UAVs for Initial Production
23 September 2016 - The Department of the Navy announced yesterday that the MQ-4C Triton Unmanned Aircraft System (UAS) received milestone C approval.
This decision by Under Secretary of Defense for Acquisition, Technology and Logistics (AT&L) Honorable Frank Kendall, allows the MQ-4C Triton program to enter into Low Rate Initial Production (LRIP), the first part of the production and deployment phase.
"This milestone brings us closer to delivering a new capability to the fleet that will change the way our Navy executes ISR around the globe," said Sean Burke, Triton program manager.  "Teamed with manned counterparts, Triton's highly capable sensor package will provide persistent maritime intelligence, surveillance, and reconnaissance [ISR] data collection and dissemination capabilities to the fleet.
The MQ-4C Triton will be a forward- deployed, land-based, autonomously operated system that provides persistent ISR within a range of 2,000 nautical miles using a multi-sensor mission payload including maritime radar, Electro-Optical/Infrared (EO/IR), Electronic Support Measures (ESM), Automatic Identification System (AIS) and basic communications relay.
"Triton's 24-hour on-station capability lets our other aircraft, such as the P-8, to focus more completely on their core missions," Burke said.
Triton is scheduled to deploy in fiscal year 2018.
18 August 2016 - NAVAIR video with a behind the scenes look at how Triton system operators are translating their intelligence surveillance reconnaissance (ISR) expertise as P-8 or P-3 pilots into a huge win for the warfighter.

Image courtesy of Northrop Grumman.
MQ-4C Triton UAS Completes Operational Assessment
17 February 2016 - The MQ-4C Triton unmanned aircraft system (UAS) built for the U.S. Navy by Northrop Grumman Corporation has successfully completed Operational Assessment (OA). Pending final data analysis, the completion of this milestone signals the maturity of the system and paves the way for a positive Milestone C decision. Milestone C will transition Triton into low rate initial production.
As part of OA, an integrated test team made up of Navy personnel from Air Test and Evaluation Squadrons VX-1 and VX-20, Unmanned Patrol Squadron, VUP-19 and Northrop Grumman demonstrated the reliability of Triton over the course of approximately 60 flight hours. The team analyzed sensor imagery and validated radar performance of Triton's sensors at different altitudes and ranges. The aircraft system's ability to classify targets and disseminate critical data was also examined as part of the operational effectiveness and suitability testing.
Successful evaluation of Triton's time on station confirmed that it will meet flight duration requirements."Operational assessment for Triton included several flights which exercised the weapon system through operationally relevant scenarios that demonstrated its readiness to meet the Navy's maritime intelligence, reconnaissance and surveillance needs," said Doug Shaffer, vice president, Triton programs, Northrop Grumman. "As a result of the flight tests, the program moves one step closer to a milestone C decision later this spring."
Second Australian Company to Provide Parts for Initial Triton Production
26 August 2015 – Northrop Grumman Corporation has awarded a second Australian supplier contract to Mincham Aviation for the U.S. Navy's MQ-4C Triton unmanned aircraft system (UAS) initial production lot.
South Australia-based Mincham Aviation will manufacture aircraft structure components for the first low-rate production lot of four Triton air vehicles. This second supplier contract follows one awarded in July to Ferra Engineering for mechanical sub-assemblies.
"We are pleased to be able to further demonstrate our ongoing commitment to developing and fostering capabilities in local supply chains," said Ian Irving, chief executive, Northrop Grumman Australia. "We will continue to look to offer opportunities to quality-focused Australian companies to be involved in the production and sustainment of Triton, which will be one of the U.S. Navy's and Royal Australian Air Force's key capabilities for many years to come."
Northrop Grumman's engagement with Mincham Aviation and Ferra Engineering were facilitated through the Australian Department of Defence's Global Supply Chain program. Under the Global Supply Chain initiative, international companies such as Northrop Grumman can assess Australian industry and provide them the opportunity to compete for business around the world on a value-for-money basis. 
Australian companies have also received requests from Northrop Grumman for quotations to provide components for follow-on low rate production lots. These industry opportunities include cables, complex machined and composite assemblies, as well as special tooling and test equipment. 
Australian Prime Minister Tony Abbott announced his government's intent to purchase the Triton UAS for high-altitude, long-endurance surveillance missions in March 2014. Triton can fly missions up to 24 hours and at altitudes of over 55,000 feet, covering vast areas of ocean and coastal regions. Its unique sensor suite provides a continuous on-station presence in a 360-degree field of view for some of the most demanding surveillance missions.
Triton Begins Electromagnetic Compatibility Testing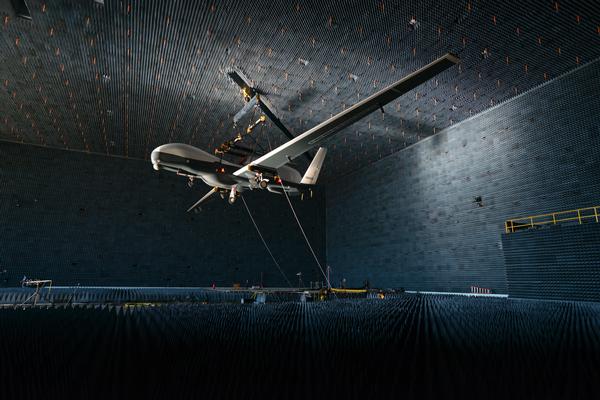 12 August 2015 - An MQ-4C Triton is lifted inside Patuxent River's anechoic chamber for electromagnetic compatibility (EMC) testing. This event marked the first time that an unmanned aircraft inside the chamber was controlled from an external ground control station. Triton's EMC testing will continue for the next eight weeks to verify the aircraft's subsystems can operate without interfering with each other (U.S. Navy Photograph)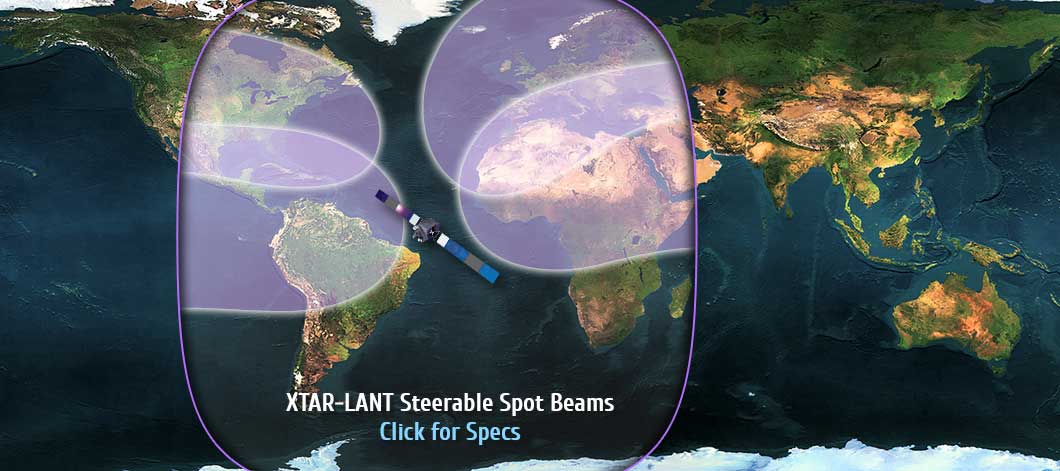 XTAR Provides Capacity for Navy's MQ-4C Triton Testing
22 May 2015 - XTAR LLC was awarded a 12-month indefinite delivery/indefinite quantity (IDIQ) contract with a one year option, by the U.S. Naval Air Systems Command (NAVAIR) to support testing of its MQ-4C Triton unmanned aerial vehicle. XTAR will provide space segment capacity to the Patuxent, MD-based command center for the contract with an estimated value of $1.8M.
Triton's communications payload is built to specifically leverage X-band and military Ka-band frequencies. XTAR will supply space segment capacity on the XTAR-LANT North America spot beam on a daily basis as required by NAVAIR to meet its variable testing schedule. Due to the irregular schedule of the testing, the required volume of bandwidth will also vary. XTAR has also supported NAVAIR in the past."Support to the Triton program fits squarely into what XTAR does well which is providing X-band for mobile applications in a highly flexible and reliable structure," said Andrew Ruszkowski, Chief Commercial Officer of XTAR. "We are very happy to help usher into service a system which gives the Navy the flexibility to use both Milsatcom and Comsatcom sources of bandwidth. It confirms XTAR's value as a non-pre-emptible, short-notice service complement to DoD's Wideband Global SATCOM (WGS) constellation."
XTAR-LANT's fixed and steerable spot beams offer flexible bandwidth capabilities for the government user. The satellite's coverage extends from the United States to the South American and African continents as well as the Middle East.
Triton Completes First Flight With New Radar
20 April 2015 - NAVAL AIR SYSTEMS COMMAND, PATUXENT RIVER, Md.  – The Navy's MQ-4C Triton UAS equipped with a new search radar completed its inaugural flight April 18 over Patuxent River air space.
The radar, known as the Multi-Function Active Sensor (MFAS), is expected to greatly enhance maritime domain awareness by providing the MQ-4C with a 360-degree view of a large geographic area while providing all-weather coverage to expedite detecting, classifying, tracking and identifying points of interest.
"This first sensor flight is a huge achievement for the program," said Sean Burke, Triton program manager. "Our Navy and Northrop Grumman team has worked extremely hard on this developmental effort, completing more than 40 surrogate flights over the last three years, and we saw the realization of that development work."
During this initial test event, MFAS exercised its primary operating mode, known as  Maritime Surface Surveillance (MSS). The MSS mode provides continuous watch over a broad area.
"Our primary objective was to test this new radar, but we also looked at how the aircraft performed as well as testing additional data links," said Lt. Cmdr. Glenn Rioux, government flight test director and senior Air Test and Evaluation Squadron (VX) 20 representative supporting the Triton integrated test team. "This was a successful flight on many levels. We are still reviewing the data and actively planning our next text event."
Along with the MFAS radar, the MQ-4C will also carry an Electro-Optical/Infrared (EO/IR) sensor that will provide still imagery and full-motion video of potential threats; an electronic support measures package to identify and geolocate radar threat signals; and an Automatic Identification System (AIS) that will detect and track vessels equipped with AIS responders.
When operational, the MQ-4C Triton UAS will provide 24/7 ISR coverage virtually anywhere in the world. Its ability to dwell at high altitudes will improve intelligence collection and bring an unprecedented level of maritime domain awareness to the warfighter operating and sustaining up to five orbits across the globe.
Australian Royal Air Force to deploy MQ-4C Triton for Maritime Surveillance
RQ-4 Variants Set Weekly Flight Hour Record
7 January 2015 – The U.S. Air Force RQ-4 Global Hawk and other variants of Northrop Grumman Corporation's High Altitude Long Endurance (HALE) Unmanned Aircraft System (UAS) series recently flew more intelligence, surveillance and reconnaissance (ISR) mission hours in one week than ever before.
The UAS series flew 781 hours from September 10-16, 2014. The Air Force's RQ-4 Global Hawk flew 87 percent of the missions; the U.S. Navy's Broad Area Maritime Surveillance- Demonstration (BAMS-D) aircraft and NASA's Global Hawk hurricane research asset flew the rest. HALE's far-reaching weekly record surpasses the company's previous weekly flight record of 665 hours set in February.
"There are at least two Global Hawks in the air at all times providing indispensable ISR information to those that need it," said Mick Jaggers, Global Hawk UAS program director, Northrop Grumman Aerospace Systems. "The 2014 fiscal year was the most active yet for the Global Hawk, with a 40 percent year over year increase in flight hours."
Within weeks of the record, Northrop Grumman delivered two new RQ-4 Global Hawk aircraft to the Air Force. A wide area surveillance model arrived at Grand Forks Air Force Base, North Dakota, on September 10 and Beale Air Force Base. received a multi-INT model October 3.
The increases in flight hours and size of the fleet will give combatant commanders more ISR capabilities at a time when demand often outstrips aircraft availability.
Manufactured at Northrop Grumman facilities in Moss Point, Mississippi, and Palmdale, these latest RQ-4 Global Hawk models complete a four aircraft buy by the Air Force and brings the Air Force's total Global Hawk fleet to 33. In August, the Air Force signed an agreement requesting three more Global Hawks. Those aircraft are scheduled for delivery in 2016 and 2017.
Northrop Grumman's HALE UAS series have exceeded more than 130,000 total flight hours. An average of 75 percent of flight hours are in support of combat/operational missions.
Second Northrop Grumman Triton UAV Takes Flight
16 October 2014 - The U.S. Navy's second MQ-4C Triton unmanned aircraft system (UAS) has successfully completed its first flight. Operating out of a manufacturing facility in Palmdale, California, a Navy and Northrop Grumman flight test team conducted the 6.7-hour flight October. 15. The flight is a critical first step in preparing the aircraft to fly to a Navy facility in Maryland later this month.
"Our team worked incredibly hard to get the second Triton ready for first flight, which will help us plan its ferry flight to Naval Air Station Patuxent River," said Mike Mackey, Triton program director, Northrop Grumman. "We're eager to continue working with the Navy during the next phase of Triton's flight test program to speed up its availability to the warfighter."
In preparation for a safe ferry flight, the aircraft will undergo a variety of ground checks and inspections.
Northrop Grumman is the Navy's prime contractor for the Triton UAS. Specifically designed for maritime missions of up to 24 hours, Triton can fly at altitudes higher than 10 miles, allowing for coverage of 1 million square nautical miles of ocean. Its advanced suite of intelligence, surveillance and reconnaissance sensors can detect and classify different types of ships.
The Navy's program of record calls for 68 Tritons to be fielded.
Triton's Cross Country Flight
Tritons to Fly to Pax River
22 August 2014 - MQ-4C Triton test air vehicles at Northrop Grumman's facility in Palmdale, California, will fly cross-country to Naval Air Station Patuxent River, Md., this fall. The MQ-4C completed a test flight August 19 with updated software that enables additional beyond-line-of-sight communication capabilities. This test marked the first time Pax River's Navy System Integration Lab (NSIL) took control of the flight and landed the aircraft in Palmdale. It was also the first time the aircraft used a wide band satellite communications command and control link, which allows for rapid transmission of data.
Initial Triton Testing Complete

21 March 2014 - The Navy's MQ-4C Triton completed its initial flight test phase at Northrop Grumman's Palmdale, Calif., facility March 13, bringing the unmanned air system one step closer to introduction to the fleet in 2017.
The flight testing, called Initial Envelope Expansion, is designed to measure the air vehicle's performance under a variety of speeds and altitudes.  The combined Navy and Northrop Grumman team completed this phase of testing in 13 of the 14 scheduled flights for the test.
"The system performed exceptionally well during flight test, which is a reflection of years of hard work and dedication by our team," said Capt. Jim Hoke, Triton UAS program manager. "Our job is far from over with fleet delivery still a few years away, but each of our team members should reflect on how far we have come and be proud of this accomplishment."
During IEE, the MQ-4C flew a total of 81 hours, reached a maximum altitude of 59,950 feet and executed 568 data points.
The Triton's software and sensor systems are being tested separately on a surrogate aircraft. This includes a multi-function array sensor (MFAS), configured to function in a maritime environment.
After testing completion at Palmdale, the team has a planned maintenance period to prepare for the system's transition to Naval Air Station Patuxent River. The MQ-4C will take its first cross-country flight in the June/July timeframe, followed by the second test aircraft shortly after. Sensors will be integrated onto both aircraft before resuming flight test this summer.
As an adjunct to the manned P-8A aircraft, the Triton will cover more than 2.7 million square miles in a single mission. Its ability to perform 24/7 intelligence, surveillance and reconnaissance with a range of 2,000 nautical miles will allow P-8A, P-3C and EP-3E aircraft to focus on their core missions, adding the capability the Navy's Maritime Patrol and Reconnaissance Force.

Navy to Stand Up Triton Launch and Recovery Element
6 March 2014 - The Navy will establish launch and recovery element (LRE) Detachment 5 at Point Mugu, California on June 1, 2015.  The element is a component of unmanned Patrol Squadron 19 (VUP-19), which stood up 1 October 2013 to support MQ-4C Triton operations in the Middle East. 
New Triton Flight Test Video Released
31 December 2013 - Northrop Grumman Corporation and the U.S. Navy have completed nine initial flight tests of the Triton unmanned aircraft system (UAS), marking the half-way point in a process called envelope expansion. During envelope expansion, the test team validates the aircraft's ability to operate at a range of altitudes, speeds and weights. The flights are taking place at the company's manufacturing facility in Palmdale, Calif. The Triton test team accomplished endurance flights up to 9.4-hours at altitudes up to 50,000 feet. The aircraft also performed doublets, a maneuver that tests the aircraft's ability to recover from small perturbations in its flight path caused by turbulence.
Lab Effort to Cut Costs for Navy's Triton UAS
29 May 2013 — An engineer at Naval Air Station Patuxent River is leading an initiative that will save the Navy's MQ-4C Triton Unmanned Aircraft System program several hundred thousand dollars.
Paul Weinstein, an electronics engineer supporting the Common Standards and Interoperability (CSI) program office, launched an image quality lab in 2012 that will help determine how to effectively employ Triton's sensors and radars and potentially other manned and unmanned systems.
In preparation for the first Triton image evaluation, Weinstein, a former National Geospatial-Intelligence Agency (NGA)employee, worked with the agency to provide the necessary training, software and image scientists for the first official evaluation of the P-8A aircraft's Electro-Optical (EO) sensor. Since the P-8A and MQ-4C are part of the Maritime Patrol and Reconnaissance Force family of systems, Weinstein's team made a decision to evaluate the P-8 first and include test engineers from both programs.
"Paul did an outstanding job getting this image quality assessment capability set up and running," said Pat Ellis, MQ-4C Triton's Mission Systems lead. "This will save the Triton program several hundred thousand dollars, since we will not have to submit packages for image ratings to NGA and the Office of Naval Intelligence (ONI) for our imaging systems."
Without this capability at Pax River, the Navy would have to rely on NGA to perform sensor testing, at a cost of more than $150,000 per evaluation. It would also take more than a month to return the analysis to the team. By having the lab at Pax, each test is virtually free and it takes less than one week to turn around the data to the test team, Weinstein said.
"This level of testing will enable program offices to make smart budget decisions with respect to changes to the current network and current integration measures as well as future integration efforts," Ellis said.
Typically, image analysts perform this function, but the evaluation proved that test engineers can analyze images and make effective mission-planning decisions.
"We are following the fly-fix-fly philosophy as we figure out solutions that will allow lower bandwidth platforms to send better quality video," Weinstein added. "We need to understand if a platform can meet its mission and avoid it just flying out and burning fuel."
The first imagery evaluation for MQ-4C Triton will be conducted after the team has data available from Triton's first flight, which was conducted May 22 at Northrop Grumman's facility in Palmdale, Calif. The image-quality lab team will evaluate the MQ-4C's EO/Infrared (IR) and Synthetic Aperture Radar sensors.
"The ability to collect and share real-time Intelligence, Surveillance and Reconnaissance (ISR)  quickly and accurately is crucial to ensuring battle commanders have the enhanced situational awareness required for a successful mission," said Capt. Jim Hoke, MQ-4C Triton program manager.
NAVAIR News Release
Northrop's Triton Takes to the Skies
22 May 2013 - Northrop Grumman's MQ-4C Triton unmanned aircraft system completed its first flight May 22 from the company's facility in Palmdale, California.
The 80 minute flight to 20,000 feet successfully demonstrated control systems that allow Triton to operate autonomously. Triton is specially designed to fly surveillance missions up to 24 hours at altitudes of more than 10 miles, allowing coverage out to 2,000 nautical miles. The system's advanced suite of sensors can detect and automatically classify different types of ships.
"This flight represents a significant milestone for the Triton team," said Rear Adm. Mat Winter, who leads the Program Executive Office for Unmanned Aviation and Strike Weapons at Naval Air Systems Command, Patuxent River, Md. "The work they have done and will continue to do is critical to the future of naval aviation, particularly to our maritime patrol and reconnaissance community."
Navy to Establish Dedicated Triton Squadron
7 February 2013 - The U.S. Navy announced that it will stand up Unmanned Patrol Squadron 19 (VUP-19) at Naval Air Station Jacksonville, Florida on 1 October 2013.  The squadron will operate the Navy's forthcoming MQ-4C Triton Unmanned Aerial Vehicle (UAV).  A remote operating detachment will also be established at Point Mugu, California.  VUP-19 will fall under the adminsistrative control of Commander, Patrol and Reconnaissance Wing Eleven and initially operate the Triton on reconaissance missions in 5th Fleet, 6th Fleet, 7th Fleet, and U.S. Fleet Forces Atlantic Operations.  In 2014, the Navy will activate another Triton Squadron, VUP-11, at Whidbey Island, California to take over operations in the Pacific.
VUP-19 will be the second Navy UAV squadron to stand up recently, with Unmanned Helicopter Reconnaissance Squadron One (HUQ-1) established on 1 October 2012 to fly the Fire Scout rotary wing UAV.
Triton Fuselage Mated to Wings
31 January 2013 - Northrop Grumman employees mate the fuselage with the wings of a company-owned Triton test bed unmanned aircraft in Palmdale, Calif. Based on the U.S. Navy's MQ-4C Triton, the system provides a detailed picture of surface vessels to identify threats across vast areas of ocean and coastal areas.
Navy to Station Triton Drones in Guam

17 August 2012 - The Navy intends to station the MQ-4C Triton at Anderson Airbase in Guam around 2017, according to a spokesman for the Navy. The BAMs will join two Global Hawks which have flown surveillance missions in the region for the Air Force's 36th Wing since 2010. The MQ-4C will provide high altitude, persistent maritime surveillance over a mission radius of 2,000 nautical miles, greatly enhancing the fleet's ISR options over the vast Pacific. This announcement follows the spring decision to shift 8,000 Marines from the III Marine Expeditionary Force to Guam by 2014.




Air Force RQ-4B Global Hawk at Andersen Air Force Base, Guam

U.S. Air Force photo/ Senior Airman Nichelle Anderson/released)

comments powered by
Video Vault
Sep. 2012 Northrop Grumman Promotional Video.
Northrop Grumman MQ-4C Triton Broad Area Maritime Surveillance Unveiling Ceremony Highlights
Northrop Grumman BAMS promotional video.