Iver Autonomous Underwater Vehicle
The Iver is an Autonomous Underwater Vehicle built by OceanServer Technology, Inc. The UUV can be used for ocean survey and water quality monitoring missions and is equipped with a Side Scan Sonar (SSS), Doppler Velocity Log (DVL), Acoustic Doppler Current Profiler (ADCP), Conductivity, Temperature and Depth (CTD) sensor, and Multi-beam Imaging sonar
The U.S. Navy has acquired several Iver2 vehicles. In 2007, Naval Undersea Warfare Center Division, Newport awarded OceanServer Technology a contract for three Iver2 vehicles configured with advanced acoustic sensors for imaging and communication, an oceanographic sensor suite for conducting environmental assessments, and dedicated processors to enable experiments in autonomous vehicle behavior.
In 2009, Naval Surface Warfare Center (NSWC) Indian Head Division acquired an Iver2 for development, general research, and in-water evaluation of new sensors. In 2010, OceanServer delivered two lightweight multibeam sonar equipped Iver2's to the Navy Special Warfare (NSW) Command at the Stennis Space Center. The Office of Naval Research (ONR) also contracted for three vehicles. Canada's Navy has also purchased Iver2s for use in minehunting.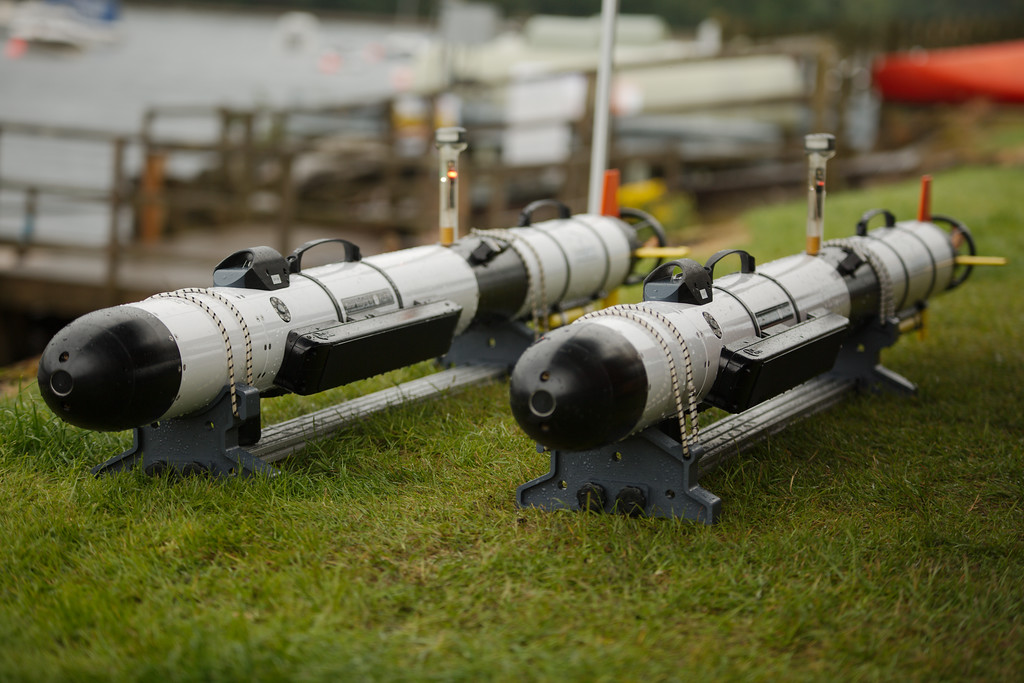 SeeByte and OceanServer are now offering the Iver3 EOD-XO Neptune Edition
 15 March 2016 - SeeByte and OceanServer are pleased to announce a new commercial partnership. The companies recently successfully delivered three Iver3 systems with SeeByte's software to the United Kingdom's (UK) Ministry Of Defence (MOD) Defence Equipment and Support (DE&S).
Following that success SeeByte and OceanServer are now offering the Iver3 EOD-XO Neptune Edition. This package offers OceanServer's Iver3 AUV equipped with SeeByte Neptune, an open architecture enabling autonomous multivehicle collaboration. Designed to enhance Mine Counter-Measure (MCM) missions, the system offers launch and recovery software management, water column flight management, static and dynamic exclusion zones, survey and re-acquire tasks, and real-time progress and status monitoring. The Iver3 MCM systems come equipped with a Klein UUV 3500 side-scan sonar, RDI Explorer DVL w/ADCP, WHOI Micro modem, Iridium Communications and operator console.
Bob Anderson, President of OceanServer, said "The Iver3 EOD-XO Neptune Edition offers our customers the opportunity to operate multiple systems from a single control station. The systems are assigned tasks and they collaborate to fulfil the mission."
Ioseba Tena, Sales Manager of SeeByte, said "Our customers in the MCM domain are looking at ways in which to more effectively operate fleets of AUVs. The Iver3 EOD-XO Neptune Edition is designed for that purpose and it delivers!"
OceanServer Awarded AUV Contract with US Naval Undersea Warfare Center for Iver3 with Rowe Technologies, Inc. DVL
09 October 2014 - OceanServer Technology, Inc. has recently been awarded a contract for one Iver3 AUV by the US Naval Undersea Warfare Center (NUWC) in Newport, RI. This system will include several Iver3 options just released including the Rowe Technologies, Inc. (RTI) SeaPILOT 600 kHz Doppler Velocity Log with ADCP.
The RTI's SeaPILOT family of Doppler Velocity Logs (DVLs) represents some of the industry's newest and state of the art acoustic Doppler technology. The compact form factor and powerful electronics provide a versatile platform capable of producing precise bottom referenced velocity and/or current profile measurements for ROVs, AUVs, and other manned/unmanned submersibles. For vehicle navigation applications that require a custom fit like the Iver3, RTI provided four individual piston transducers along with compact electronics to facilitate repackaging into the AUV.
---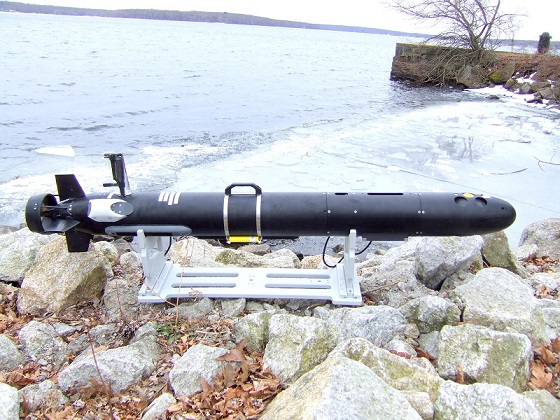 Iver2 Image courtesy OceanServer
Royal Canadian Navy Integrates New EOD Software into Unmanned Vehicles
13 January 2014 - Edinburgh-based SeeByte has successfully integrated SeeTrack Neptune with the OceanServer Iver2 Autonomous Underwater Vehicle (AUV) for the use of Defence Research and Development Canada (DRDC).
 The SeeTrack Neptune software provided DRDC with a platform to design its own autonomous routines for the Iver2 vehicle and to perform collaborative multi-vehicle operations with other Allied nations. The capability was demonstrated in Halifax to the Royal Canadian Navy in early October.
On behalf of DRDC, Mae Seto commented: "The integration of the SeeTrack Neptune software with the OceanServer Iver2 platform demonstrates the flexibility of running this software on an AUV manufactured by a different vendor than in the past. This flexibility, and the inherent interoperability that follows, is a factor in the future of Navy-run AUV technology, and being able to demonstrate this to our Royal Canadian Navy customer was an achievement."
SeeTrack Neptune is an adaptive planning tool for optimizing the execution of AUV operations. It supports high-level goal-based mission descriptions and allows the matching of mission requirements against vehicle(s) capabilities. SeeTrack Neptune also includes behaviors capable of adapting the mission based on changes in the environment, assets and mission objectives; benefits which will be useful for future Navy AUV operations. 
SeeTrack Neptune can be run through SeeTrack Military, used by Explosive Ordnance Disposal (EOD) and Clearance Divers around the world to achieve success in managing their off-board assets during dangerous and demanding missions.
---
U.S. Navy Purchases Six Iver AUVs
9 August 2013 - OceanServer Technology announced today that it has received purchase orders for six new Iver AUVs across three different contracts. The vehicles will be utilized by four different Navy directorates for a variety of defense related applications.  All six systems have or will be delivered within the next few months.  The Iver platform has gained strong acceptance from Navy customers around the globe for high resolution imaging in littoral waters. OceanServer continues to lead the AUV industry in driving costs lower while offering world class sonar solutions from five different recognized vendors. The flexible vehicle design also allows for a wide range of water quality sensors, remote helm applications and in-water communications.  Early this year, OceanServer delivered the 200th AUV system which marks a milestone attained by a select few companies.
---
Ocean Server and SeeByte Collaborate for Rapid Environmental Assessment Exercise
Iver UUVs - image courtesy of Ocean Server
14 June 2013 - A group of marine industry technology providers gathered in San Diego, using OceanServer Technology's Iver2 AUVs as the payload platform, to demonstrate improvements for both Sonar and Magnetic Sensor data collection and subsequent "in-stride" and post-mission data analysis methods. These methods are emerging through cooperative developments in commercial and military survey operations.  Participating for this five day exercise in the waters off Coronado, were companies including EdgeTech, L-3 Klein, Marine Magnetics and technical representatives from both the U.S. and Canadian Navies. A total of thirty-seven individual AUV missions, simulating battlefield data collection methods, provided a variety of high-resolution imagery and validated recent sonar/platform integration projects.
At the weeks end, and in subsequent briefings, the full data sweep was imported to SeeByte's SeeTrack Military software and ultimately into the Navy's Common Operator Interface for Navy EOD (SeeTrack COIN). The objective of this very broad cooperative exercise was to demonstrate, for Navy observers, the ways in which recent advances in technology might apply to Navy applications.
Bob Anderson from OceanServer Technology commented: "It is encouraging to see our collaboration with SeeByte producing such successful results. SeeByte's customers, including the U.S. Navy, can now benefit from the Iver2, a single man-portable AUV capable of carrying leading side-scan sonars and magnetic sensors, as the AUV is now fully compatible with SeeByte's software. Such instruments are vital when carrying out Rapid Environmental Assessment (REA) work".
---
05 May 2012 - An Iver2 AUV is launched from Her Majesty's Canadian Ship Summerside during Exercise Frontier Sentinel.