Unmanned Naval Systems Headlines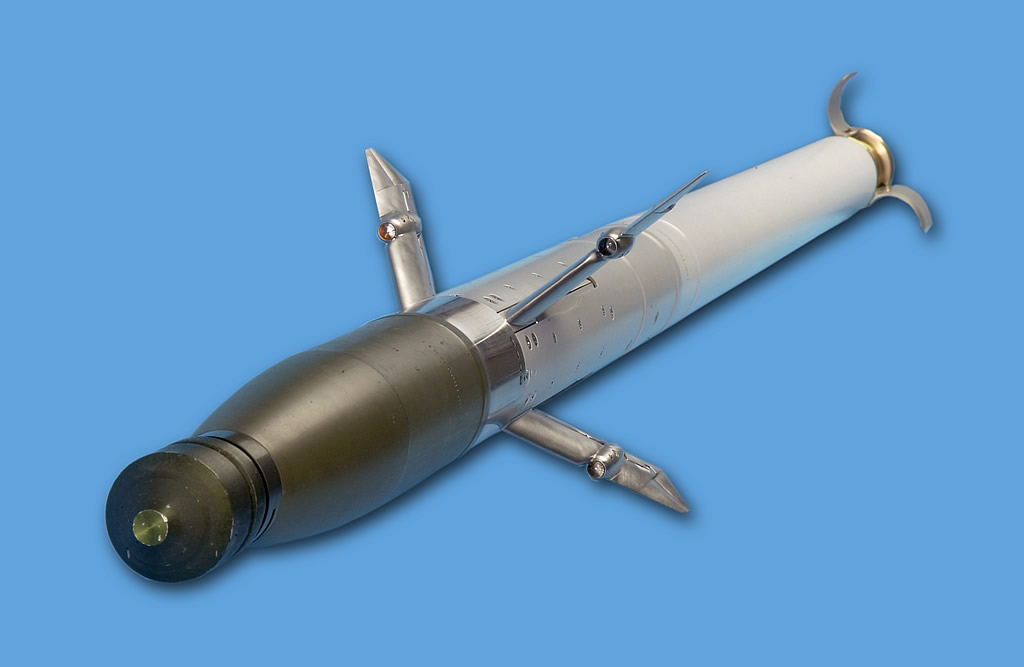 Navy Discusses Future Fire Scout Capabilities
24 February 2015 - The U.S. Navy will test a number of new offensive upgrades to the MQ-8C Fire Scout unmanned helicopter system over the next several years to include BAE Systems Advanced Precision Kill Weapons System pictured above.
Researchers Look to Nature for Inspiration
13 February 2015 - A scientist explores how emulating a horseshoe crab's shell could make a viable surf zone robot.
---
Navy Research Lab Unveils Firefighting Robot
4 February 2015 - The Naval Research Laboratory has unveiled its Shipboard Autonomous Firefighting Robot (SAFFiR) after recent realistic testing. SAFFiR is a bipedal, humanoid robot designed to help researchers evaluate how unmanned systems can support Sailors with damage control aboard naval vessels.

---
Huntington Ingalls Industries Buys UUV Builder
30 January 2015 - Huntington Ingalls Industries announced today that it has acquired the Engineering Solutions Division of The Columbia Group, a leading designer and builder of unmanned underwater vehicles for domestic and international customers.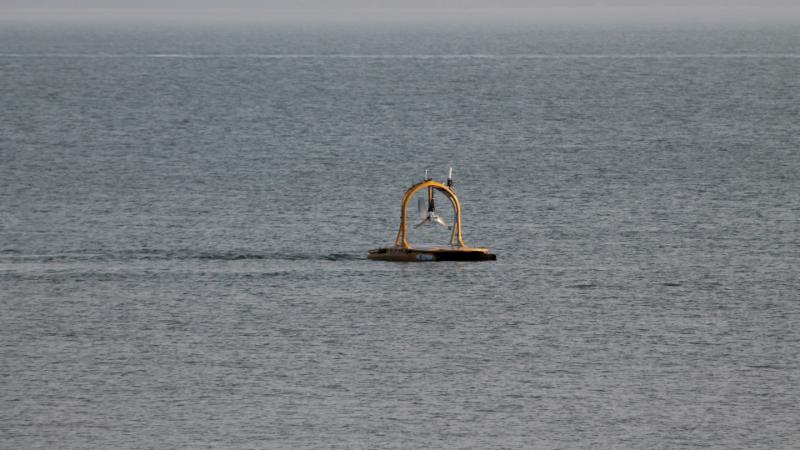 Photo courtesy of ASV. ASV's C-Enduro unmanned surface vehicle  

SeeByte Awarded Contract for Ocean Sampling Networks 
30 January 2015 - SeeByte has been awarded a contract by the UK's Small Business Research Initiative (SBRI). This contract is to undertake work in collaboration with Autonomous Surface Vehicles (ASV), a manufacturer of unmanned marine systems, and the Marine Biological Association of the UK.
---
Kutta Technologies Develops Technology for Autonomous Aerial Resupply
30 January 2015 - Kutta Technologies announced today that they are a key member on the Office of the Naval Research's (ONR) Autonomous Aerial Cargo Unmanned Resupply System (AACUS) team.
---
Leidos Anti-submarine Warfare Drone Surrogate Completes Voyage
26 January 2015 - Leidos announced today that its prototype maritime autonomy system for the Defense Advanced Research Projects Agency(DARPA)'s Anti-Submarine Warfare Continuous Trail Unmanned Vessel (ACTUV) program recently completed its first self-guided voyage between Gulfport and Pascagoula, Mississippi.  
---
Raytheon acquires Tucson-based Sensintel, Inc.
26 January 2015 - Raytheon Company has acquired privately-held Sensintel, Inc., a leading provider of unmanned aircraft systems (UAS) solutions to the intelligence and special operations markets.
---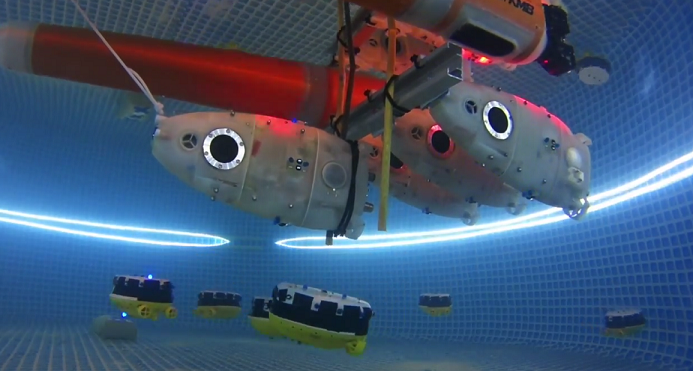 Image Courtesy of CoCoRo Project
Austrian Researchers Demonstrate Largest Underwater Robot Swarm
12 January 2015 - Researchers at Austria's University of Graz have demonstrated the largest collection of swarming autonomous underwater vehicles with their Collective Cognitive Robots (CoCoRo) project.  A total of 41 autonomous underwater vehicles (AUVs) were assembled for recent swarm testing at the university's Artificial Life Lab.
---
Reach Your Target Audience Directly
Naval Drones is read by thousands of naval and industry professionals worldwide each month.  Email info@navaldrones.com for information on promotional content or advertising on this site.
---
RQ-4 Variants Set Weekly Flight Hour Record
7 January 2015 – Air Force, Navy, and NASA variants of Northrop Grumman Corporation's High Altitude Long Endurance (HALE) Unmanned Aircraft System (UAS) series recently flew more intelligence, surveillance and reconnaissance (ISR) mission hours in one week than ever before.
---
Navy to Establish UCLASS Fleet Introduction Team
5 January 2015 - The U.S. Navy recently approved the establishment of the Unmanned Carrier-Launched Airborne Surveillance and Strike (UCLASS) Fleet Introduction Team (FIT) to be based at Naval Base Ventura County, Point Mugu, California.  
Target Drone Washes Up in Philippines
5 January 2015 - A U.S. Navy BQM-74E target drone washed up on the tiny island of Patnanungan, Quezon, Philippines on Sunday.  
---
---