Unmanned Naval Systems Headlines
Leidos Anti-submarine Warfare Drone Surrogate Completes Voyage
26 January 2015 - Leidos announced today that its prototype maritime autonomy system for the Defense Advanced Research Projects Agency(DARPA)'s Anti-Submarine Warfare Continuous Trail Unmanned Vessel (ACTUV) program recently completed its first self-guided voyage between Gulfport and Pascagoula, Mississippi.  
---
Raytheon acquires Tucson-based Sensintel, Inc.
26 January 2015 - Raytheon Company has acquired privately-held Sensintel, Inc., a leading provider of unmanned aircraft systems (UAS) solutions to the intelligence and special operations markets.
---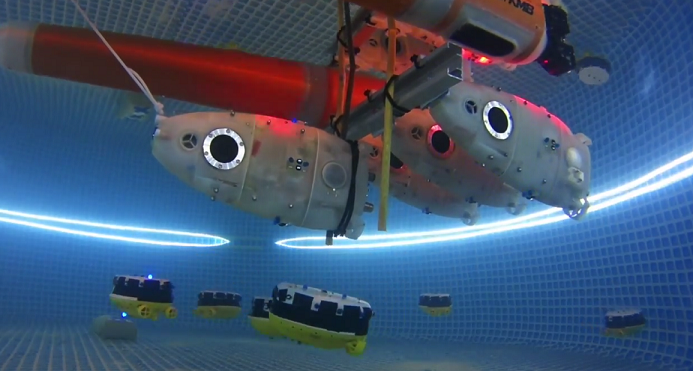 Image Courtesy of CoCoRo Project
Austrian Researchers Demonstrate Largest Underwater Robot Swarm
12 January 2015 - Researchers at Austria's University of Graz have demonstrated the largest collection of swarming autonomous underwater vehicles with their Collective Cognitive Robots (CoCoRo) project.  A total of 41 autonomous underwater vehicles (AUVs) were assembled for recent swarm testing at the university's Artificial Life Lab.
---
Reach Your Target Audience Directly
Naval Drones is read by thousands of naval and industry professionals worldwide each month.  Email info@navaldrones.com for information on promotional content or advertising on this site.
---
RQ-4 Variants Set Weekly Flight Hour Record
7 January 2015 – Air Force, Navy, and NASA variants of Northrop Grumman Corporation's High Altitude Long Endurance (HALE) Unmanned Aircraft System (UAS) series recently flew more intelligence, surveillance and reconnaissance (ISR) mission hours in one week than ever before.
---
Navy to Establish UCLASS Fleet Introduction Team
5 January 2015 - The U.S. Navy recently approved the establishment of the Unmanned Carrier-Launched Airborne Surveillance and Strike (UCLASS) Fleet Introduction Team (FIT) to be based at Naval Base Ventura County, Point Mugu, California.  
Target Drone Washes Up in Philippines
5 January 2015 - A U.S. Navy BQM-74E target drone washed up on the tiny island of Patnanungan, Quezon, Philippines on Sunday.  
---
---