Headlines
Marine Corps Orders 800 InstantEye UAVs
6 February 2018 - InstantEye Robotics announced today that it has received an order from PMA-263, the Navy and Marine Corps Small Tactical Unmanned Aircraft Systems Program Office, for an additional 800 InstantEye Mk-2 GEN3-A0 sUAS systems.  The systems delivered under this contract will support deployed Marine infantry squads, providing organic surveillance and reconnaissance capabilities.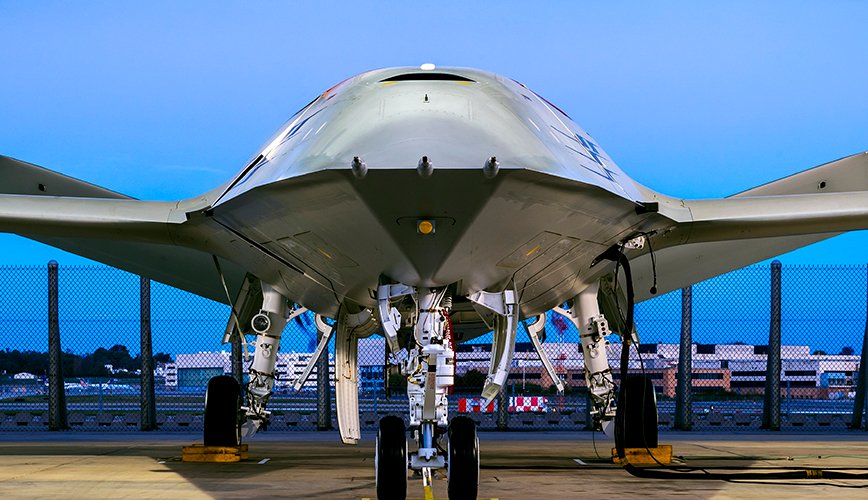 Boeing's MQ-25 unmanned aircraft system is completing engine runs before heading to the flight ramp for deck handling demonstrations next year. The aircraft is designed to provide the U.S. Navy with refueling capabilities that would extend the combat range of deployed Boeing F/A-18 Super Hornet, Boeing EA-18G Growler, and Lockheed Martin F-35C fighters. (Boeing photo by Eric Shindelbower)

New Autonomous Flight Technology Means Rapid Resupply for Marines

By Warren Duffie Jr., Office of Naval Research
15 December 2017 - MARINE CORPS BASE QUANTICO, Va.—Autonomy options for the Marine Corps have taken a major step forward, as officials at the Office of Naval Research (ONR) announced today a successful final helicopter flight demonstration with autonomous capability at Marine Corps Base Quantico, Va., part of the Autonomous Aerial Cargo/Utility System (AACUS) program. AACUS is a partnership between ONR and technology company Aurora Flight Sciences.

AAC's HAMR VTOL UAS landing aboard US Navy M80 Stiletto
29 November 2017 - Advanced Aircraft Company's new HAMR VTOL conducted flight demonstrations for several US Navy organizations aboard their M80 Stiletto in the Chesapeake Bay.

Navy Establishes Unmanned Underwater Vehicle Squadron

27 September 2017 - Commander, Submarine Development Squadron 5 (DEVRON 5), held a combined change of command and squadron establishment ceremony at Naval Undersea Warfare Center, Sept. 26. During the ceremony, the Unmanned Undersea Vehicle Squadron (UUVRON) 1 was established, with Cmdr. Scott Smith, from Hartford, South Dakota, becoming its new commanding officer.

General Dynamics Demonstrates Advanced Mission Command and Control among Unmanned Underwater, Airborne and On-shore Assets at ANTX 2017

29 August 2017 - General Dynamics Mission Systems and General Dynamics Electric Boat demonstrated multiple mission command, control and communication capabilities connecting Bluefin Robotics' unmanned underwater vehicles (UUV) and a third-party provided unmanned aerial vehicle (UAV) with a simulated AN/BYG-1 submarine combat control center ashore.

Lockheed Martin Launches Underwater Unmanned Aircraft from Unmanned Underwater Vehicle

25 May 2017 - In a testament to the versatility and adaptability that its unmanned systems bring to complex missions, Lockheed Martin successfully launched Vector Hawk, a small, unmanned aerial vehicle (UAV), on command from the Marlin MK2 autonomous underwater vehicle (AUV) during a cross-domain command and control event hosted by the U.S. Navy

L3 Acquires Unmanned Underwater Vehicle Power Company

23 May 2017 - L3 Technologies announced today that it has acquired Open Water Power, Inc. ("Open Water Power"). The acquisition was completed on May 19, 2017, and the terms were not disclosed. The business will be renamed L3 Open Water Power and will be integrated into L3's Sensor Systems business segment.

MQ-8C Fire Scout Ground Turns and Telemetry Testing onboard USS Montgomery (LCS 8)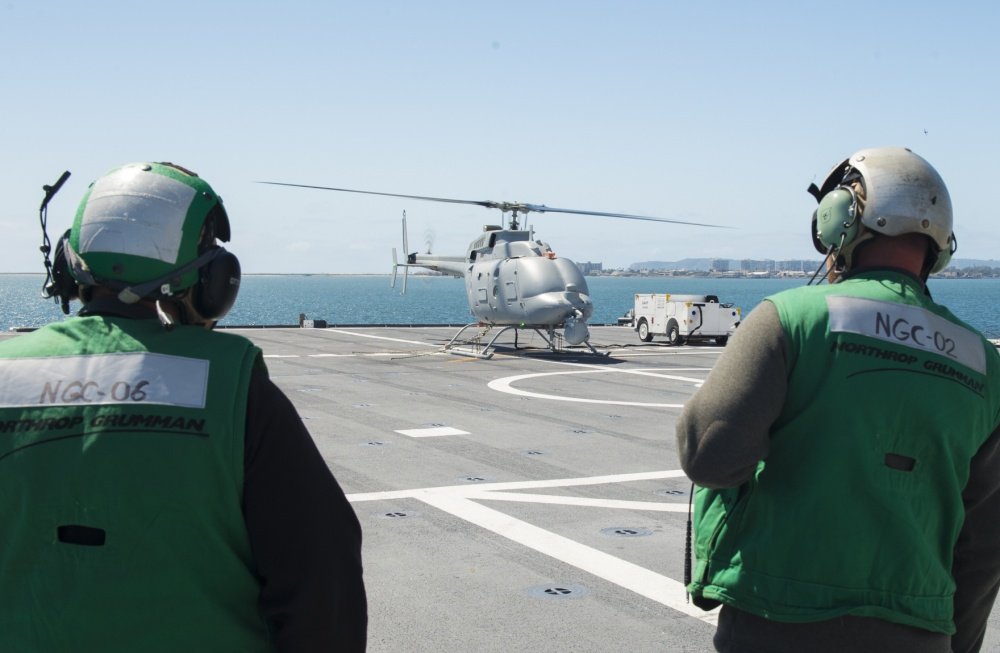 27 March 2017 - Northrop Grumman employees support MQ-8C ground turns and telemetry tests on board littoral combat ship USS Montgomery (LCS 8) while moored at Naval Base San Diego. This was the first test of the MQ-8C version of the Fire Scout on board an LCS. At see testing is planned later this spring. (U.S. Navy photo by Mass Communication Specialist 3rd Class Zachary Eshleman)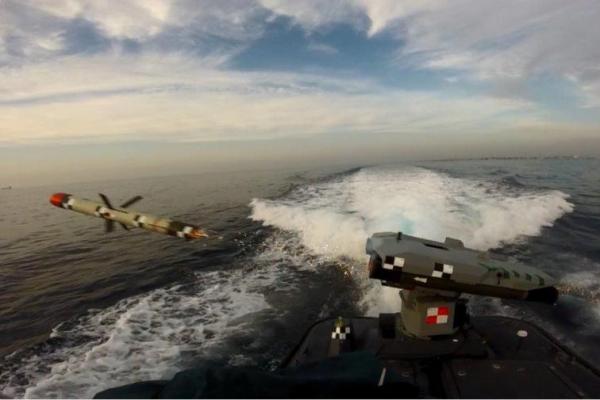 Photo courtesy of Rafael Advanced Defense Systems

9 March 2017 - Rafael Advanced Defense Systems completed a test firing demonstration using its Protector unmanned surface vehicle, or USV.
During the demonstration, the vehicle conducted a series of launches with a variety of munitions, including the Spike missile. The event marked the first missile test firing with a fully operational, remotely-controlled Protector platform.
Wide Area Sensor Flies on Integrator UAV
15 February 2017 - Logos Technologies and Insitu, a subsidiary of The Boeing Company, are proud to announce the successful initial flight test of the Redkite wide-area sensor aboard the Integrator small tactical unmanned aircraft.

DARPA Demonstrates Drone Recovery System (Video)
6 February 2017 - In December 2016, Aurora Flight Sciences successfully tested a full-scale technology demonstration system that repeatedly captured a 400-pound Lockheed Martin Fury UAS accelerated to representative flight speeds via an external catapult. The system is capable of recovering aircraft up to 1,100 pounds, exceeding DARPA's design objectives.

Textron Systems Begins On-Water Testing for Common Unmanned Surface Vehicle (CUSV™)
11 January 2017 - Textron Systems Unmanned Systems announced today that it began on-water testing for the fourth-generation Common Unmanned Surface Vehicle (CUSV™), supporting the U.S. Navy's Unmanned Influence Sweep System (UISS) program.
DOD Releases Video of 103 Drone Swarm
9 January 2017 - The Department of Defense's Strategic Capabilities Office, partnering with Naval Air Systems Command, successfully demonstrated one of the world's largest micro-drone swarms at China Lake, California. The test, conducted in October 2016 consisted of 103 Perdix drones launched from three F/A-18 Super Hornets. The micro-drones demonstrated advanced swarm behaviors such as collective decision-making, adaptive formation flying, and self-healing.  
China Seizes US Navy Underwater Drone
16 December 2016 - On December 15th 2016, the Chinese Navy seized an American unmanned underwater vehicle (UUV) operating in international waters off the Western coast of the Philippines. 

ONR Conducts Force Protection Swarm Demonstration

14 December 2016 — Autonomous unmanned swarming boats were put through their paces in a recent demonstration in the lower Chesapeake Bay—with results that show dramatic new possibilities for autonomy in future naval missions.

Johns Hopkins APL, Navy Demonstrate High-Speed, Autonomous Surface Patrol Capability
13 December 2016 - After a year of internal research and development, the Johns Hopkins University Applied Physics Laboratory in Laurel, Maryland, recently conducted a large, at-sea demonstration of swarming unmanned surface vessels (USV).
Boeing to Acquire Liquid Robotics
6 December 2016 – Boeing has entered into an agreement to acquire Liquid Robotics, a market leader in autonomous maritime systems and developer of the Wave Glider ocean surface robot, to grow its seabed-to-space autonomous capabilities.
Aurora Flight Sciences to Develop Unmanned Huey
13 November 2016 - Aurora Flight Sciences continues to break ground on the development of advanced autonomous capabilities for vertical take-off and landing (VTOL) systems. Aurora's work on the Autonomous Aerial Cargo Utility System (AACUS) program will be leveraged to integrate the company's Tactical Autonomous Aerial Logistics System (TALOS) on a UH-1H helicopter.
DARPA's Anti-submarine Drone Tests Towed Airborne Sensor

24 October 2016 - DARPA's Anti-Submarine Warfare (ASW) Continuous Trail Unmanned Vessel (ACTUV) program demonstration vessel is currently undergoing open-water testing off the coast of California and recently set sail with a prototype low-cost, elevated sensor mast developed through the Agency's Towed Airborne Lift of Naval Systems (TALONS) research effort.

DCNS and Airbus Join Forces to Introduce Unmanned Naval Helicopter
21 October 2016 - DCNS and Airbus Helicopters are joining forces to design the future tactical component of France's Naval Aerial Drone (Système de Drones Aériens de la Marine – SDAM) program, the VSR700. 
Final MQ-25 Design Contract Awarded to Northrop Grumman
20 October 2016 - The Naval Air Systems Command, Patuxent River, Maryland, has awarded Northrop Grumman Systems Corporation, of El Segundo, California, a $35,752,362 cost-plus-fixed-fee contract to conduct risk reduction activities in support of the MQ-25 Unmanned Carrier Aviation Air System.
Navy Awards MQ-8C Fire Scout Radar Contract
17 October 2016 - Leonardo-Finmeccanica's Osprey AESA radar has been picked to serve as look-out on-board the US Navy's newly-upgraded unmanned helicopter, the MQ-8C Fire Scout. The contract will see Leonardo delivering an initial batch of 5 radars to the US Navy's procurement organisation, the Naval Air Systems Command (NAVAIR), for testing and evaluation work.
General Atomics Awarded MQ-25 Design Contract
5 October 2016 - The Naval Air Systems Command, Patuxent River, Maryland, has awarded General Atomics Aeronautical Systems, Inc., Poway, California, a $43,736,111 cost-plus-fixed-fee contract to conduct risk reduction activities in support of the MQ-25 Unmanned Carrier Aviation Air System.
Lockheed Launches Unmanned Air Vehicle from Unmanned Underwater Vehicle
28 September 2016 - Lockheed Martin successfully launched Vector Hawk, a small, unmanned aerial vehicle (UAV), on command from the Marlin MK2 autonomous underwater vehicle (AUV) during a cross-domain command and control event hosted by the U.S. Navy. 
Navy Approves Triton UAVs for Initial Production
23 September 2016 - The Department of the Navy announced yesterday that the MQ-4C Triton Unmanned Aircraft System (UAS) received milestone C approval.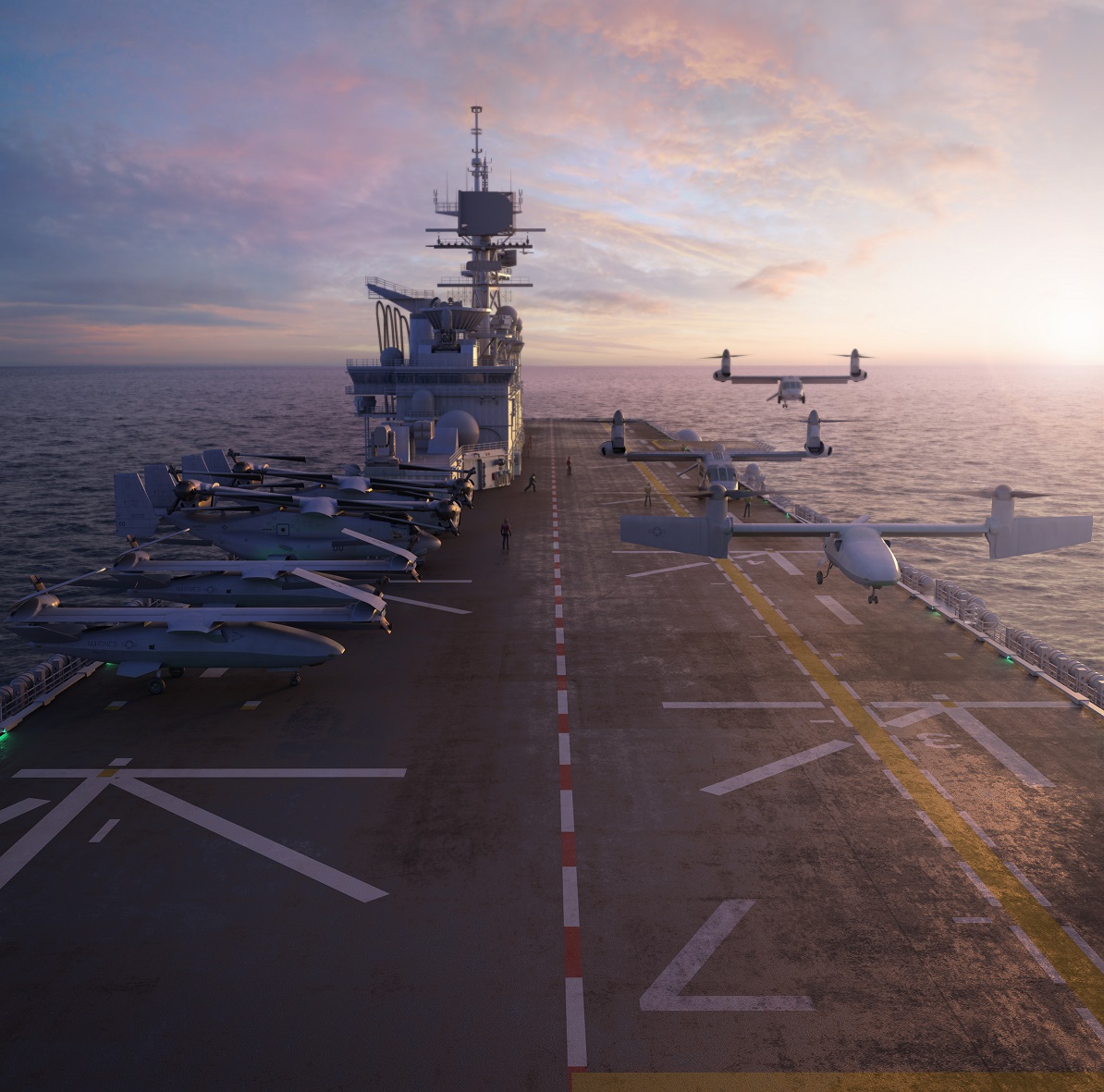 Bell Helicopter Image
Bell Unveils Missile Firing Unmanned Tiltrotor
22 September 22, 2016 – Speaking before an audience of aviation and military experts assembled at the National Press Club in Washington, D.C., Bell Helicopter, a Textron Inc. today unveiled the Bell V-247 Vigilant tiltrotor.  
General Dynamics Autonomous Underwater Vehicle Detects Threats to Ship Hulls and Structures
22 September 2016 - General Dynamics Mission Systems featured the Bluefin Robotics hovering-autonomous underwater vehicle (H-AUV) at OCEANS 2016 in Monterey, California. 
DARPA Awards Hydra Unmanned System Contracts
16 September 2016 - The Boeing Company, in Huntington Beach, California, has been awarded a $21,885,490 cost-plus-fixed-fee contract for a research project under the Hydra Phase 2 modular unmanned system program.
France Concludes ESPADON Unmanned Program
15 September 2016 - France's ESPADON unmanned mine-hunting demonstration program has successfully concluded. The ESPADON program was a component of the French MoD overarching Système de Lutte Anti-Mines Futur (SLAMF, future mine countermeasures program). 
Bluefin-21 Launches Smaller AUVs in Navy Exercise
9 September 2016 - The General Dynamics Bluefin-21 autonomous underwater vehicle (AUV) successfully launched multiple Bluefin SandShark™ micro-autonomous underwater vehicles (M-AUV) as part of several capability demonstrations at the U.S. Navy sponsored 2016 Annual Naval Technology Exercises (ANTX) in Newport, Rhode Island. 
AeroVironment UAV Communicates with Underwater Drone Swarm
8 September 2016 - AeroVironment, Inc has announced the United States Navy has successfully demonstrated the use of its submarine-launched Blackwing UAV to link with a swarm of unmanned undersea vehicles and communicate with the submarine combat control system during the Annual Naval Technology Exercise (ANTX) on August 16.
Liquid Robotics to Partner with Norway's Maritime Robotics
7 September 2016 - Liquid Robotics®, the leader in long-duration, unmanned ocean robots, today announced a new business and technology partnership with Maritime Robotics, Norway's leading system integrator of autonomous maritime systems.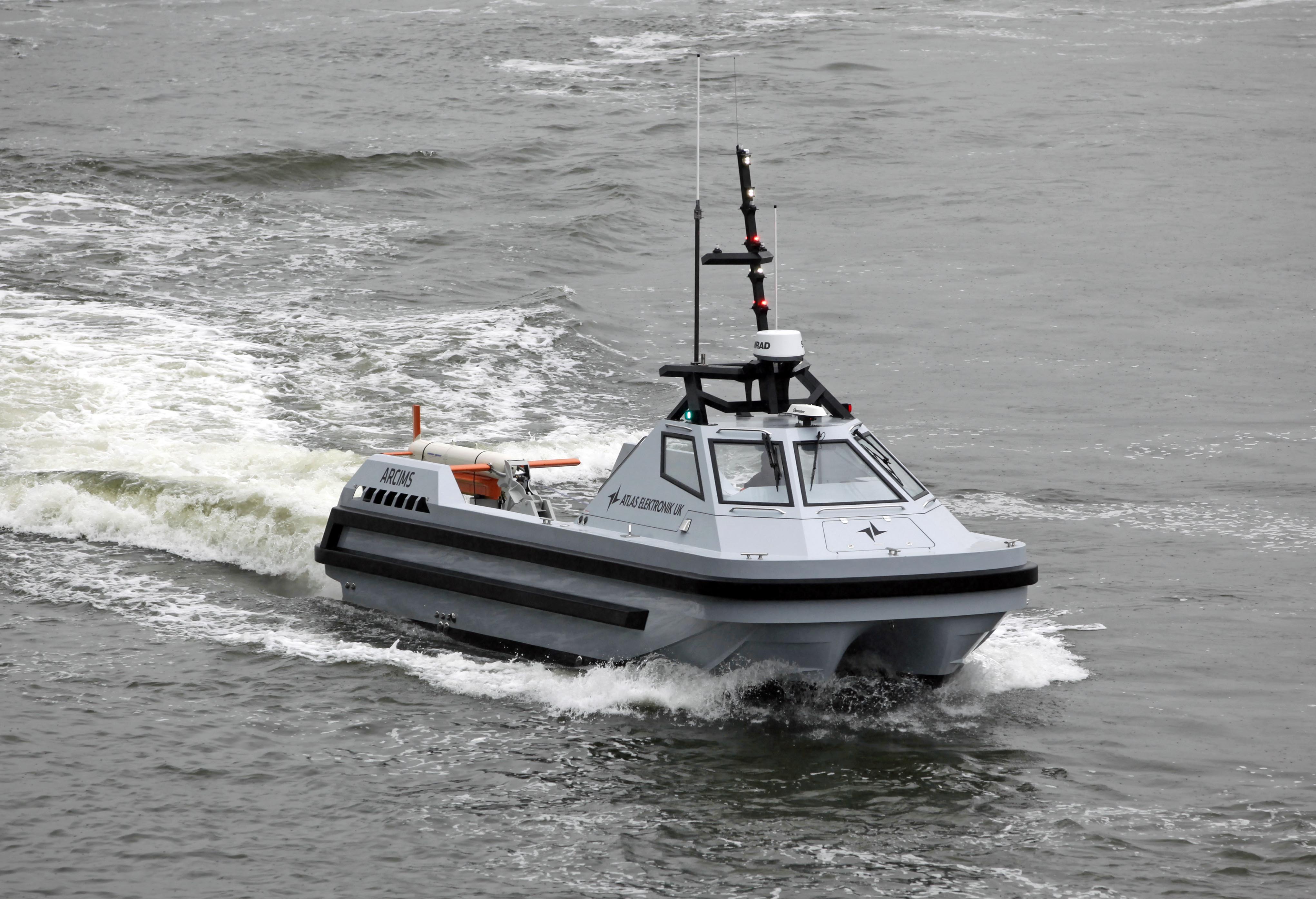 Northrop Grumman to Demonstrate Unmanned Mine Hunting for Royal Navy
2 September 2016 - Northrop Grumman Corporation will demonstrate its unmanned mine hunting capability during the Royal Navy`s upcoming Unmanned Warrior exercise.
SCALABLE Network Technologies to Support U.S. Navy Drone Communications
1 September 2016 - SCALABLE Network Technologies, Inc., a producer of wireless network design and optimization tools, announced today that the United States Navy will leverage its EXata simulation software as part of the Forward-Deployed-Energy and Communications Outpost (FDECO) Innovative Naval Prototype (INP) project.
Riptide Ships Six Unmanned Underwater Vehicles to the U.S. Navy
18 August 2016 - Riptide Autonomous Solutions has shipped six Micro-UUVs to the US Navy. The unmanned undersea vehicles are configured with a dry payload volume that will enable rapid payload development and demonstration and allow the Navy to test various new sensor systems with these small flexible vehicles.
QinetiQ to Integrate Unmanned Air, Sea, and Subsea Vehicles 
18 August 2016 - QinetiQ will provide the UK component of a multinational demonstration of unmanned and autonomous systems under a new contract with the Defence Science and Technology Laboratory (Dstl).
Let Naval Drones Produce your Digital Media Promotional Content!
Unmanned Systems manufacturers- your digital advertising is increasingly being blocked by millions of your potential customers. Learn how we can help.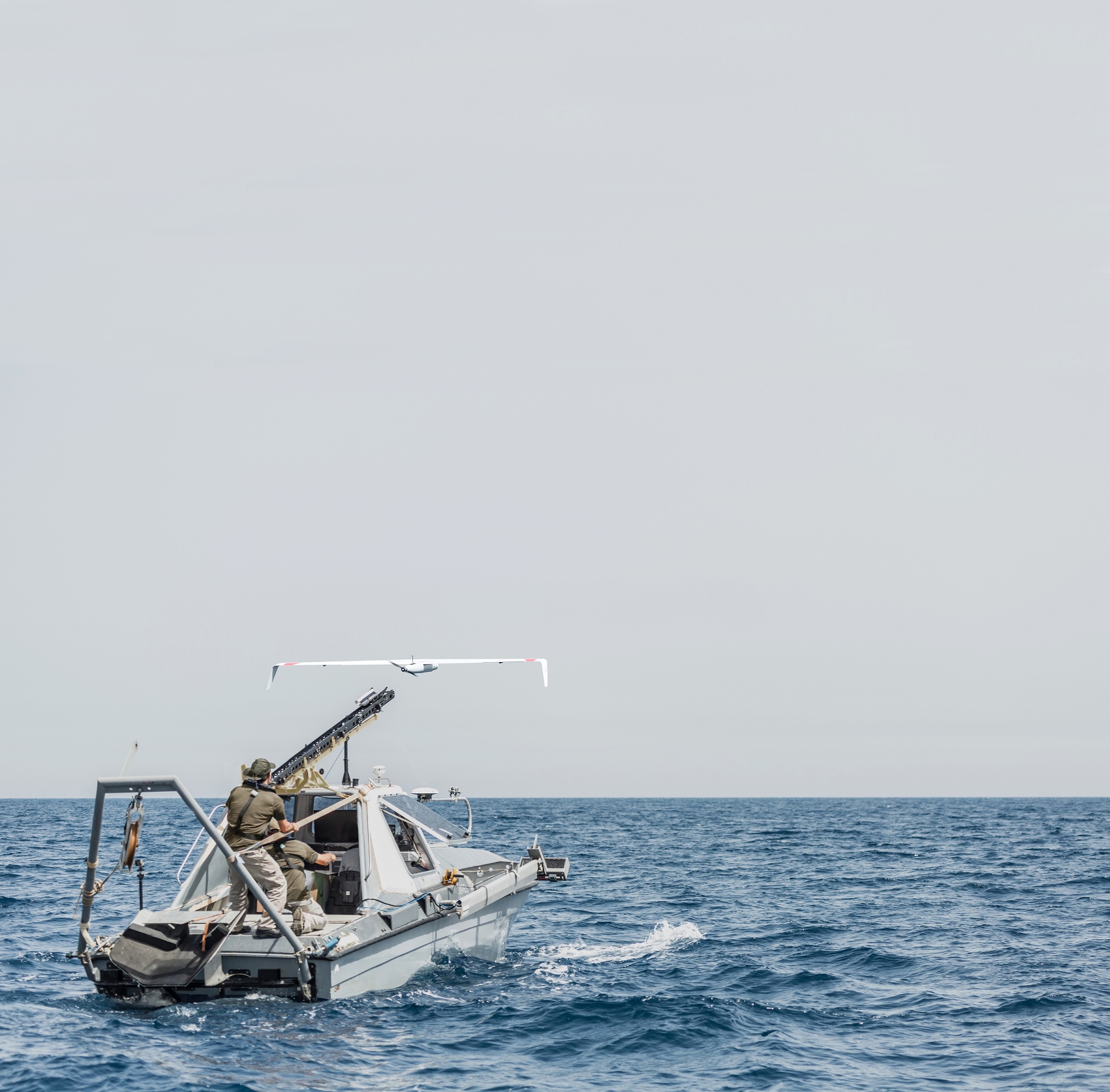 Elbit Systems Introduces Skylark™ C
16 August 2016 - Elbit Systems has introduced the Skylark C, a waterproof and floating unmanned air vehicle that provides even small vessels a unique organic offoard surveillance capability that can be deployed and retrieved in less than 15 minutes.
Mexican Navy Debuts New Surveillance Drone
3 August 2016 - The Mexican navy launched its new Arcturus T-20 surveillance drone at a ceremony in Puerto Penasco, Sonora, last week
Swiftships Partners with ICS on Autonomous Special Ops Craft
1 August 2016 - Swiftships has partnered with ICS Nett Inc. (ICS), a Virginia-based technology solutions company, to continue research and development efforts on the Anaconda, a Special Operation Craft Riverine (SOCR).
Sea Hunter Completes Initial Performance Trials
25 July 2016 - Leidos today announced that the Sea Hunter unmanned surface vehicle completed initial performance trials off San Diego, California on June 22nd for Defense Advanced Research Projects Agency (DARPA)'s Anti-Submarine Warfare Continuous Trail Unmanned Vessel (ACTUV) program.
NATO Naval Exercise Features Autonomous Vehicles
18 July 2016 - Several different Autonomous Surface Vessels (ASVs), Autonomous Underwater Vehicles (AUVs) and Unmanned Aerial Vehicles (UAVs), equipped with different sensors and acoustic payloads, are operating together in the seventh annual edition of REP16-Atlantic exercise, a joint exercise of the Portuguese Navy, the NATO Centre for Maritime Research and Experimentation (CMRE), and the University of Porto.
Seagull Unmanned Surface Vehicle Launches Torpedo
28 June 16 - Elbit Systems Seagull Unmanned Surface Vessel (USV) has successfully test-launched an anti-submarine torpedo in trials off of Haifa, Israel.
Sonardyne Supplies Optical Modems to Korean Research Institute Autonomous Vehicle
24 June 2016 - Sonardyne Asia Pte. Ltd. in Singapore, and its Korean reseller, Insung, have supplied underwater communications equipment to the Korean Research Institute of Ships and Ocean Engineering (KRISO).
Boeing's Echo Voyager Unmanned Undersea Vehicle Powered by Corvus Lithium Ion Energy Storage System
7 June 2016 - Boeing recently announced the addition of Echo Voyager to its fleet of unmanned undersea vehicles (UUVs) developed by their research and development division, Phantom Works. Echo Voyager is the largest of the innovative UUV family, joining the Echo Seeker and Echo Ranger. Echo Voyager is capable of operating autonomously at sea for months at a time due to its hybrid rechargeable power system supported by a lithium-ion energy storage solution from Corvus Energy.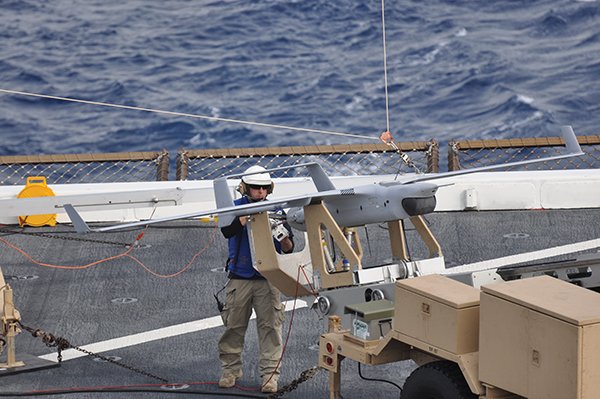 Navy Awards Insitu $71.5 Million Tactical UAS Contract
1 June 2016 - The Navy has awarded Insitu a $71.5 million firm fixed price contract to deliver six Lot V RQ-21 Blackjack unmanned air systems.
France to Conduct NEURON UCAV Carrier-Interoperability Testing
19 May 2016 - France's Directorate General of Armaments (DGA) has announced a new campaign of flight tests for the NEURON Unmanned Combat Air Vehicle (UCAV) technology demonstrator to include sea trials with the aircraft carrier Charles De Gaulle (R91).