Powervent USV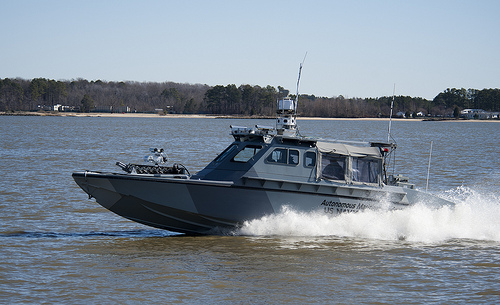 U.S. Navy photo by Mass Communication Specialist 3rd Class Betsy Knapper/Released)
---
Powervent (AMN1) is an experimental unmanned surface vessel owned by Naval Surface Warfare Center Combatant Craft Division (NSWC CCD).  Powervent was developed by Spatial Integration Systems, Inc. of Virginia Beach, VA for the U.S. Navy's Autonomous Maritime Navigation (AMN) project to develop advanced autonomous navigation technology for unmanned vehicles. SIS was awarded a $24 million dollar contract in 2006 to develop a Multi-Platform Sensor System (MPSS) and integrate it into unmanned surface vessels.
Powervent is equipped with 360 degree high resolution cameras, LIDAR, and radar, integrated with multi-sensory data fusion, multi-dimensional processing algorithms, and artificial intelligence technology.
Powervent has been tested in a series offorce protection scenarios beginning in Trident Trident Warrior 10.  During that exercise, Powervent demonstrated basic autonomous operations off the coast of San Diego, working with an 11 meter rigid hull inflatable boat (RHIB) (AMN4) also converted into a USV.   During Trident Warrior 11, Powervent was equipped with a long-range acoustic device (LRAD). The vessel was tested again in off Virginia in January 2012 during Trident Warrior 2012 (TW12) Spiral 1. During this testing, Powervent was used with another SIS USV, Combatant Maritime Vessel (CMV), both incorporating non-lethal technologies including a hailer (long-range sound system), laser dazzler, and a flash-bang grenade launcher.