MQ-8B Fire Scout
The Northrop Grumman MQ-8B Fire Scout is a vertical take off and landing (VTOL) UAV in service in the U.S. Navy. Fire Scouts have deployed operationally in conducting ISR missions in the Persian Gulf, Afghanistan, Horn of Africa, and Caribbean. On July 10, 2012, a new Fire Scout operator training facility was opened at Naval Air Station Jacksonville. The Navy's projected Fire Scout inventory is 168 aircraft.
The Navy conducted a live-fire assessment with Fire Scout using the Advanced Precision Kill Weapons System (APKWS) in the spring of 2013.
Since 2006, the MQ-8B has flown more than 12,000 hours.  The first Fire Scout is scheduled to deploy on the Littoral Combat Ship in 2015.  Fire Scout will support the LCS' anti-surface and mine warfare mission modules, but not the anti-submarine warfare module as originally envisioned.  Additionally, the MQ-8B will no longer be aligned with the HSM helicopter squadrons, only serving in the HSC community.
---
Latest News
IBC Advanced Alloys Delivers Test Components to Fire Scout Program
15 September 2014- IBC Advanced Alloys Corp. has successfully delivered An assembly of three test components for the Navy's MQ-8B Fire Scout Vertical Takeoff UAS using IBC's proprietary Beralcast® technology. 
---
Fire Scout Detachment Returns to Mayport Following Successful Deployment
19 July 2014 Helicopter Anti-Submarine Squadron Light 60 (HSL-60) Detachment TWO returned today from a 186-day deployment embarked on USS ELROD (FFG 55). Reserve sailors from Detachment TWO deployed with the MQ-8B Fire Scout VTUAV, and flew 650 operational hours in support of intelligence, surveillance, and reconnaissance operations in the Mediterranean Sea.  ELROD will be decommissioned following this deployment.
Fire Scout Supports LCS VBSS Training
12 May 2014 - An MQ-8B Fire Scout assigned to HSM-35 supports Visit, Board, Search, and Seizure training from USS Freedom (LCS-1) while operating in the Pacific Ocean off Southern California.
LCS Conducts First Trials With Fire Scout UAV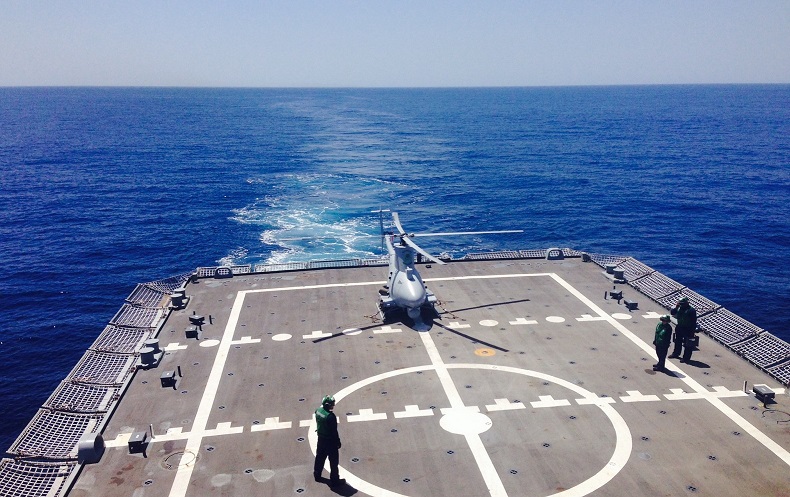 1 May 2014 - An MQ-8B Fire Scout sits on the flight deck of USS Freedom (LCS-1) April 30 off the coast of San Diego, Calif.  Sailors from Helicopter Maritime Strike Squadron 35 (HSM-35) are conducting the first combined operations between the unmanned Fire Scout and the manned H-60 helicopter aboard the littoral combat ship over the next few weeks. US Navy Photo.
---
Navy Stands Up Hybrid Rotary Wing Squadron

2 May 2013 - In a ceremony today at Naval Air Station North Island, California the U.S. Navy established Helicopter Maritime Strike Squadron (HSM-35), the "Magicians."  The squadron will fly  eight manned MH60-R and ten unmanned MQ-8B/C Fire Scout helicopters.
---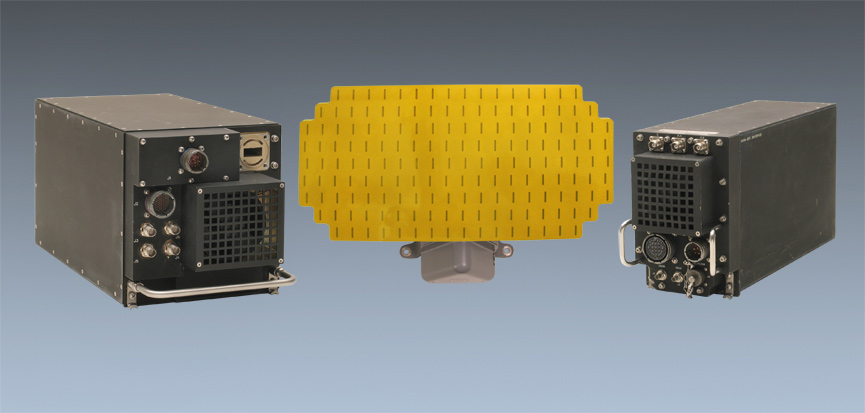 Telephonics RDR-700B Maritime Surveillance and Imaging Radar
Telephonics Awarded Fire Scout Radar Contract
9 January 2012 - Telephonics Corporation, a subsidiary of Griffon Corporation, was awarded a $33 million contract by Northrop Grumman to build and test nine multi-mode maritime surveillance and imaging radars for the Fire Scout unmanned air vehicle under the U.S. Navy's Rapid Deployment Capability. 
The RDR-1700B+ radar (AN/ZPY-4(V)1 in DOD nomenclature) can track up to 200 targets and provides provides terrain mapping to detect and display surface objects.  The RDR-1700B provides three modes for target imaging including Inverse Synthetic Aperture Radar (ISAR), strip-map, and spotlight SAR, which provide high-resolution images of targets or terrain.  The radar also supplies continuous data for weather avoidance.
---
USS Klakring Breaks Records with Fire Scouts
5 December 2012 - USS Klakring (FFG-42) returned to Mayport, Florida from a record setting deployment on December 1 with four embarked Fire Scouts. Video includes interviews from the Commanding Officer and HSL-42 Air Detachment Officer in Charge. Klakring's Fire Scouts flew more than 500 hours of surveillance missions in the AFRICOM area of responsibility.
---
Navy to Establish Dedicated VTUAV Squadron
2 September 2012 - Unmanned Helicopter Reconnaissance Squadron One (HUQ-1) will stand up on October 1 at Naval Air Station North Island, California to support the U.S. Navy's growing rotary wing UAV fleet. Although Navy unmanned target drone squadrons date back to post-World War II, since Fleet Composite Squadron (VC-6) deactivated in 2008, there hasn't been a dedicated navy drone squadron. The Marine Corps' currently maintains three UAS squadrons: VMU-1, 2, and 3.
HUQ-1 will serve three roles. First, it will be Navy's Fleet Replacement Squadron to train new Air Vehicle Operators (AVOs) and Mission Payload Operators (MPOs) for the MQ-8B Fire Scout and upcoming MQ-8C. Fire Scout AVOs must be one of the following specialities: Naval Aviator or Naval Flight Officer (13xx designator), or enlisted Naval Aircrewmen (AW), and Air Traffic Controlmen (AC) who are E6 or above. Fire Scout MPOs may be enlisted personnel E5 or above in the following rates; AW, Operations Specialist (OS), or Intelligence Specialist (IS).
Second, the squadron will supply current surface combatants with 32 man UAS detachments, or UDets, led by a Lieutenant Commander Naval Aviator. The Perry Class frigate has become the Navy's workhorse VTUAV platform, deploying with Fire Scouts most recently to the Horn of Africa, Libya, and South America for Intelligence, Surveillance, and Reconnaissance (ISR) missions in support of conventional and special operations forces. To date, many of the positions on these frigates have been filled by activated Navy Reservists, so HUQ-1 will provide a more permanent manning solution.
Finally, the squadron will provide unmanned aviation detachments (AVDets) to the 55 Littoral Combat Ships projected for commissioning. The composite AvDets will also deploy with fleet HSM and HSC expeditionary helicopters squadrons.
---
Fire Scout Payload Operators Wanted
17 August 2012 - The Navy Reserve is seeking volunteers for deployments to Africa as Fire Scout Payload Operators. Details here.
---
Video Vault
Capt. Patrick Smith, U.S. Navy, discusses Fire Scout weaponization with Advanced Precision Kill Weapons System (APKWS) laser-guided 2.75" rockets, recent MQ-8B crashes, and more. The weapons will give Fire Scout the capability to attack ground and slow moving sea targets.
---
BAE Systems APKWS promotional video.