RQ-20A Puma AE
The Aqua Puma All Environment (AE) RQ-20A is a small tactical, hand-launched UAS produced by AeroVironment, Inc. and marinized for use by the United State Marine Corps and Naval Special Warfare. Puma is an acronym for "Pointer Upgraded Mission Ability," indicating the vehicle's derivation from the Pointer. The electrically-powered RQ-20A carries stabilized electro-optical and infrared cameras, an 860 nanometer laser illuminator and has a maximum flight time of two hours and ceiling of 10,000 feet. The Puma's Ground Control Station (GCS) has a communications range of 20 km and is common with the smaller Wasp and Raven RQ-11 UAS.  AeroVironment's Digital Data Link (DDL) gives the Puma encrypted, beyond-line-of-sight voice, video, data, and text communication capabilities.  The aircraft can use GPS to automatically land within 25 meters of a chosen spot, including on the water.
U.S. Special Operations command has purchased $35.3 million in Puma systems and has been operating the UAS since 2008. The National Oceanographic and Atmospheric Administration (NOAA) has also acquired Pumas for meteorological observations, oil spill monitoring, and wildlife surveys from land, survey vessels, or boats.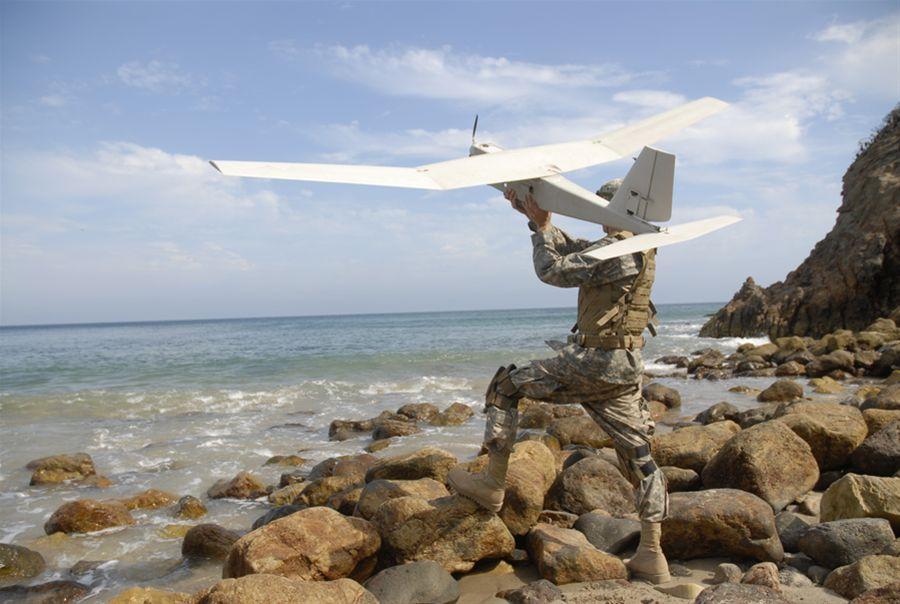 ---
Puma AE News 
Riverine Sailors Operate Puma in Arabian Gulf

17 February 2014 - Sailors assigned to Commander, Task Group (CTG) 56.7.4 launch an Aqua Puma All Environment (AE) RQ-20A from a Riverine Command Boat in the Arabian Gulf. CTG-56.7.4 provides a multi-mission platform for the U.S. 5th Fleet area of responsibility by focusing on maritime security operations, maritime infrastructure protection and theater security cooperation efforts, as well as conduct offensive combat operations. (U.S. Navy footage by Lt. Jorge E. Roldan/Released)
---
AeroVironment Unveils Puma Upgrades
21 October 2013 - AeroVironment, Inc. introduced a series of enhancements to the RQ-20A Puma AE small unmanned aircraft system at the Association of the United States Army Annual Meeting.
"Puma has proven itself a valuable tool to military and other government agencies, and with its recent type-certification by the Federal Aviation Administration, will soon help more domestic customers perform important jobs more safely and effectively," said Roy Minson, AeroVironment senior vice president and general manager of the company's Unmanned Aircraft Systems business segment. "Our enhanced Puma delivers more capability to expand its usefulness above and beyond what is expected from a Tier I UAS."

Puma AE's enhancements include the following:

• Advanced propulsion system and smart battery technology – a more powerful propulsion system with a longer endurance smart battery delivers more than three and one-half hours of flight duration, a 75 percent improvement over the current Puma AE. For added mission flexibility, versatile smart battery options are available along with the ability to integrate advanced power sources in the future, such as solar and fuel cells

• Auxiliary payload bay – provides the ability to integrate advanced payloads quickly and easily, while preserving Puma's existing color and thermal video camera capability

• Precision navigation system with secondary GPS – provides greater positional accuracy and reliability of the system

• Added durability – a redesigned fuselage, including reinforced construction, delivers improved aerodynamic properties and increased durability while maintaining Puma's All Environment capability

The enhanced Puma AE will be available the first quarter of 2014.
---
Puma AE Integrates Solar Power for Record Flights
12 August 2013 – AeroVironment, Inc. (NASDAQ:AVAV) today announced that a recent outdoor test flight of a solar-powered prototype version of the company's proven Puma AE™ small unmanned aircraft system (UAS), operating with the company's newest long-endurance battery, lasted 9 hours, 11 minutes – significantly longer than the flight endurance of small UAS being used in the field today.
AeroVironment is working with Alta Devices, a Sunnyvale, Calif. company that provides flexible, portable power that can be embedded into any other material, in the development of the solar Puma AE.

"This is a critical milestone with far-reaching implications for the many ways small UAS can benefit military, public safety and commercial customers," said Roy Minson, AeroVironment senior vice president and general manager, Unmanned Aircraft Systems (UAS). "The solar Puma AE is the latest example of AeroVironment's longstanding commitment to deliver important, innovative solutions that meet our customers' needs.

"Our integration of this cutting-edge technology dramatically increases Puma's current flight endurance using a clean, renewable power source," Minson added, "this development can give Puma AE customers significantly increased capabilities that approach those of the next class of UAS at a much lower acquisition and operating cost, and with much greater operational flexibility." AeroVironment's new long endurance battery extends Puma AE's non-solar endurance to more than three hours. This means small UAS could be used for longer missions over greater distances than previously possible.

Minson added that past solar solutions for powering small UAS were either too heavy or did not produce enough power for long-range flight – or both. "However," he said, "the solar Puma AE technology can produce enough power, while adding negligible weight, so that endurance is no longer an issue for most customer missions."

Using a proprietary and highly differentiated technology, Alta Devices manufactures the world's thinnest and highest efficiency solar cells using Gallium Arsenide. This technology significantly extends the battery life of any application, in many cases eliminating the need to recharge from the grid because it converts more light into electricity. Solar material like that used in the development of the solar Puma AE incorporates a thin, mobile power technology on a flexible substrate that has been independently certified by the National Renewable Energy Laboratory (NREL) as world-records for both single (28.8%) and dual (30.8%) junction solar cells.

Puma AE is a flexible, efficient and rugged hand-launched workhorse for intelligence, surveillance and reconnaissance (ISR). This solar-power enhancement makes it even more indispensible for U.S. and allied military, as well as for domestic public safety applications, such as firefighting, law enforcement, search and rescue, oil and gas field monitoring, and other commercial needs.

The solar Puma AE configuration currently is in the research and development phase. A production version is planned for early 2014.

The 13-pound Puma AE is fully waterproof, man-portable and can be assembled in minutes, hand-launched, operated and recovered on sea or land by a team of two people. It requires no infrastructure, such as runways, launching pads or recovery devices. In addition, the system is quiet and operates autonomously, providing persistent observation data.

Last month, AeroVironment received a "Restricted Category" rating for its Puma AE small UAS from the Federal Aviation Administration. The first-of-its-kind certificate permits operators to fly Puma AE for commercial missions in regions of the Arctic.
---
19 January 2013 - The Commanding Officer of USS Benfold describes the value the Puma small tactical UAV brings surface combatants in Proceedings Magazine.
---
Navy Experiments with Puma UAV for Ships
6 December 2012 – In November, Sailors from Riverine Squadron Three (RIVRON) based in Yorktown, Virginia, flew the Puma All Environment (AE) small tactical UAV for the first time operationally off Navy ships in the Persian Gulf. Puma tests were conducted from an Arleigh Burke Destroyer and a Patrol Coastal vessel. Earlier in the fall, U.S. Sailors launched a Puma from the Royal Fleet Auxiliary amphibious assault vessel RFA Cardigan Bay (L3009), also in the Fifth Fleet Area of Responsibility.
RIVRON Sailors Quartermaster Second Class Matthew Rodriguez and Master-at-Arms Second Class Daniel Meehan were part of the team testing the Puma. "Puma AE can be used for reconnaissance and visit, board, search and seizure and search (VBSS) and rescue missions. It is very helpful for destroyers and patrol coastal ships," said Rodriguez. The UAV is smaller and cheaper than the ScanEagle and Fire Scout UAVs being employed on other ships. The Navy is interested in using Puma to augment the surveillance capabilities of ships without embarked aviation detachments.
Puma can be guided to land on larger ship's decks, but because it is marinized, it can also land in the water and be recovered by the ship's crew. RIVRON Three Sailors had previously tested Puma in the Caribbean Sea from USS Oak Hill (LSD 51) in October 2011 during Amphibious - Southern Partnership Station 2012.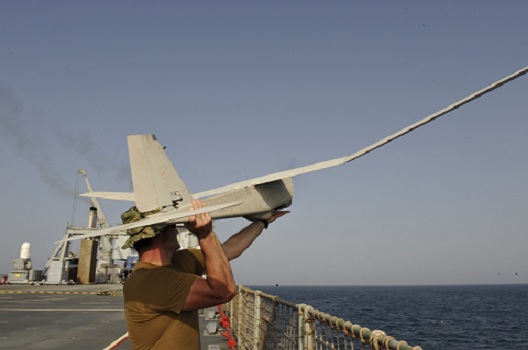 U.S. 5TH FLEET AREA OF RESPONSIBILITY (Sept. 25, 2012) U.S. Navy Senior Chief Engineman Bradley Williamson, assigned to Riverine Squadron Two, Detachment Three, prepares to launch the Puma AE aircraft aboard Royal Fleet Auxiliary amphibious assault vessel RFA Cardigan Bay (L3009).(Royal Navy photo/Released)
---
Puma AE (All Environment) video by AeroVironment