Black Pearl AUV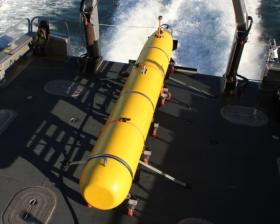 Bluefin 21 AUV (courtesy Bluefin Robotics). 
In May 2013, the Naval Research Laboratory (NRL) announced that it will negotiate with Bluefin Robotics for a sole source contract to use up to five Bluefin 21 autonomous underwater vehicles as a basis for the Navy's experimental Black Pearl AUV program.  The Navy requires a 21-inch diameter autonomous underwater vehicle with GPS/INS/DVL navigation capability, low noise propulsion, and onboard energy sufficient to carry out greater than 24 hour missions at depths to 400 meters.
Black Pearl will support research into long range and multi-static mine hunting and anti-submarine warfare programs, as well as new distributed sensing programs.
The Bluefin 21 variant is also used in the Navy's Knifefish Surface Mine Countermeasure Unmanned Underwater Vehicle.