Unmanned Carrier Launched Surveillance and Strike (UCLASS) Program
Program History
The U.S. Navy's UCLASS program was originally intended to develop a long duration, carrier-based UAS originally capable of operations by 2017. The program is aligned under Program Executive Officer for Unmanned Aviation and Strike Weapons (PEO(U&W)). Currently four aircraft manufacturers are expected to compete in this program.  
The Navy was expected to publish its final program requirements in the fall of 2012.  In December though, Naval Air Systems Command (NAVAIR) representatives announced a delay in the request for proposal to early 2013. 
On 14 August 2013, NAVAIR award four firm-fixed-price contracts in the amount of $15 million each conduct a preliminary design review to Boeing in St. Louis, Missouri; Northrop Grumman in El Segundo, California; General Atomics Aeronautical systems in Poway, California; and to Lockheed Martin in Palmdale, California. 
A draft RFP was to be issued in September 2013 which will lead to an eventual down-select to one company, but it was delayed due to debates over the aircraft's signature, payload, and range requirements. 
The classified initial RFP was finally released to the four prime contractors below on 17 April 2014. A final RFP was expected during the summer of 2014, but was delayed again pending a review of the service's information, surveillance and reconnaissance (ISR) portfolio in the fall of 2014.  Then, in February 2015, during a briefing on the Navy's Fiscal Year 2016 budget request to Congress, a navy budget official decided to delay the RFP again, this time to Fiscal Year 2016 pending the completion of an ongoing Office of Secretary of Defense (OSD) ISR UAV review.
Issues with the UCLASS' requirements definition process delayed the aircraft's projected initial operating capability from 2017 to 2023. The aircraft is being referred to as the RAQ-25A by the Naval Air Systems Command.
In January 2016, the Department of Defense proposed budget submission realigned UCLASS into the Carrier Based Aerial Refueling System (CBARS).  This aircraft, designed to primarily provide aerial refueling services to the carrier air wing, will allow acquisition of additional Boeing F/A-18 E/F Super Hornets and accelerated purchases of Lockheed Martin's F-35 Lighting II Joint Strike Fighter (JSF).  
In February 2016, the aircraft was redesignated to MQ-25.
 See also: 
Senate Armed Services Committee Chairman Letter to SECDEF on UCLASS
March 24, 2015
The Honorable Ashton Carter
Secretary of Defense
1000 Defense Pentagon
Washington, DC 20301

Dear Secretary Carter:
I am writing regarding my interest in the requirement and acquisition strategy for the Unmanned Carrier-Launched Airborne Surveillance-Strike (UCLASS) program.  I strongly believe that the Navy's first operational unmanned combat aircraft must be capable of performing a broad range of missions in contested environments as part of the carrier air wing, including precision strike as well as intelligence, surveillance, and reconnaissance (ISR).

This program will have far-reaching implications for the future of naval power-projection.  Given both its warfighting importance and the reality of a constrained fiscal environment, it is essential that we prioritize the right set of requirements today to prepare our Navy and the joint force for the future.  While the Navy needs an unmanned combat aircraft as soon as possible, rushing to start the wrong program will only delay-- and could prevent-- fielding of the right system. Therefore, I strongly support the decision to assess the UCLASS program as part of the Department's ongoing ISR review, and I look forward to working with you and the Navy to ensure that this program is optimized for the demands of future operating environments.

At the same time, I am concerned that the current requirements proposed for the UCLASS program place a disproportionate emphasis on unrefueled endurance to enable sustained ISR support to the carrier strike group, which would result in an aircraft design with serious deficiencies in both long-term survivability and its internal weapons payload capacity. I would encourage you to ensure that the Navy's first unmanned combat aircraft is capable of both providing persistent ISR and conducting strike missions from the carrier at standoff distances in contested environments.  Developing a new carrier-based unmanned aircraft that is primarily an ISR platform and unable to operate effectively in medium-to high-level threat environments would be operationally and strategically misguided.

More specifically, I would encourage you to consider what attributes could enable the UCLASS program to perform strike, as well as ISR, missions--including an unrefueled endurance several times that of manned fighters; a refueled mission endurance measured in days; broadband, all-aspect radar cross-section reduction sufficient to find and engage defended targets; and the ability to carry internally a flexible mix of up to 4,000 pounds of strike payload.  This would expand the strike range and lethality of the carrier strike group, thereby ensuring its role as the preeminent tool of naval power projection.

Additionally, while this review is underway and until a restructured UCLASS program yields flying prototypes, I would encourage you to maximize the use of the Unmanned Combat Air System Demonstration (UCAS-D) program in order to gain technological and other insights that could help increase the effectiveness of the UCLASS program.  Our nation has made a sizable investment in this demonstration program to date, and both air vehicles have consumed only a small faction of their approved flying hours.  Under current plans, starting this April, there will be no unmanned air vehicles operating from carrier decks for several years.  I think this would be a lost learning opportunity in what promises to be a critical area for sustaining the long-term operational and strategic relevance of the aircraft carrier.

I look forward to working with you and the Navy to explore near-term options for sustaining momentum behind unmanned carrier aviation and ensuring that we use our limited defense dollars on programs that will strengthen the American military's technological advantage.

Sincerely,

John McCain                                                                       Chairman
---
Navy to Establish UCLASS Fleet Introduction Team
5 January 2015 - The U.S. Navy recently approved the establishment of the Unmanned Carrier-Launched Airborne Surveillance and Strike (UCLASS) Fleet Introduction Team (FIT) to be based at Naval Base Ventura County, Point Mugu, California.  
The UCLASS FIT will be established 1 October 2015 as a formal detachment of Commander, Airborne Command and Control Logistics Wing (COMACCLOGWING) to support the Navy's persistent, aircraft carrier-based intelligence, surveillance, reconnaissance, targeting, and strike requirements.
According to the establishment notice released on 14 December 2014, the mission of the detachment is to: "plan, integrate, and execute the lines of effort required to establish the initial operational capability of the UCLASS system and to transition the program to full operational capability; to determine squadron requirements for manpower, training, maintenance, logistics, carrier integration, optimized fleet response plan, information technology, interoperability, security, and budget; to coordinate with facilities personnel to determine infrastructure and base operating support requirements; and to determine all other associated fleet integration and support requirements for inclusion into the proper programs of record."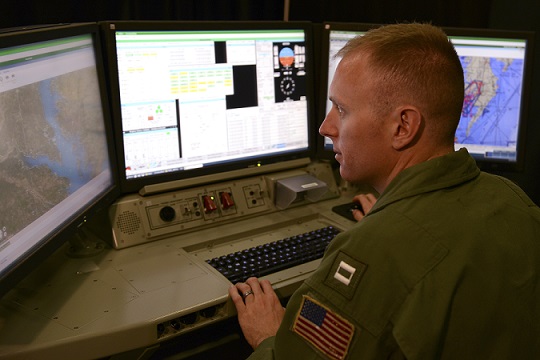 Navy Flight Test Pilot Demonstrates UCLASS Software at Naval Air Station Patuxent River, MD. - U.S. Navy Image
NAVAIR Integrates UCLASS Common Control System Software
10 September 2014 - NAVAIR engineers recently installed new software for the Navy's Unmanned Carrier-Launched Airborne Surveillance and Strike (UCLASS) system's control station at the program's Naval Air Station Patuxent River lab.
In early September, the UCLASS team integrated the latest iteration of Common Control System (CCS) software into the next-generation unmanned effort, laying the groundwork for potential use across multiple domains –airborne, land and subsurface.
"One of the premises that started CCS was not rebuilding the software that we needed for every UAS every time," said Jeff Davis, CCS team lead. "We focused on using existing products that we have within the Navy inventory to provide that first baseline going forward for the next UAS, in this case UCLASS. As a result, this allows development investment to focus on the future — the new capabilities that you can bring to the fleet."
This new software version is the first to provide  an unmanned command and control capability using the latest Navy Interoperability Profile  (NIOP) standards. The NIOPs allow control systems to talk to and share data with multiple air vehicles, Davis said.
His team leveraged support from other unmanned programs, specifically Triton and Fire Scout, to build baseline software for UCLASS.  They are currently testing this software with an air vehicle simulator based on Triton.
"This iteration forms the baseline for all future UCLASS control software," said Cmdr. Wade Harris, Control System and Connectivity (CS&C) lead for UCLASS. "These early lab tests will help inform us as we move forward with development and eventually test with the air vehicle."
As the lead systems integrator, the Navy is spearheading the CS&C and carrier segments, while working with industry to lead the design and development the air system segment.
"One of the unique aspects of the UCLASS program is that we have to pull all of the different segments together," said Ron La France, UCLASS integration lead. "We have the control station and connectivity segment, carrier segment, along with the air system segment.  All three of those have to be integrated and tested at the system level and that is what we will do here in this lab."
These government-led segments require a high-level of coordination. The UCLASS program team is working with 72 programs of record, 22 program offices, six program executive offices and three systems commands, he said.
UCLASS will be the first-ever, forward-deployed, carrier-based unmanned air system designed to provide persistent intelligence, surveillance, reconnaissance and targeting with precision-strike capability. An early operational capability is anticipated in the 2020-2021 timeframe.
HASC Leader Continues to Press SECNAV on UCLASS Requirements
18 February 2014 - Congressman Randy Forbes, Chairman of the House Subcommittee on Seapower and Projection Forces, penned another letter to Secretary of the Navy Ray Mabus concerning the forthcoming UCLASS Draft Request for Proposal.
In the letter, Forbes urged the SECNAV that "aerial refueling is essential for providing UCLASS, and thus the CVW [carrier air wing], with enduring utility in the power projection mission area."  This capability is needed, Forbes argues, to achieve global response to short-warning aggression regardless of a carrier's position. Moreover, the Congressman says that in-flight refueling will allow UCLASS to provide intelligence, surveillance, reconnaissance, and strike operations outside an adversary's long range threat envelope.
---
GAO Report Raises Caution on UCLASS
26 September 2013 - The General Accounting Office issued a report today calling for greater congressional oversight of the UCLASS program.  The report cautions that the Navy's pursuit of the programs is outside the normal framework for Congressional accountability for cost, schedule, and performance metrics.
GAO specifically calls the Navy for failing to hold a Milestone B review until after the UCLASS has been developed and fielded in 2020.  The report also cites the risk that the $3.7 billion estimated for 6-24 aircraft exceeds the level of funding that the Navy expects to budget for the system through fiscal year 2020.  GAO also mentions technical and design concerns related to fielding time and integration.
 Read the full report here.
---
House Armed Services Committee Leaders Letter to SECNAV on UCLASS
September 17, 2013

The Honorable Ray Mabus
Secretary of the Navy
2000 Navy Pentagon
Washington, DC 20350

Dear Secretary Mabus:

We are writing to express our appreciation for your strong support for future unmanned aircraft capabilities that will one day be an integral part of the Carrier Air Wing (CVW). We have followed the technology development of this concept with great interest as it has matured over the last decade responding to the need to increase the range, persistence, and lethality of the CVW, especially in antiaccess/area-denial environments. Specifically, we share your view that platforms like the Unmanned Carrier-Launched Airborne Surveillance and Strike system (UCLASS) "will radically change the way presence and combat power is delivered from aircraft carriers."

However, we request that you remain vigilant and monitor the path of this program closely because we believe the current path could limit the capability growth of the system in the future. We believe UCLASS should be designed to be an integral part of the CVW that can employ in the full spectrum of the Navy's power-projection mission. For this reason, we encourage you to draft a technology development request for proposal (RFP) that does not focus on just one particular key performance parameter, but enables competition and capability tradeoffs on a spectrum of attributes such as range, payload, survivability and affordability. This approach will allow industry to offer a variety of options for UCLASS that meet threshold requirements for the smaller and lesser contingencies, but will also preserve the ability for industry to offer an affordable capability growth path to meet objective requirements that are more favored in high-end, complex contingency operations. In short, we believe it is too early in the development process to limit the potential of this capability and we encourage you to closely monitor its progress. We would also request that after you have approved the final draft version of the technology development RFP, and before it goes to the Undersecretary of Defense for Acquisition, Technology and Logistics for review, that you provide the committee a briefing on the construction, content, and evaluation criteria contained within the RFP.

We also encourage you to closely examine the unconventional acquisition strategy proposed for the UCLASS program. While we strongly support fielding this capability to the Navy, we have concerns about the Navy's proposal to field up to four CVWs of capability for operational employment before achieving normal milestone B approval or conducting full-system operational testing and evaluation. Specifically, we have significant concerns about the technology development strategy to acquire a large number of air vehicles using research and development funding, which we feel does not follow the letter or spirit of recent acquisition reform efforts mandated by Congress.

While we know there will be further bureaucratic and budgetary hurdles to overcome as we work to advance this important capability, we are committed to working with you to ensure we procure a capability that will be integral to the CVW while remaining relevant and capable well into the future years. Thank you for your service and we look forward to our continued dialogue on this important topic.

Sincerely,

J Randy Forbes
Chairman
Subcommittee on Seapower and Projection Forces

Mike McIntyre
Ranking Member
Subcommittee on Seapower and Projection Forces

---
Lockheed Martin Demonstrates UAS Common Control Systems
02 July 2013 – During a recent demonstration at NAVAIR, Lockheed Martin  monitored and controlled multiple types of unmanned aerial systems (UAS) from one integrated command and control (C2) system. Controlling both the unmanned air vehicles and their on-board mission system sensors, Lockheed Martin's system fully integrated with other Navy C2 and intelligence, surveillance and reconnaissance (ISR) planning and execution systems to provide operators with one comprehensive mission picture.  The demonstration was executed in support of the Navy's upcoming Unmanned Carrier Launched Airborne Surveillance and Strike System (UCLASS) and Common Control System programs.
"This demonstration is an important step to fulfilling the Navy's requirement for a Common Control System that leverages multiple architectures from varied operational systems," said Rob Weiss, executive vice president of Advanced Strike and Intelligence and Reconnaissance Systems for Lockheed Martin Aeronautics. "A combined C2 and ISR capability will be essential as the Navy integrates UAS, beginning with UCLASS, into its ISR enterprise. We believe in their vision and this demonstration is an example of our work to reduce risk and make the Common Control System a reality."
During the demonstration, the Lockheed Martin team integrated C2 and ISR systems to provide mission planning, sensor and common operational control for multiple UAS platforms, including Lockheed Martin's UCLASS concept. Using an open architecture framework integrated with DreamHammer's Ballista drone control software and Navy compliant software protocols, a single operator managed multiple UAS platforms simultaneously.  The team also used the new Navy Cloud capability to demonstrate control of the ISR sensors and fully integrate the data into one complete mission picture. The team then used this picture to rapidly re-task and re-route the UAS assets. In addition to using DreamHammer's Ballista drone control software in this UCLASS demonstration, Lockheed Martin is teamed with DreamHammer Government Solutions in pursuit of the upcoming Navy Common Control System contract.
"This demonstration underscores the critical role that common command and control systems can play in actual operations by highlighting the ability to enrich the overall ISR picture and increase the speed of decision making," said Jim Quinn, vice president of C4ISR Systems for Lockheed Martin Information Systems and Global Solutions.  "An integrated battlespace picture emerges when we link the platforms, sensors, and information collected into one enterprise view that will enable the U.S. Navy to better achieve their C2 and ISR missions."
Lockheed Martin is partnered with the Navy on a variety of programs, including the F-35C, Distributed Information Operations-System and Tactical Tomahawk Weapons Control System. These systems support the convergence of C2 and ISR capabilities, which can increase tactical warfighting ability, reduce footprint and deliver affordable capability in an agile delivery framework.
---
Video Vault
X-47B First Flight - The Navy made Pax River history July 29 after it conducted the naval air station's historic first flight of the X-47B Unmanned Combat Air System (UCAS) demonstrator. (U.S Navy video/ Released)
Northrop Grumman X-47B Concept of Operations Video
Worth reading... naval drone articles from the blogosphere and beyond
comments powered by