Wave Glider
The Wave Glider is an Unmanned Surface Vehicle manufactured by Liquid Robotics which uses wave energy for propulsion. The Wave Glider can autonomously collect and transmit data for extremely long duration missions. In 2012, the Naval Postgraduate School acquired two Wave Gliders for research and experimentation. RADM (ret.) Jerry Ellis discusses the project in this video (starts at 19:28). Wave Gliders have also been used for oceanographic research by NOAA.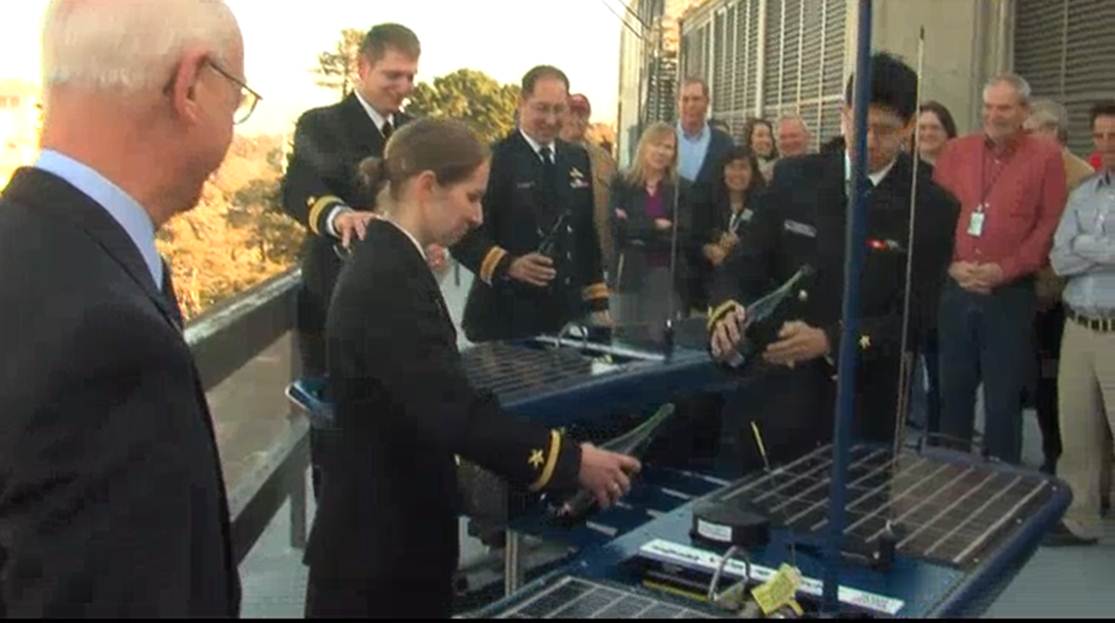 Naval Officer students at NPS perform the traditional champagne christening on the institution's new Wave Gliders.
Latest News
Liquid Robotics Signs R&D Agreement with NOAA
24 April 2014 - Liquid Robotics and the National Oceanic and Atmospheric Administration (NOAA) today announced the signing of a multi-year, Cooperative Research & Development Agreement (CRADA) designed to advance ocean observations to improve U.S. weather forecasting, fisheries management and environmental monitoring. The NOAA/Liquid Robotics CRADA combines the significant product capabilities of the Wave Glider, a revolutionary, wave powered unmanned ocean robot, with NOAA's engineering, data analysis and modeling expertise for applications that will have long-term benefits to the general public. 
"Over several years, we've worked closely with Liquid Robotics on multiple applications with their innovative technology, the Wave Glider. We've used the Wave Glider to demonstrate advances in hurricane forecasting, measure CO2 levels, monitor the Arctic marine environment, detect tsunamis and collect fisheries data," said Craig McLean, NOAA's deputy assistant administrator of the Office of Oceanic and Atmospheric Research. "I am pleased to establish this agreement to strengthen our important partnership and to improve environmental observations." 
The NOAA/Liquid Robotics CRADA will focus research on three primary areas: 
• Expand and enhance integrated sensor capabilities that will augment information needs, fill data gaps and lower data acquisition costs. 
• Improve unmanned platform operational capabilities or geographic scope of coverage to collect data in areas or in conditions too difficult or risky for manned observations. 
• Utilize sensor data collected from unmanned platforms to augment or replace existing data collection technologies (i.e. moored buoys, satellites, research vessels). 
More specifically, the CRADA will involve collaboration for: 
• Improvement of hurricane intensity forecasting models 
• Arctic meteorological and oceanic exploration 
• Coastal mapping/hydrographic surveys 
• Carbon dioxide monitoring and ocean acidification data gathering 
• Fisheries surveys 
• Marine animal population assessments 
• High precision water quality measurements in the Great Lakes 
• Augmentation or replacement of coastal weather buoys 
• Improvement of domain awareness of marine sanctuaries 
Additionally, there will be research expeditions to augment weather satellite data collection records by providing high resolution, surface (in-situ) data over long duration time periods (up to a year) and vast ocean expanses never before affordable or feasible to collect. 
"We are excited to be working closely together with NOAA to advance ocean observations with long duration autonomous systems," said Bill Vass, CEO of Liquid Robotics. "We believe our Wave Glider technology provides a cost efficient way to gather scientific and environmental data to address the many challenges ahead." 
Ultra Electronics USSI and Liquid Robotics Announce the Development of Long Duration, Maritime Security Solution
8 April 2014 – Liquid Robotics and Ultra Electronics USSI today announced the joint development of a revolutionary and cost effective surveillance system for the global maritime security market. This new product leverages the Liquid Robotics Wave Glider, the world's first wave powered ocean robot, with Ultra Electronics USSI's state of the art acoustic sensing and signal processing to provide a persistent, best-of-breed, surveillance capability. This solution helps address the critical need for affordable, long duration, maritime surveillance of the world's Marine Protected Areas (MPAs), Exclusion Economic Zones (EEZs), ports and coastlines. 
"Countries around the globe are losing valuable natural resources and economic opportunity without the ability to persistently patrol their coastlines, MPAs and EEZs," said Bill Vass, CEO of Liquid Robotics. "This strategic partnership will bring to market a powerful solution with the ability to help close this gap globally." 
The Sentinel Passive Acoustic Sensor, designed and manufactured by Ultra Electronics USSI, will be scalable and configurable to meet the end user's operational requirements covering a broad range of mission applications. The sensor/software suite is designed to acoustically detect, track and form contact reports on waterborne targets that are transmitted to a command and control node on shore, ship or aircraft platform. Contact reports will contain spatial information that allows for data fusion with other sensor sources to achieve an affordable common operational picture that will provide the user maximum situational awareness. Applications for this product are vast and include area surveillance, perimeter trip wire notification, marine mammal monitoring and data collection, environmental data collection and defense and military mission capability sets. 
Liquid Robotics' Wave Gliders will host the Sentinel Passive Acoustic Sensors in conjunction with additional weather, optical, communications and computing resources to provide real time maritime domain awareness. Able to operate 24x7, through all weather conditions, the Wave Glider reduces the risk and costs to long duration maritime security.
Liquid Robotics Announces Breakthroughs in Unmanned Ocean Observation with Introduction of Wave Glider SV3
8 April 2013 - Liquid Robotics today announced the introduction of the Wave Glider® SV3, the world's first hybrid wave and solar propelled unmanned ocean robot. The Wave Glider SV3 incorporates the latest advancements in energy harvesting technology providing the ability to utilize both wave and solar energy for forward propulsion. These innovative propulsion and energy systems will help customers explore portions of the world's oceans in conditions that previously were too challenging or costly to operate. Customers will now have the ability to conduct missions, 24x7, through all weather conditions, across most of the planet to help solve some of the world's critical problems such as global climate change, ocean acidification, fisheries management, hurricane prediction, tsunami warning and exploration for valuable natural resources. The end-to-end ocean data solution provided by Liquid Robotics' new integrated platform provides ocean data collection and processing at the point of collection with real time delivery of critical information to shore. The Wave Glider SV3 can tap into the inexhaustible supply of the planet's wave and solar energy, travel tens of thousands of miles, collect data in the most demanding sea states/conditions (doldrums, high currents, hurricanes/cyclones) and deliver this data in real-time to users around the globe. This capability provides access to new levels of ocean data, more pervasively and more cost effectively than from existing alternatives.
"The SV3 is a tremendous step forward in terms of what we can accomplish in the ocean and gives customers a competitive advantage to capture data in the most challenging ocean conditions," said Bill Vass, CEO, Liquid Robotics. "By providing the ability to deploy Wave Gliders across most of the planet and deliver ocean data in a new and cost-effective way, we're enabling broad access to affordable ocean exploration."
The Wave Glider SV3 leverages the basic design principle of the highly successful Wave Glider SV2 platform, which was introduced in 2009, and has since traveled more than 300,000 nautical miles globally, set a world record for longest distance traveled by an autonomous vehicle (land or sea), and has been deployed on hundreds of customer missions ranging from the Arctic to Australia, and from the Canary Islands to Loch Ness.
Additional technological advancements introduced in the Wave Glider SV3 are datacenter@sea, adaptable power and storage providing support for power hungry sensors and the introduction of a new, adaptable operating system designed for intelligent autonomy for fleet operations.
"The SV3 enables unparalleled, pervasive collection of data and processing of data," said Roger Hine, CTO and inventor of the Wave Glider. "Riding the advancements in consumer electronics, smart phone, tablet computing and a new generation of extremely capable processors, we are now able to provide processing onboard - actually as powerful as a supercomputer from not long ago. With that computational power and the ability to tirelessly swim across vast oceans, the Wave Glider SV3 represents a big step forward in the state-of-the-art of unmanned monitoring and exploration." - Liquid Robotics
Wave-powered USV's for Future Naval Intelligence Collection
28 August 2012 - Long duration autonomous vehicles designed for oceanography are also applicable to naval missions.
Liquid Robotics expands Federal presence, creates U.S. Federal Subsidiary
8 August 2012 – Liquid Robotics®, an ocean dataservices provider and developer of the Wave Glider®, long endurance wave-powered unmanned surface vehicle, announced formation of a wholly owned subsidiary, Liquid Robotics Federal, LLC, and named Grant Palmer as the Senior Vice-President. See Press Release.
Video Vault
The SHARC is the militarized version of Liquid Robotics' Wave Glider system developed in conjunction with Boeing.

NOAA Pacific Marine Environmental Laboratory video.
---