InstantEye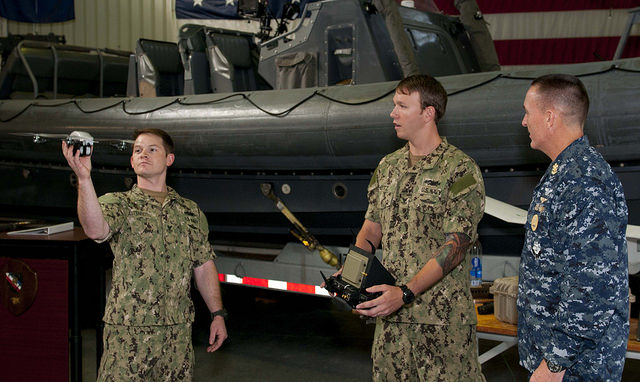 STUTTGART, Germany (Aug. 19, 2014) Master Chief Petty Officer of the Navy (MCPON) Mike Stevens is given a demonstration of an InstantEye Unmanned Aerial System during a visit to Naval Special Warfare Units 2 and 10. MCPON is in Northern Europe visiting Sailors as part of a fleet engagement to the area. (U.S. Navy photo by Mass Communication Specialist 2nd Class Martin L. Carey/Released)

InstantEye is a small tactical unmanned air system built by Physical Sciences Inc. (PSI) which has been purchased by the U.S. Navy.  The quadrotor UAV can be rapidly ground or sea-launched to provide up to 30 minutes of surveillance or monitoring with various sensors in wind speeds up to 30 miles per hour.
In 2014, an InstantEye Mk2 Gen3  was fitted with a magnetometer to test littoral water mine-hunting for the Naval Surface Warfare Carderock Division and ONR. InstantEye has also been acquired for use by U.S. Navy special warfare units.  The Naval Postgraduate School has referred to InstantEye by the term Miniature Quad-Rotor Unmanned Aerial System (MQRUAS).
Latest News
Flying Miniature Quad-Rotor Unmanned Aerial Systems over the Arctic Ocean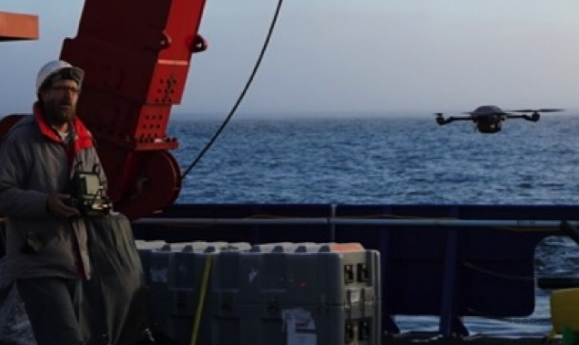 PSI Awarded Navy Contract for Wake Mapping
1 July 2013 - Physical Sciences Inc. (PSI) of Andover, Massachusetts, has been awarded a research contract from the US Navy Office of Naval Research to develop ship wake velocity mapping using our Instant Eye Micro-Air-Vehicle (MAV) platform. PSI and their academic partner will use a uniquely innovative approach to measuring the three-dimensional air wake velocity field behind ship structures and towers. 
The velocity data is needed to support the validation of CFD models that will ultimately be used to provide sufficient safety margins for ship aircraft operations under extreme weather and sea-state conditions. PSI will employ its proven InstantEye MAV in order to measure the entire 3D air wake velocity field as well as specific air wake flow features, such as downwash behind the stern and concentrated vortical regions stemming from the flow past the blunt-ship structures.   
In addition to the U.S. Navy, world-wide Naval operations would utilize this new measurement capability. Commercial applications encompass infrastructure concern regarding extreme environmental wind conditions behind building wakes in cities, bridge and tower instabilities due to high winds, characterization of individual wind turbines as well as entire wind-farms, evaluation of high-speed transportation systems and their wakes.

Video Vault
12 June 2013 - InstantEye at-sea testing in the Atlantic Ocean with the U.S. Navy's M80 Stiletto demonstration craft and 11 meter rigid hull inflatable boats. (video courtesy of PSI)