InstantEye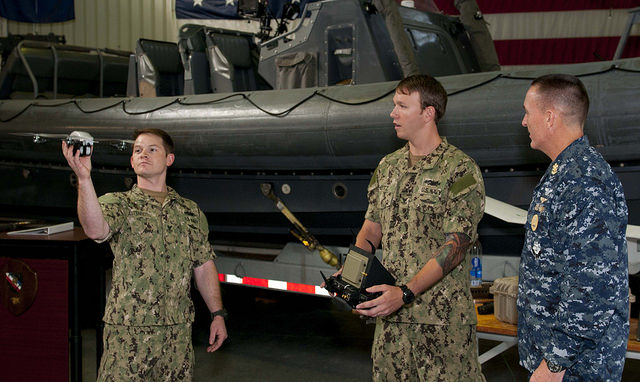 STUTTGART, Germany (Aug. 19, 2014) Master Chief Petty Officer of the Navy (MCPON) Mike Stevens is given a demonstration of an InstantEye Unmanned Aerial System during a visit to Naval Special Warfare Units 2 and 10. MCPON is in Northern Europe visiting Sailors as part of a fleet engagement to the area. (U.S. Navy photo by Mass Communication Specialist 2nd Class Martin L. Carey/Released)

InstantEye is a small tactical unmanned air system built by Physical Sciences Inc. (PSI) which has been purchased by the U.S. Navy.  The quadrotor UAV can be rapidly ground or sea-launched to provide up to 30 minutes of surveillance or monitoring with various sensors in wind speeds up to 30 miles per hour.
In 2014, an InstantEye Mk2 Gen3  was fitted with a magnetometer to test littoral water mine-hunting for the Naval Surface Warfare Carderock Division and ONR. InstantEye has also been acquired for use by U.S. Navy special warfare units.  The Naval Postgraduate School has referred to InstantEye by the term Miniature Quad-Rotor Unmanned Aerial System (MQRUAS).
Latest News
Marine Corps Orders 800 InstantEye UAVs
6 February 2018 - InstantEye Robotics announced today that it has received an order from PMA-263, the Navy and Marine Corps Small Tactical Unmanned Aircraft Systems Program Office, for an additional 800 InstantEye Mk-2 GEN3-A0 sUAS systems.  The systems delivered under this contract will support deployed Marine infantry squads, providing organic surveillance and reconnaissance capabilities.
"We are excited that InstantEye has been selected by the Marines as their squad-level sUAS asset," said Tom Vaneck, Vice President of InstantEye Robotics. "We worked with the Navy and the Marines for some time as they tested and evaluated the system. Their early feedback helped refine the system and ultimately has made it a better product."The InstantEye family of products includes the Mk-2 GEN4, which is the largest system, capable of carrying payloads up to 4 pounds; the mid-sized, highly agile Mk-2 GEN3, which can carry payloads up to 1.5 pounds; and the palm-sized, highly integrated Mk-2 GEN5, with advanced vehicle-borne computer processing power that will allow the system to adapt to future capability needs.
All InstantEye systems are all-weather, day/night systems that are affordable, rugged and easy to operate. Additionally, all InstantEye systems are capable of interfacing with external payloads that are attached based on mission needs. "Our growing list of plug-and-play payloads make the InstantEye family of systems truly multi-mission," said Mike Mackiewicz, Director of Defense Technology Operations. "As threats or operational needs evolve, so do our payloads. InstantEye is an organic enabler that allows a Marine or Sailor to control ISR effects at the tactical edge."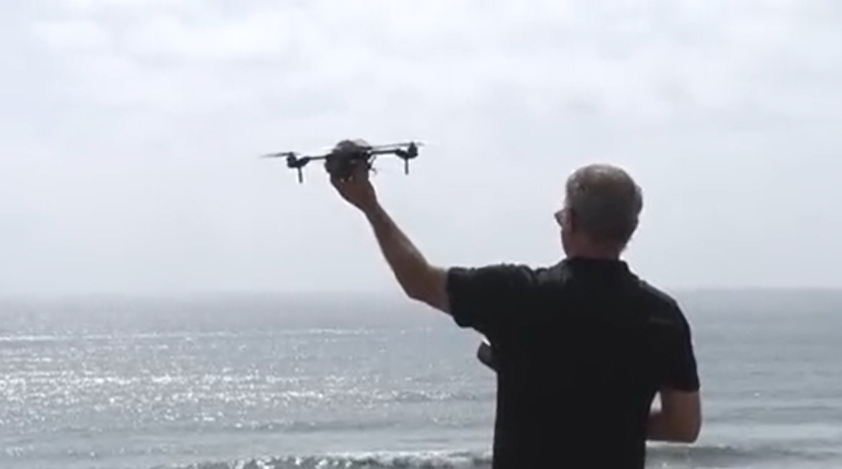 US Navy, ONR Image

By Warren Duffie Jr., Office of Naval Research
ARLINGTON, Va.—During a recent technology demonstration at Marine Corps Base Camp Pendleton, Dr. Rosemarie Oelrich and Dr. Cory Stephanson unveiled a new way to detect buried and submerged mines.

Oelrich, a scientist at Naval Surface Warfare Center (NSWC) Carderock's Combatant Craft Division, and Stephanson, president and chief executive officer of Broadband Discovery Systems (BDS), stared at an Android tablet showing search data from an unmanned aerial drone they had just flown. The device's screen glowed as a green fluorescent map appeared, splashed with red clusters of varying sizes and shapes.
"See that large cluster?" asked Stephanson. "That's the dummy mine we buried. The smaller blotches near it are construction rebar we found nearby. The drone detected and localized these items quickly and accurately, which would be extremely valuable in a real combat scenario."
Oelrich and Stephanson were testing the new Mine Warfare Rapid Assessment Capability (MIW RAC) system. Sponsored by the Office of Naval Research's (ONR) TechSolutions program, MIW RAC consists of a one-pound quadcopter outfitted with an ultra-sensitive magnetometer sensor system to detect mines and provide real-time search data to a handheld Android device.
"This technology will help Sailors and Marines who are approaching a beachfront to rapidly clear, or at least determine the location of, mines or other hazards that are in their way," said ONR Command Master Chief Matt Matteson. "It could potentially save a lot of lives."
MIW RAC is a portable, remote-controlled system that can detect buried or underwater mines during amphibious beach landings. It's designed to help explosive ordnance disposal teams quickly find mines and dangerous metal obstacles within coastal surf zones and very-shallow-water zones. MIW RAC would provide a new, real-time aerial complement to existing underwater mine-detection capabilities.
"Everyone wants to know where they are going and what they are about to get into," said Oelrich, who is overseeing the development of MIW RAC. "It helps to have a rapid capability to just fly something in the air and survey an area before you put troops on the ground or bring a vessel ashore."
While the InstantEye quadcopter and tablet device are available commercially, the heart of MIW RAC is its proprietary magnetometer sensor suite—which has an extensive detection range and uses complex algorithms to differentiate between various types of objects.
MIW RAC originated in 2015, when the Navy Expeditionary Combat Command (NECC) sent a request to ONR's TechSolutions program for a portable system that could detect potential hazards in surf zones, be easy for warfighters to use and fit diverse platforms. TechSolutions is ONR's rapid-response science and technology program that develops prototype technologies to address problems voiced by Sailors and Marines, usually within 12-18 months.
With TechSolutions guidance, NECC partnered with NSWC Carderock, Combat Direction Systems Activity Dam Neck and two commercial companies—BDS and Physical Sciences, Inc.—to develop the components of MIW RAC.
"We took our inspiration from a stationary scanning system developed by BDS," said Oelrich. "It was sensitive enough to not only detect weapons, but identify the hidden location of the object on a person and the angle in which it was oriented—a knife in a front pocket or gun turned sideways, for example.
"We flipped that concept on its head," she continued. "Instead of a stationary system detecting moving objects, we have a moving system detecting relatively stationary objects."
Later this year, TechSolutions will deliver prototype MIW RACs to NECC's Explosive Ordnance Disposal Group for further testing and evaluation. Oelrich and her team hope to see the system issued throughout the fleet next year.
Warren Duffie Jr. is a contractor for ONR Corporate Strategic Communications.

Flying Miniature Quad-Rotor Unmanned Aerial Systems over the Arctic Ocean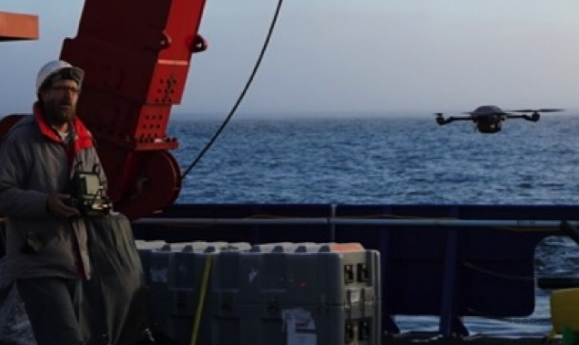 PSI Awarded Navy Contract for Wake Mapping
1 July 2013 - Physical Sciences Inc. (PSI) of Andover, Massachusetts, has been awarded a research contract from the US Navy Office of Naval Research to develop ship wake velocity mapping using our Instant Eye Micro-Air-Vehicle (MAV) platform. PSI and their academic partner will use a uniquely innovative approach to measuring the three-dimensional air wake velocity field behind ship structures and towers. 
The velocity data is needed to support the validation of CFD models that will ultimately be used to provide sufficient safety margins for ship aircraft operations under extreme weather and sea-state conditions. PSI will employ its proven InstantEye MAV in order to measure the entire 3D air wake velocity field as well as specific air wake flow features, such as downwash behind the stern and concentrated vortical regions stemming from the flow past the blunt-ship structures.   
In addition to the U.S. Navy, world-wide Naval operations would utilize this new measurement capability. Commercial applications encompass infrastructure concern regarding extreme environmental wind conditions behind building wakes in cities, bridge and tower instabilities due to high winds, characterization of individual wind turbines as well as entire wind-farms, evaluation of high-speed transportation systems and their wakes.

Video Vault
12 June 2013 - InstantEye at-sea testing in the Atlantic Ocean with the U.S. Navy's M80 Stiletto demonstration craft and 11 meter rigid hull inflatable boats. (video courtesy of PSI)