China Unmanned Surface Vehicle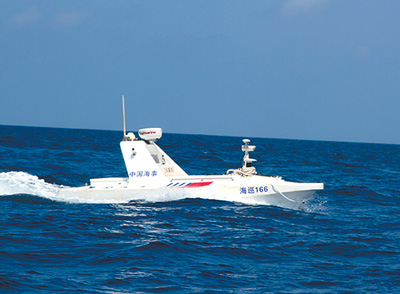 Photograph Courtesy of People's Daily.
---
On 4 June 2013, China's Ministry of Transport and Maritime Bureau  revealed a new engineering prototype unmanned surface vehicle (USV).  The fully enclosed vessel is designed for hydrographic surveys of shoals and reefs in the South China Sea.  The craft has a maximum speed of 18 knots and can be controlled remotely or navigate autonomously.  The USV features a commercial radar and forward looking sonar to assist in automatic surface and underwater obstacle avoidance, and a multi-beam side scan sonar for underwater survey work.
Little information has been publicized in the West about China's USV programs.  China's other known USV is the Tianxiang One.