Submaran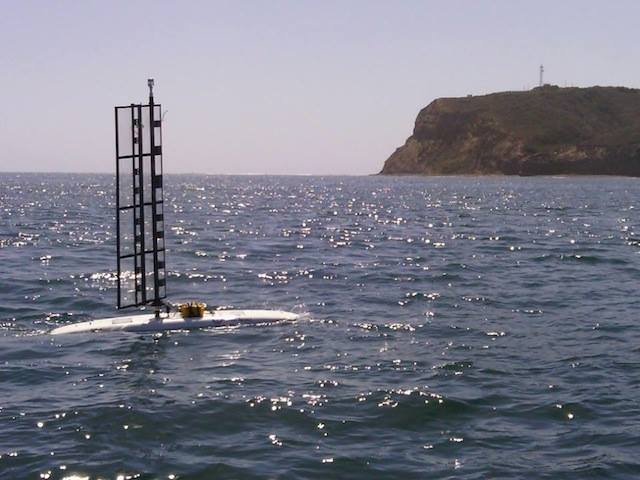 Photo courtesy of Ocean Aero.
Submaran is an Unmanned Underwater, Surface Vessel (UUSV) prototype powered by wind and solar energy developed by Ocean Aero. The Submaran SP-1 prototype (pictured above) was tested off Point Loma, California in 2014.
The vessel is designed to perform oceanographic collection and naval missions including mine countermeasures, communications, and ISR including  ELINT/COMINT.
Submaran Multiple Boat Trials
21 April 2016 - Aerial and sea footage of the Ocean Aero team launching, sailing, and demonstrating two Submarans™, and single Submaran™ in rough weather off San Diego.

Submaran S-10 Conducts New Trials Off San Diego
16 February 2016 -  As part of its hardening testing, Ocean Aero took advantage of the El Ñino storm that hit San Diego and put the Submaran™ S10 through its paces in some big winds.  During a speed trial on 12 December, the Unmanned Underwater, Surface Vessel (UUSV) prototype achieved a sustained 5.5 knots in just 15-18 knots of winds.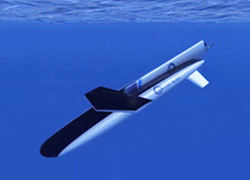 Ocean Aero "Submaran" Unmanned Underwater, Surface Vessel (UUSV)
Ocean Aero Awarded DoD Contract for Long Range Unmanned Vessel
11 August 2015 - Ocean Aero has announced that it signed a multi-million dollar two-year contract with the Department of Defense under the Rapid Innovation Fund (DoD RIF) program.
Ocean Aero was selected by the Naval Sea Systems Command, NUWC Keyport Division to create a prototype Long Range Unmanned Underwater and Surface Vessel, similar to their current Submaran model.  This contract, valued at over $2.9 million, is the result of a year of developing this exclusive concept, drafting and writing the proposal, as well as negotiating the contract with the DoD. 
The Department of Defense's Rapid Innovation Fund (RIF) was created to implement small business technologies into programs designed for national security needs. RIF issued a Broad Agency Announcement (BAA) early last year looking for firms who had the ability to produce a "long range, high endurance hybrid unmanned underwater/surface vehicle that can transit for long, open ocean distances on the surface with a relatively low signature and then submerge to avoid surface traffic; and conduct intelligence, surveillance, and reconnaissance (ISR) operations."
CEO and President, Eric Patten, noted the magnitude and value this contract to the local San Diego business, "We are very excited about this opportunity to grow as a company and demonstrate how valuable the Submaran is to major organizations around the world.  This contract further validates that our team is on the right path with our technology and vision."
Video Vault
comments powered by