AN/SLQ-60 SeaFox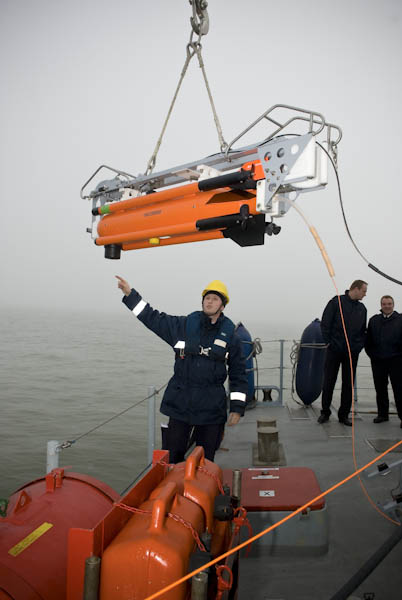 Sailors from the Belgian Navy launch the SeaFox UAV (Belgian Navy photo)
The SeaFox is a man-portable (1.3 meter, 41 kg), semi-autonomous wire-guided mine disposal vehicle developed by Atlas Elektronik. The SeaFox can positively identify mines with a camera linked to the surface via a fiber-optic cable and destroy them with an integral shaped charge. The SeaFox was employed by the Common Unmanned Surface Vehicle (CUSV) during the U.S. Navy's Trident Warrior 12 Exercise and was also deployed to the Persian Gulf in the summer of 2012. In service with ten countries, the SeaFox can can be launched from surface vessels. A helicopter version is in development.
Variants of SeaFox include:
SeaFox C - combat version including the shaped charge explosive destructor.  SeaFox-C is designed to neutralize moored and bottom mines.
SeaFox T - used for training operators with a re-settable Safety and Arming Unit
SeaFox I - a reusable vehicle for identification and training in which the shaped charge of the SeaFox C is replaced with a ballast weight. The vehicle can also use an expendable fiber optic cable for long range operations.
 On October 15, 2012 the Naval Surface Weapons Center (NSWC) Indian Head, Md., awarded a contract to Atlas North America to deliver additional SeaFox vehicles to support the Surface Mine Neutralization System (SMNS) deployed as part of the MCM Ship Class upgrade, and the Airborne Mine Neutralization System (AMNS) installed onboard the MH-53 Helicopters. 
The official U.S. Navy designation for SeaFox and associated equipment is the AN/SLQ-60.  The SMNS consists of the Operator Control Console, the Launch and Recovery System, test and maintenance equipment, and the SeaFox-I (Investigation Neutralizer) and SeaFox-C (Combat Neutralizer) vehicles.
Video Vault
---
Video of mine counter-measures operations off Misrata, Libya in 2011 featuring the use of SeaFox by the Dutch mine hunter HNMLS Haarlem.
---