MQ-25 Stingray
General Atomics Sea Avenger Concept
The MQ-25 Stingray evolved from the ashes of the U.S. Navy's Unmanned Carrier Launched Surveillance and Strike (UCLASS) program. The program was introduced publicly in the Navy's fiscal year 2017 budget submission.  The aircrafted was redesignated the MQ-25 (M for multipurpose) from the RAQ-25 – the Carrier Based Aerial Refueling System (CBARS).
Stingray's primary mission will be airborne tanking, but the aircraft's pylons will also be engineered to fire missiles and drop bombs.  The tanking mission is necessary to relieve the carriers' F/A-18s that currently perform that role.  Additionally, the requirements necessary to make UCLASS a low signature (stealthy) penetrating air frame have been removed for Stingray.
The Navy is expected to award an air vehicle contract to one prime contractor in the second quarter of 2018 with the initial delivery scheduled by 2021. The Navy earmarked $2.16 billion for the MQ-25 program to fiscal year 2021. Additionally, $350 million was approved for transfer by Congress that had been set aside for continued air vehicle demonstrations in fiscal 2016.  

The Navy released the final RFP the week of October 10th, 2017 to the same four primes that were in contention for UCLASS:
On October 25, 2017, Northrop Grumman CEO Wes Bush announced that the company was leaving the competition.  "When we're looking at one of these opportunities, let me be clear, our objective is not just to win. Winning is great, it feels good on the day of an announcement, but if you can't really execute on it and deliver on it to your customer and your shareholders, then you've done the wrong thing." 
MQ-25 Stingray Headlines
General Atomics Announces Stingray Industry Partnerships

13 February 2018 – General Atomics Aeronautical Systems, Inc. (GA‑ASI) is proud to announce its MQ-25 Stingray offering to the U.S. Navy in collaboration with a range of highly regarded industry partners that represent the best in American aerospace.
GA-ASI has designed a purpose-built MQ-25A Stingray, optimized for the tanking mission and providing exceptional fuel give, that will more than double the range of the Carrier Air Wing. Our offering exceeds all of the Navy's requirements, including carrier suitability.
"As the world's premier quick reaction unmanned aircraft system manufacturer, we are committed to delivering the most effective, affordable, sustainable, and adaptable carrier-based aerial refueling system at the lowest technical and schedule risk," said David. R. Alexander, president, GA-ASI. "This collaboration of the best in aerospace industry will provide the U.S. Navy with a fleet ready unmanned tanker with exceptional growth, well within the Navy's preferred timeline."
"Boeing Autonomous Systems is pleased to have the opportunity to collaborate with General Atomics on its MQ-25 proposal," said Vice President and General Manager Chris Raymond. "We look forward to supporting GA with our aviation and autonomous experience."
Pratt & Whitney's high-bypass PW815 commercial engine, featuring the latest technology, will enhance GA-ASI's offering. "Ensuring readiness for militaries around the world is core to our mission, and Pratt & Whitney is proud to offer the PW815 engine as part of General Atomics' MQ-25 program," said Military Engines President Matthew Bromberg. "The engine represents the state-of-the-art eco-design technology, developed and refined with more than 20 years of investment and effort." The PW815 was intentionally designed with availability in mind. It is designed to be the easiest engine in its thrust class to access and maintain. Pratt & Whitney has extensive, recent experience meeting Navy propulsion requirements on the EA-6B (J52 engine) and the F-35 (F135 engine), as well as unmanned aircraft experience from the X-47B program (F100 engine).
UTC Aerospace Systems, one of the world's largest suppliers of technologically advanced aerospace and defense products, will design and build the landing gear. "UTC Aerospace Systems is proud to design and produce the landing system for the GA-ASI MQ-25 Stingray," said Landing Systems President Jim Wharton. "Our extensive experience in landing systems design and integration, combined with decades of carrier-based application, allow us to custom design an optimized solution for MQ-25."
L3 Technologies, the world's leader in Wideband SATCOM and Line-of Sight communication systems will design and build the communications systems for the GA-ASI Stingray. L3's latest technology advancements in the MQ-25 communications system reflects more than 20 years of collaboration experience between the two companies across the family of GA-ASI aircraft all over the world. "L3 Technologies is proud to be part of the GA team to bring this critical air refueling and "light" intelligence, surveillance and reconnaissance capability to Naval Aviation. L3's contribution to a secure communications network is combined with other discriminating capabilities on the GA MQ-25 including system commonality, allowing the Navy to sustain fleet combat aviation and enable freedom of navigation," said Dan Gelston, president of L3's Broadband Communications sector, and its Communication Systems-West division.
BAE Systems will provide a variety of software capabilities, including mission planning and cybersecurity. "Delivering this mission critical MQ-25 system on schedule is vital to program success," said Kevin Malone, vice president and general manager of Analytics Systems at BAE Systems. "Our experience in delivering mission management software and shipboard ISR systems to the U.S. Navy is why BAE Systems is the supplier of choice for this role."
Rockwell Collins will provide advanced navigation technologies, a new generation of the TruNet™ ARC-210 networked communications airborne radio and a comprehensive simulation framework to support General Atomics' low-risk schedule. "We are excited to be a part of the General Atomics team as they build upon our decades of experience in communication, navigation and simulation technologies to bring this transformational platform to the Navy," stated David Schreck, vice president and general manager, Airborne Solutions for Rockwell Collins.
GKN Aerospace's Fokker business continues to provide GA-ASI with landing gear technologies for MQ-9 and delivers proven carrier tail hook technologies for the MQ-25 arresting hook. "We are proud to expand our longstanding relationship with General Atomics to the MQ-25 arresting hook," says Michiel van der Maat, vice president Business Development GKN Aerostructures & Systems Europe and Asia. "The MQ-25 is the perfect platform to benefit from GKN Fokker's cutting edge Landing Gear technologies."
General Atomics Electromagnetic Systems, which began testing its EMALS and AAG systems on the USS Ford at sea last year, provides up front carrier integration experience and risk reduction.
General Atomics Systems Integration has U.S. Navy program experience and provides landing gear integration expertise.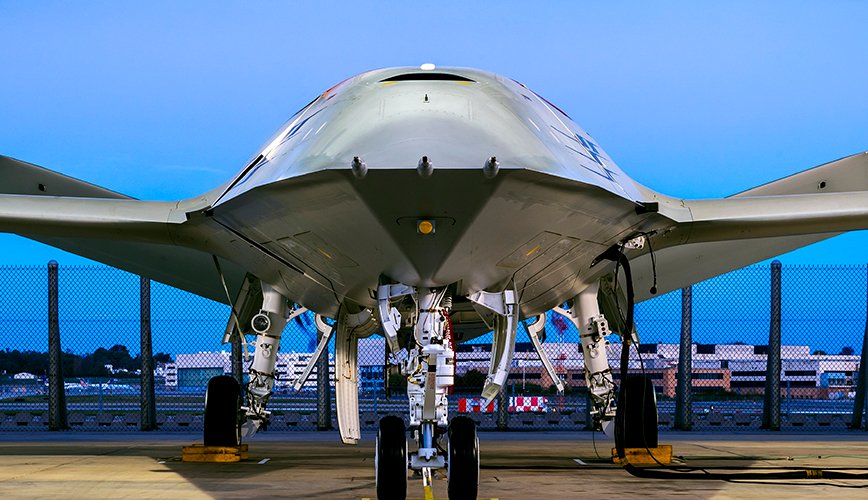 Boeing's MQ-25 unmanned aircraft system is completing engine runs before heading to the flight ramp for deck handling demonstrations next year. The aircraft is designed to provide the U.S. Navy with refueling capabilities that would extend the combat range of deployed Boeing F/A-18 Super Hornet, Boeing EA-18G Growler, and Lockheed Martin F-35C fighters. (Boeing photo by Eric Shindelbower)

19 December 2017 - Boeing for the first time today is showing what it believes is the unmanned aircraft system (UAS) best suited for refueling U.S. Navy jets operating from aircraft carriers.
Through its MQ-25 competition, the Navy is seeking unmanned refueling capabilities that would extend the combat range of deployed Boeing F/A-18 Super Hornet, Boeing EA-18G Growler, and Lockheed Martin F-35C fighters. The MQ-25 will also have to seamlessly integrate with a carrier's catapult and launch and recovery systems. 
"Boeing has been delivering carrier aircraft to the Navy for almost 90 years," said Don 'BD' Gaddis, a retired admiral who leads the refueling system program for Boeing's Phantom Works technology organization. "Our expertise gives us confidence in our approach. We will be ready for flight testing when the engineering and manufacturing development contract is awarded."
The UAS is completing engine runs before heading to the flight ramp for deck handling demonstrations early next year. The Navy issued its final request for proposals in October. Proposals are due Jan. 3.
MQ-25 Program Office Tests Simulated Mission Control System
NAVAL AIR SYSTEMS COMMAND, PATUXENT RIVER, Md. -- The Navy's MQ-25 program completed its first demonstration representing how the mission control system located aboard the aircraft carrier will control and transmit information to an unmanned air vehicle in the future.
The April 11 demonstration validated the first build of the MD-5 Unmanned Carrier Aviation Mission Control System (UMCS), a combined hardware and software product, using representative shipboard equipment and a simulated air vehicle at NAS Patuxent River.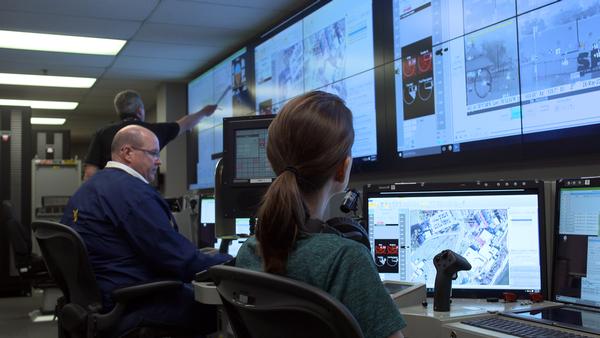 Captain Duarte, PMA-268 program manager, observed the test event and said he was very pleased with the progress the team has made over the last year. The government team worked across multiple program offices, Navy and Air Force commands in addition to industry partners to prepare for the demonstration.

"As Lead Systems Integrator (LSI), we have the ability to really drive interoperability and affordability across the program," he said.  "We have had the opportunity to leverage many existing technologies and capabilities from other Navy platforms and integrate them into this program."
Within the LSI construct, PMA-268 maintains responsibility for the architecture, configuration, production, development and sustainment of the UMCS. The UMCS hardware builds on NAVSEA Common Display System (CDS) and Common Processing System (CPS) from DDG-1000 and other Aegis ships.  It also incorporates the Navy's Common Control System (CCS), a software architecture managed by PMA-281 that features a common framework, user interface and components designed for use with a variety of unmanned systems.

The PMA-268 team integrated an open mission systems platform to support the reuse of government owned mission management, mission planning and sensor control applications. UMCS 1.0 demonstrated that third party software can coexist with the CCS framework, thereby proving the UMCS architecture is viable, Duarte said.
During the demo, the UMCS communicated with a Mobile Aviation Interoperability Lab (MAIL) truck, simulating a UAV, verifying command and control.  The team tested connectivity between the UMCS and shipboard network systems and verified voice trunking (internet protocol to serial) capability between the air vehicle operator and the simulated UAV.  The team also performed limited control and data dissemination between the UMCS and simulated UAV to include Automatic Identification System (AIS) detection, Electro-optical/Infrared (EO/IR) Camera operation and dynamic mission re-planning.
"The Surface Aviation Interoperability Lab (SAIL) and System Test & Integration Laboratory (STIL) were integral in making this demonstration a success," said Jaimie Grubb, UMCS team lead. "By doing demos in the lab first, we are able to prove the control system concept before providing the UMCS to the air system vendor and undergoing test, which provides significant risk reduction as well as schedule and cost savings."
This demonstration is the first of a continuing, annual series to demonstrate UMCS capabilities as development of the system progresses. Future demonstrations will show the ability to control a small UAS and establish the process for flight and cybersecurity approval s and the integration of software specific to the MQ-25A air vehicle.
The UMCS, part of the MQ-25's Control System & Connectivity (CS&C) segment, is one component of the system. The MQ-25 effort also includes an air segment and a carrier segment. The program plans to release a request for proposal for the air segment this summer and is working shipboard installations for the carrier segment.
Operationally, the MQ-25 will provide a robust organic refueling capability to make better use of the Navy's combat strike fighters and extend the range of the carrier air wing.  It will also have a secondary intelligence, surveillance and reconnaissance capability.
PEO(U&W) Public Affairs
(301) 757-9703
Final MQ-25 Design Contract Awarded to Northrop Grumman
20 October 2016 - The Naval Air Systems Command, Patuxent River, Maryland, has awarded Northrop Grumman Systems Corporation, of El Segundo, California, a $35,752,362 cost-plus-fixed-fee contract to conduct risk reduction activities in support of the MQ-25 Unmanned Carrier Aviation Air System.
Work will be performed in Rancho Bernardo, California (50 percent); Space Park, California (30 percent); and Palmdale, California (20 percent), and is expected to be completed in October 2017. This risk reduction contract is the last of four to be awarded, following those to General Atomics, Boeing, and Lockheed Martin. 

General Atomics Awarded MQ-25 Design Contract
5 October 2016 - The Naval Air Systems Command, Patuxent River, Maryland, has awarded General Atomics Aeronautical Systems, Inc., Poway, California, a $43,736,111 cost-plus-fixed-fee contract to conduct risk reduction activities in support of the MQ-25 Unmanned Carrier Aviation Air System.
The company joins Boeing and Lockheed which were awarded similar contracts last month to refine concepts and develop trade space for requirements generation in advance of the engineering and manufacturing development phase of the program. Work will be performed in Poway, California (90 percent); Cedar Rapids, Iowa (5 percent); and Rancho Bernardo, California (5 percent), and is expected to be completed in October 2017.
Boeing and Lockheed Receive MQ-25 Contracts
26 September 2016 - The Naval Air Systems Command, Patuxent River, Maryland, has awarded Boeing and Lockheed Martin each $43 million cost-plus-fixed-fee contracts to conduct risk reduction activities in support of the MQ-25 unmanned carrier aviation air system.
The contracts will cover refinement of concepts and development of trade space for requirements generation in advance of the engineering and manufacturing development phase of the program.  Work for Boeing's contract will be performed in St. Louis, Missouri (99 percent); and Puget Sound, Washington (1 percent), and is expected to be completed in October 2017.  Lockheed will perform work in Palmdale, California (98 percent); and Fort Worth, Texas (2 percent) through October 2017.
Government Accounting Office Releases CBARS Report
25 March 2016 - The GAO released a report entitled, "Unmanned Carrier-Based Aircraft System: Debate over System's Role Led to Focus on Aerial Refueling" which assesses the current status of the restructured CBARS program (now referred to as the MQ-25 Stingray).
According to the report, the Navy intends to invest more than $2 billion in the CBARS program from fiscal years 2017 through 2021. That investment mirrors the three segments of the original UCLASS program: an air system segment; an aircraft carrier segment; and a control system and connectivity segment. The report anticipates a contract award in 2018 leading to the CBAR's initial operating capability of the mid-2020s. IOC for UCLASS was initially intended to be 2017.