Edredon USV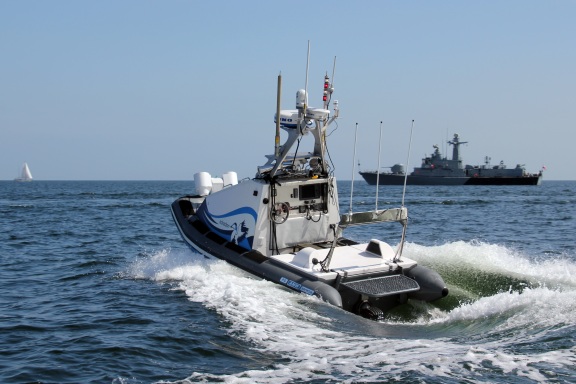 The Edredon is an Unmanned Surface Vehicle developed in Poland by researchers at the Naval Academy in Gdynia, Gdansk University of Technology, and funded by the Ministry of Science and Higher Education. The vehicle is the based on the Sportis company's RIB S 5700 (rigid inflatable boat) and is designed with a modular approach to conduct a variety of maritime missions. Edredon has a Yanmar ZT350 132kW/180 hp sterndrive engine with an endurance of up to 30 hours depending on sea state.
The vehicle has several autonomous functions, including the abililty to return to base upon loss of communications. Edredon is operated by a two-man crew in a containerized control station.
In addition to radar, cameras, and infrared sensors, Edredon can carry equipment to detect conventional explosives, chemical agents, biological materials and radiation. The vehicle can also be weaponized with a machine gun or grenade launcher and modules are being considered which allow for the launch and recovering of an autonomous underwater vehicle (AUV) for duties like mine-hunting. A prototype of the vehicle was demonstrated publically at Kielce in 2011.