Naval Unmanned Aerial Systems
Unmanned Aerial Systems (UAS) and their associated Unmanned Air Vehicles (UAVs) provide navies around the world unique capabilities in intelligence, surveillance, reconnaissance, scouting, and attack. The value of sea-launched UAV include operational and tactical flexibility and the ability to rapidly relocate a launch platform without the concerns of a land-based footprint and associated logistics chain.
 Visit the platform pages to learn more. 
NAVAIR at AUVSI 2016
6 June 16 - NAVAIR junior personnel attended the Association for Unmanned Vehicle Systems International conference May 3 in New Orleans, La. to learn about emerging technologies in the field and how the Navy can take advantage of these capabilities.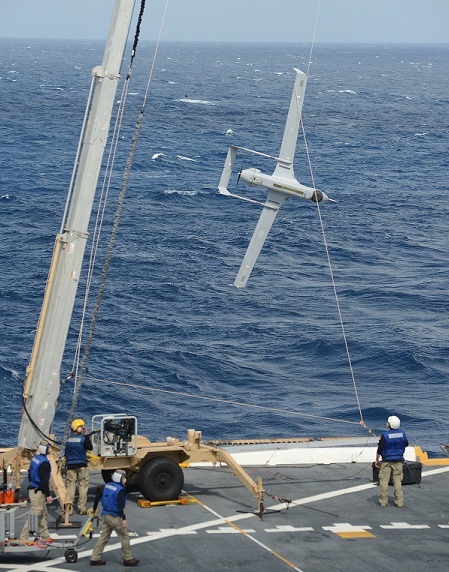 Integrator Completes First At-Sea Testing
13 February 2013 - The Navy's RQ-21A Small Tactical UAS completed its first operational take offs and landings at sea from the San Antonio class dock landing ship USS Mesa Verde (LPD-19).  The testing took place in the Gulf of Mexico on 10 February.  Above, the Integrator is recovered with Insitu's SkyHook capture rope (U.S. Navy Photo).
Unmanned ISR and Future Air Wing Composition
18 January 2013 - Naval aviation is approaching a critical decision regarding unmanned aircraft.
Navy to Establish Dedicated VTUAV Squadron
2 September 2012 - Unmanned Helicopter Reconnaissance Squadron One (HUQ-1) will stand up on October 1 to support the U.S. Navy's growing rotary wing UAV fleet.
Navy to Station Triton Drones in Guam
17 August 2012 - The Navy intends to station the MQ-4C Triton at Anderson Airbase in Guam around 2017.
---
Wireless Energy Transmission: Powering Future Naval Drones
16 August 2012 - The introduction of wireless power transmission technology will add tremendous capabilities to future naval drones.
---
ScanEagles Used in Drone Swarm Testing
14 August 2012 – In June, Boeing and Johns Hopkins University teamed to test swarming functions using two ScanEagle drones.