Expeditionary Fast Transport (T-EPF) Unmanned Systems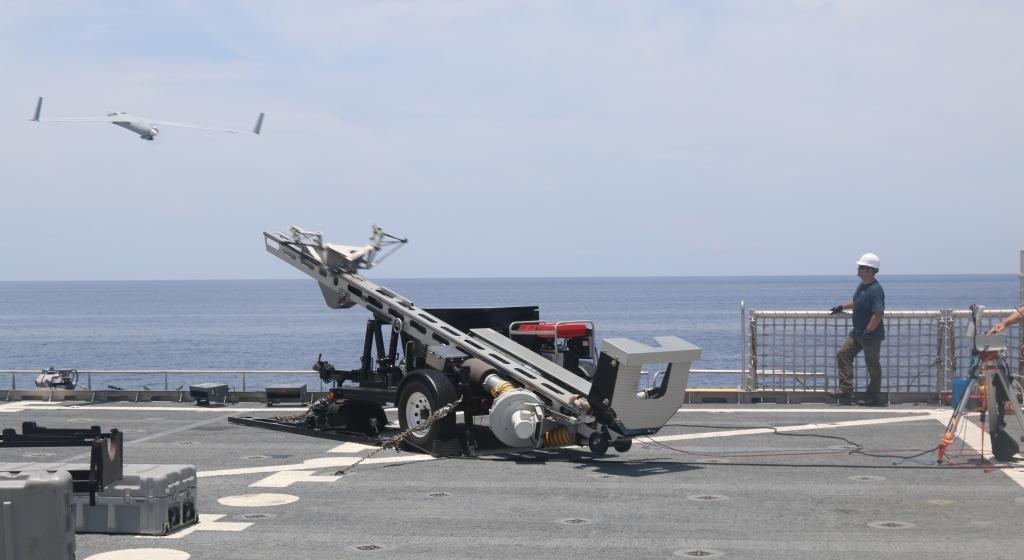 June 2015 - A ScanEagle launches off USNS Spearhead (T-EPF-1)
The U.S. Navy's Military Sealift Command will acquire a total of twelve Expeditionary Fast Transports (formerly designated as Joint High Speed Vessel) built by Austal Ships.  The ships are run by civilian mariners but often embark adaptive force packages consisting of sailors and marines.  To date, both UAVs and UUVs have been operated off the T-EPFs.  
In 2014, the Aqua-PUMA  was operated off USNS Spearhead (T-EPF-1) during her maiden deployment to West Africa and her second deployment to South America.  The Bat was also operated during this deployment.
In the amphibious exercise Bold Alligator 2014, Navy EOD forces operated the Swordfish (Remus 100) UUV.
During Southern Partnership Station 2015's Joint High Speed Vessel 2015 Fleet Experimentation (FLEX) Phase 2, USNS Spearhead (T-EPF-1) operated the Scan Eagle and RQ-20A (Puma). 
6 June 2015 - U.S. Fourth Fleet and Navy Warfare Development Command (NWDC) conduct the first rail launch of a BAT Unmanned Aircraft System off of Joint High Speed Vessel USNS Spearhead (JHSV 1). (U.S. Navy photo by Lt. Jessica Crownover/Released)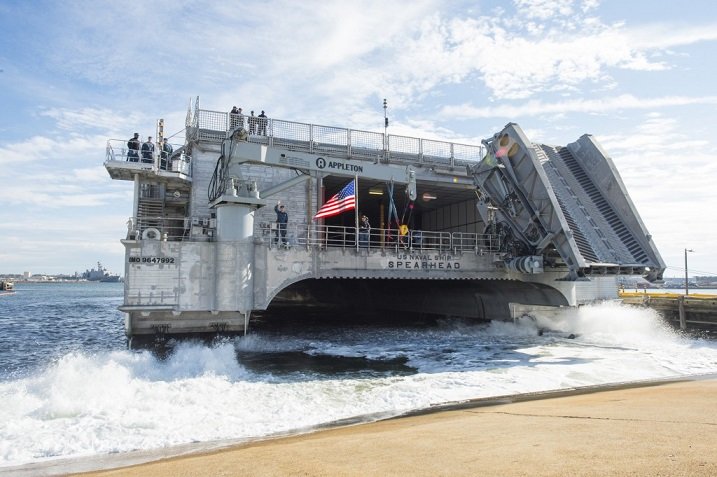 USNS Spearhead (JHSV-1) showing existing stern crane and cargo ramp - US Navy Photo
Navy Seeks Industry Help For JHSV Modular Boat Ramp for Unmanned Systems
13 May 2015 - The U.S. Navy has issued a Small Business Innovation Research (SBIR) solicitation to identify a company to develop a Modular Boat Ramp (MBR) to launch and retrieve manned and unmanned watercraft from the Joint High Speed Vessel (JHSV).
The JHSV's current stern crane was designed to move cargo between the vessel's mission bay and flight deck.  Though originally intended as a cargo transport, the JHSVs are being used for missions requiring boat and unmanned vehicle launches including maritime security, special operations support, and mine-countermeasures. The current crane design makes boat launch and recovery a slow and dangerous evolution, limited by even minor sea states.
The SBIR solicitation calls for a system which is capable of launching and recovery vessels up to 12.32 m (40.41 ft.) long, by 2.74 m (9.00 ft.) wide, by 2.72 m (8.92 ft.) in height in less than fifteen minutes in seas of up to 1.25 meters (Sea State 3).  Vessels types could include 11 meter RHIBs, SEAL Delivery Vehicles (SDV), or SOCOM's 40 Foot High Speed Boats (HSB), along with unmanned surface vehicles and unmanned underwater vehicles.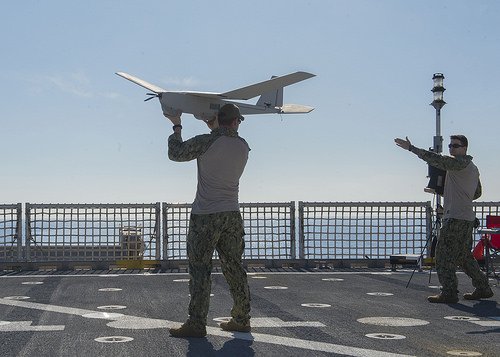 17 February 2014 - Fire Controlman 2nd Class Dustin Gower, left, and Hull Technician 2nd Class Paul Hobson, Sailors assigned to the PUMA unmanned aerial vehicle (UAV) detachment aboard joint, high-speed vessel USNS Spearhead (JHSV 1), prepare to launch the UAV for operational training. Spearhead, the U.S. Navy's first-in-class joint, high-speed vessel, is on its maiden deployment supporting theater security cooperation efforts in the U.S. 6th Fleet area of operations. (U.S. Navy photo by Mass Communication Specialist Seaman Justin R. DiNiro/ Released)

comments powered by