Proteus UUV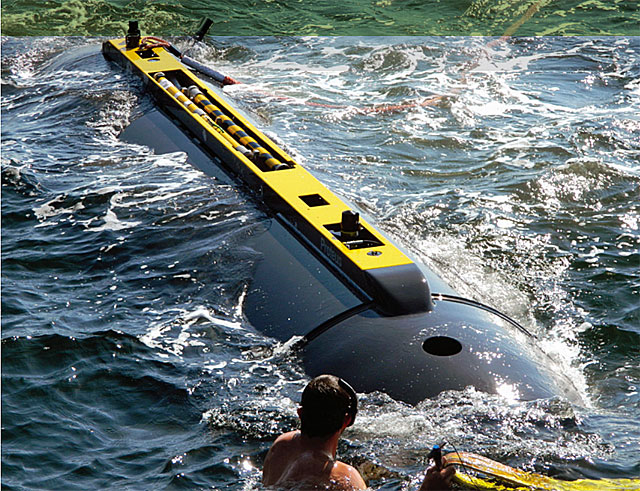 The Proteus vehicle has completed well over a thousand hours of manned and autonomous missions with unique payloads in the waters around Panama City, Florida (photo courtesy of Battelle).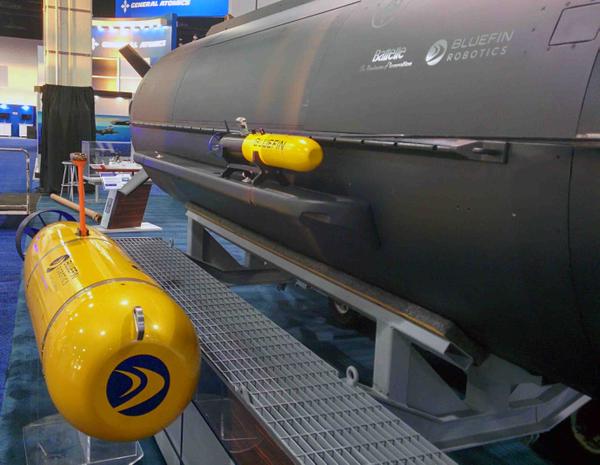 Proteus on display with attached Bluefin SandShark UUV at Sea Air Space 15.

Proteus during sea trials September 2012.  Photo Courtesy of The Columbia Group.
Proteus is an optionally-manned underwater vehicle (sometimes called DMUV, or dual mode underwater vehicle) developed by Battelle subsidiary Bluefin Robotics and The Columbia Group.  The vehicle's hull, mechanical, and electrical systems are derived from The Columbia Group's Mk 8 Mod 1 SEAL Delivery Vehicle (SDV) and it features control and navigation systems from Bluefin UUVs.  Proteus carries up to 170 cubic feet of internal payload with additional external capacity and can operate submerged at a maximum sprint speed of 10 knots.  Proteus ranges 300 nautical miles at four knots with a Bluefin lithium polymer battery or with additional batteries can cruise for up to 1,200 nautical miles.  In a manned configuration, Proteus can carry up to seven naval special warfare operators.
Proteus first conducted sea trials off the Gulf Coast of Florida on 11 September 2012.  The system began autonomy trials off Panama City in the spring of 2013 and tests of long range navigation and cargo delivery are planned for the summer.
Besides insertion of naval special operators, possible missions may include sensor deployment, remote array tending, and use as a platform for deployment and recovery of smaller UUVs.
Proteus Optionally-manned Submersible Completes Extended Tank Testing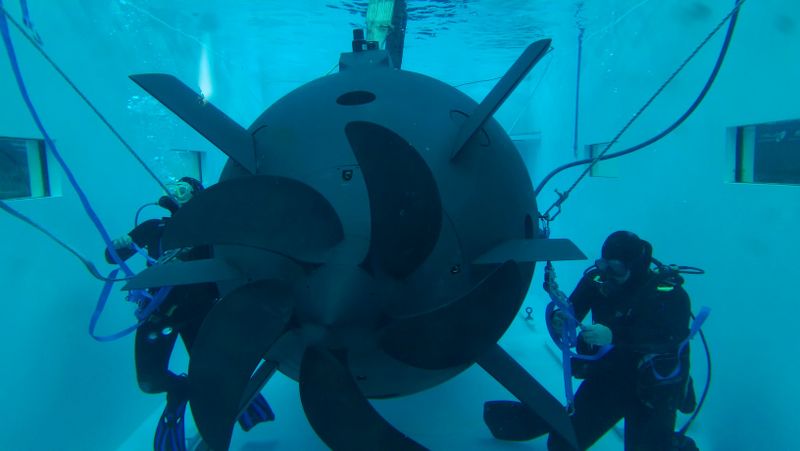 Proteus successfully completed a 30-day simulated unmanned mission earlier this month. The endurance testing was performed in a test tank at Undersea Solution Group's Panama City, Florida, facility to demonstrate the vehicle's reliability and ability to perform long-duration missions contemplated for the U.S. Navy's future unmanned undersea vehicles. HII photo

28 April 2016 - Huntington Ingalls Industries announced that Proteus, the dual-mode undersea vehicle developed by the company's Undersea Solutions Group (USG) subsidiary and Battelle, successfully completed endurance testing earlier this month.
The 30-day simulated unmanned mission was performed in a test tank at USG's Panama City, Florida, facility to demonstrate the vehicle's reliability and ability to perform long-duration missions contemplated for the U.S. Navy's future unmanned undersea vehicles.

Computers in a van beside the test tank fed navigational and depth data to Proteus' autonomy and vehicle control systems to simulate the vehicle running a mission in open water. All systems necessary for an autonomous mission were operational and responded to commands. During the test, Proteus simulated traveling 2,412 nautical miles and ran submerged for 720 hours while executing a full range of simulated mission behaviors.
"HII is committed to developing undersea technologies and systems that support the increased employment of UUVs in the future," said Ross Lindman, USG's vice president, operations. "This test helps provide reliability data and a technical foundation for development of a new generation of long-endurance UUVs to support the U.S. Navy."
Dual Use Submersible Vehicle Wins Prestigious R&D 100 Award for Battelle, The Columbia Group, and Bluefin Robotics
10 July 2013 - Proteus, a new class of underwater vehicle that is unique in its ability to operate in either manned or autonomous mode, has been recognized as one of the best technical products of the year. With large payload capacity, long range, high endurance, and advanced autonomous behaviors, Proteus provides capabilities unavailable in other unmanned underwater vehicles (UUVs).
The awards, known as the "Oscars of Innovation" in the science and technology world, recognize the most significant scientific accomplishments and products of 2012. Battelle, along with the national laboratories it has a role in managing for the U.S. Department of Energy, won a total of 17 awards, bringing its historical tally to 298.
"We're proud that this promising new vehicle has been recognized for the unique maritime technology and engineering accomplishment that it is," said Steve Kelly, President of National Security at Battelle and the Chairman of the Board for Bluefin Robotics.
Combined with its long range and large cargo capacity, this dual capability provides a highly flexible undersea vehicle that can transport divers or deliver payloads at distances of hundreds of miles without human intervention. Based on the heritage of the Swimmer Delivery Vehicle (SDV) built by The Columbia Group and proven in operation with Special Operations Forces Teams, Proteus incorporates cutting edge autonomy software and high-energy-density batteries by Bluefin Robotics to dramatically expand the capabilities available to users of underwater vehicles.
The vehicle can be used for a variety of tasks including: payload integration, test and comparison; advanced autonomy development; long range and stand-off experiments; transporting and installing equipment on the sea floor; inspecting undersea infrastructure such as bridge pilings, undersea pipelines and oil rigs; and transporting divers and cargo.           
Compared to conventionally-sized UUVs, Proteus markedly reduces the need for frequent launch and recovery for any of these applications and can carry much larger payloads or cover much greater distances than has previously been possible. In applications such as undersea inspection that now depend on remotely-operated vehicles (ROVs), Proteus can reduce the need for costly surface support ships because it can operate autonomously.
comments powered by