QH-50 DASH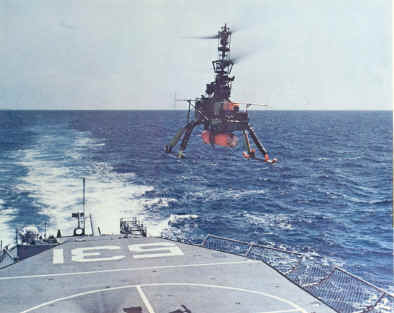 QH-50 Makes its first at sea landing in 1960. Image Courtesy of Gyrodyne Helicopters
The DASH (Drone Anti-Submarine Helicopter) was built by the Gyrodyne Company and served in the U.S. Navy from the mid-1950s in the ASW role and later as a support vehicle for weapons testing and calibration. They carried two MK-44 Homing Torpedoes for a Anti-submarine missions and had a range of about 70 nautical miles.  DASH operated off a total of 165 Navy ships and served as a spotting platform for naval gunfire during the Vietnam War.
DASH became the first unmanned helicopter to land on a ship at sea on December 7, 1960, aboard USS Hazelwood (DD-531).
DASH made its final flight May 5, 2006, at the Short Range Air Defense (SHORAD) site outside the White Sands Missile Range, NM, for the U.S. Army's Program Executive Office for Simulation, Training and Instrumentations' Target Management Office (PEO STRI-TMO).
September 19, 1967 -  QH-50D operates off the deck of the U.S. Naval Destroyer, USS VESOLE (DD-878) during a training flight.