RQ-12A Wasp AE UAV
The Aqua Wasp Micro Air Vehicle is a rucksack-portable UAV developed jointly by AeroVironment and the Defense Advanced Research Projects Agency (DARPA). Aqua Wasp is a marinized version of the Wasp III.
Another variant of the Wasp is designated the RQ-12A and known as the is the Wasp AE (all environment). 

Wasp is hand-launched and can make a stall "dead stick" landing on the water. The UAV has an endurance of 50 minutes and can carry either an electro-optical or infrared sensor package. Wasp is operated with AeroVironment's common ground control station also used with the RQ-20A Puma and the RQ-11B Raven. Both Wasp AE and Puma AE incorporate fully gimbaled camera systems.
Wasp has been tested by US Special Operations Command as the Proximity Outdoor Miniature Robotic Aircraft System (POMRAS) for surveillance and targeting missions.  In January 2013, the US Marine Corps placed a $12 million order for the Wasp AE (All Environment).
Marine Corps Orders $21 Million of AeroVironment Small UAS
24 September 2014 – AeroVironment, Inc. today announced it has received a firm fixed-price order valued at $21,779,408 for RQ-12 Wasp® AE small unmanned aircraft systems (UAS) and initial spares packages for the United States Marine Corps.

The United States Marine Corps, which recently unveiled its next generation small UAS family of systems, is adding RQ-12 Wasp AE as the short-range, or micro, solution to the existing small UAS portfolio made up of the AeroVironment RQ-11B Raven® and RQ-20A Puma™ AE. Puma AE is the USMC's long-range solution.

"Together with the professionals at ADS, whose military-experienced personnel procured this order by demonstrating a clear understanding of the customer's mission and requirements, we are confident that Wasp AE will provide deployed Marines with valuable situational awareness that will help them operate more safely and effectively," said Roy Minson, AeroVironment senior vice president and general manager of its Unmanned Aircraft Systems business segment. 

AeroVironment received the order from ADS, Inc. on behalf of the United States Marine Corps through the Defense Logistics Agency (DLA) Tailored Logistics Support (TLS) program. Delivery is scheduled within 12 months.

Previously procured by the Marine Corps and the U.S. Air Force, the Wasp AE weighs 2.8 pounds, operates for up to 50 minutes at a range of up to five kilometers and delivers live, streaming color and infrared video from its pan-tilt-zoom Mantis i22 AE gimbaled payload. Launched by hand and capable of landing on the ground or in fresh or salt water, the Wasp AE provides portability and flexibility for infantry, littoral or maritime reconnaissance operations. 

"Wasp AE delivers unmatched portability and flexibility with its small size, all-environment operation and advanced capabilities," Minson said.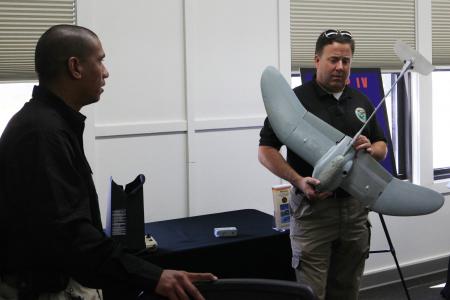 18 June 2013 - Dean McCoy, an unmanned aircraft system commodity management specialist, holds a Wasp AE  Small Unmanned Aircraft System during the official opening of the Training and Logistics Support Activity-West at Camp Pendleton. The TALSA provides Marines with a central location where they can receive Group I SUAS training on new equipment and sustainment training. US Marine Corps Photo - CPL Mark Garcia
---
AeroVironment promotional video demonstrating a prototype Aqua Wasp UAS for a special operations targeting scenario in the riverine environment.