C-Sweep/Halcyon USV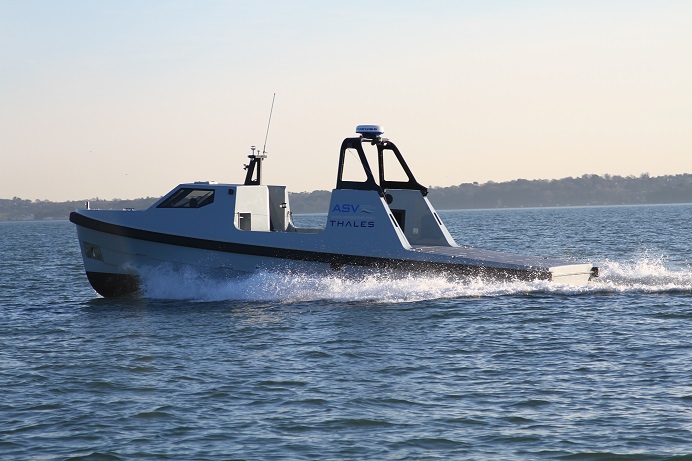 Halcyon on sea trials. 
UK company Autonomous Surface Vehicles Ltd (ASV Ltd) has developed a re-configurable Unmanned Surface Vehicle (USV) under a contract awarded by Thales UK in February 2012. The vehicle is based on ASV's existing C-Sweep USV and designed for future off-board Mine Countermeasures (MCM) operations. The low signature USV is 11.5 meters in length, 3.6 meters in beam, and will have a maximum speed of around 25 knots. Design requirements include:
· Deployable from military platforms, craft of opportunity and from shore/harbor
· Air transportable
· Payload flexibility for all MCM systems – unmanned underwater vehicles, towed sonar, disposal systems, minesweeping
· Stable platform with slow speed maneuverability and towing capabilities
The vehicle began sea trials off Portsmouth in December 2012. A series of payload trials was conducted by Thales from early 2013 onwards, drawing on experience gained in previous off-board system programs.
The vessel has been designated Halcyon by Thales.   
Halcyon on sea trials demonstrating operation of Saab Seaeye's Falcon ROV with Ballista mine neutralization system.
C-Sweep under construction