DARPA Hydra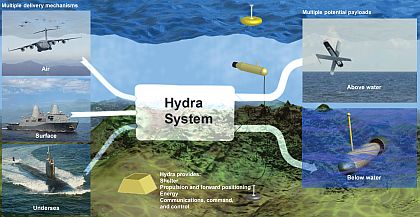 Defense Advanced Research Projects Agency (DARPA) is developing a large, unmanned underwater system named the Hydra that will be configured with modular payloads to clandestinely deploy a mix of UAVs and UUVs. 
The Hydra program will have three phases: 1) define concepts, develop component capabilities, and reduce subsystem risks with one or more contracts in several technical areas; 2) develop and test a full system including UUV mother-ship; 3) test technologies including modular enclosures, air vehicle payloads, undersea payloads, concepts of operation, and supporting technologies.
DARPA Awards Hydra Unmanned System Contracts
16 September 2016 - The Boeing Company, in Huntington Beach, California, has been awarded a $21,885,490 cost-plus-fixed-fee contract for a research project under the Hydra Phase 2 program. The program is intended to develop a distributed undersea network of unmanned payloads and platforms to complement manned vessels in completing missions such as mine counter-measures and intelligence, surveillance, and reconnaissance. 
Work will be performed in Huntington Beach, California (74 percent); Los Angeles, California (5 percent); Santa Fe Springs, California (4 percent); El Cajon, California (2 percent); Long Beach, California (2 percent); Attleboro, Massachusetts (2 percent); Huntsville, Alabama (2 percent); Richardson, Texas (1 percent); Brea, California (1 percent); Orange, California (1 percent); and Mesa, Arizona (1 percent), with an estimated completion date of September 2018. Additionally, a total of 10 contractors will perform five percent of the effort at various locations (each location under one percent of the effort). Fiscal 2016 research and development funds in the amount of $8,500,000 are being obligated at the time of award.

DARPA Releases Hydra Broad Agency Announcement
22 August 2013 - Today the Defense Advanced Research Project (DARPA) released the Broad Agency Announcement for the Hydra system.  The BAA is composed of several technical areas with multiple awards possible in each area.
Technical Area 1 is a modular enclosure that will transport, house and launch various payloads and will serve as a payload agnostic "mission truck" to provide basic services and support to the payload module and individual payloads.  Technical Area 2 will be an Air Vehicle Payload is envisioned to consist of individually encapsulated air vehicles within a module that fits into the standard Hydra modular enclosure.  The UAVs will be ejected from the modular enclosure, float to the surface, launch, fly a minimum range and conduct one or more of the missions in a classified annex.  Technical Area 3 consists of an underwater module to safely transport a small number of existing undersea vehicles.  The module will provide the required energy for long endurance, efficiently transferring energy, transfer and transmit collected information, and launch and dock the vehicles.  Technical Area 4 will develop concepts of operation or conduct architecture studies related to the overall Hydra system.  Technical Area 5 will explore various supporting technologies for the Hydra concept.