APID 60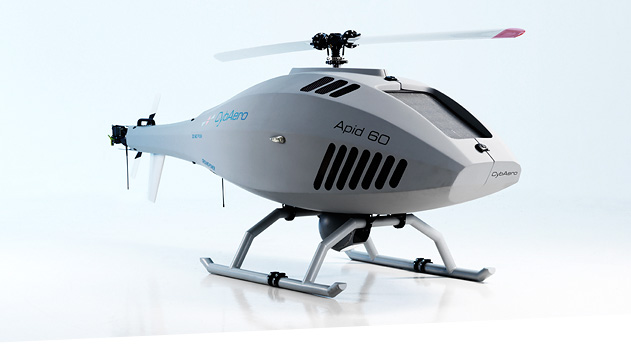 Photo courtesy CybAero

The APID 60 is a vertical take of and landing UAV (VTUAV) built by CybAero in Sweden. The 180 kg aircraft can take off and land fully autonomously on a ship and carry a variety of small payloads. The aircraft was tested in Arctic conditions with the Norwegian Coast Guard in December 2011.
CybAero Delivers UAVs Intended for Chinese Customs Service
31 August 2016 - Three APID One unmanned helicopters systems intended for the Chinese Customs Service ordered by Hong Kong-based Jolly Limited have been delivered from Linköping today.
CybAero will send a flight team to China to train the end-customer's staff and to be on-site for the implementation of the final part of the FAT (Factory Acceptance Test), which needs to take place in China instead of Sweden due to the Swedish rules and regulations. With the change in venue payment is now expected in September/October as opposed to August.
The systems, which are designed to operate from ships, are very advanced and have undergone numerous tests before delivery. The helicopters are for instance equipped with a deck-landing system that CybAero has developed together with Airbus that allows automatic takeoff and landing from a vessel. This was successfully tested under realistic conditions outside Karlskrona, Sweden in late April.
Swedish Armed Forces to test CybAero UAV from Visby corvette
26 November 2014 - CybAero has been selected by the Swedish Defence Materiel Administration (FMV) to conduct test and demonstration flights from Sweden's world-leading Visby class corvette in 2015.
Sweden-based CybAero was chosen ahead of other international competitors. It is estimated that the flights, which will employ CybAero's APID helicopter systems, are to be conducted by the Swedish Armed Forces over Swedish waters during the third quarter of 2015.
The purpose of the flights is to test the strategic and tactical benefits of these systems onboard Swedish Navy vessels. "We are, of course, very proud to have been selected, and this is a testament to the high level of confidence FMV has placed in us," says Mikael Hult, CEO of CybAero.
One of the most important applications of remotely piloted aircraft systems (RPAS) is within maritime applications, and in recent years, CybAero has worked hard to establish its systems in this segment. CybAero will soon make its first deliveries to China Customs, which is the company's first end client within maritime applications."Now that we have been chosen by FMV to conduct the test and demonstration flights, we have a great opportunity to put our systems on display, and this will serve as a good reference point for potential clients in Sweden and abroad," says Mikael Hult.
CybAero UAV to be Upgraded with Rotron Engines
22 July 2014 - Rotron is pleased to announce the launch of a new partnership with CybAero AB, having been selected as the supplier of propulsion systems for CybAero's Apid 60 Helicopter. This news comes after Rotron's announcement of the launch of the first ever series of Commercial Off The Shelf (COTS) heavy fuel engines in the 20-60 HP engine category, at the Farnborough Air Show in July 2014.
Rotron will be supplying CybAero with both the gasoline and heavy fuel version of their RT600 engine, depending on customer requirements. Mikael Hult, CEO of CybAero AB says "this is a reflection of CybAero's determination to become market leader in the VTOL UAV sector."
The military UAV market has coveted heavy fuel engines since NATO's announcement of the single fuel policy in 1997. The policy states that one single fuel should be used across all motorized military assets from chainsaw's to UAV's. Currently, Rotron is the only manufacturer in the world to produce a heavy fuel variant within its engine category. This innovation puts Rotron, and the UK, at the forefront of UAV propulsion in this fast growing sector.
Rotron has developed unique patented technology, enabling heavy fuel propulsion coupled with engine longevity and reliability. The Rotron Heavy Fuel Engine (HFE) is a compact, light-weight heavy fuel rotary engine utilising advanced fuel management techniques to achieve reliability in operation, high power to weight ratio, low fuel consumption and reliable starting under the most extreme of operating conditions.
Rotron's Head of Operations, Charlie Nicoll said, "Rotron is thrilled to be launching our heavy fuel engine series, at Farnborough International Air Show this year. The show is world-renowned and we're delighted to be showcasing our engine capabilities on a global stage at such a prestigious event. Our new partnership with CybAero is a massive step for Rotron towards becoming a global leader in extreme aviation propulsion systems."
Established in 2008, Rotron Power Ltd is a specialist manufacturer of advanced rotary propulsion systems for extreme applications for Unmanned Aerial Vehicle (UAV) applications and is at the forefront of aviation technology. At the heart of Rotron is a dedicated, highly skilled workforce driven by a mutual determination to design, develop and manufacture the next step in UAV propulsion. The Rotron range of advanced rotary engines offers a unique breadth of flexibility to meet the high demands of UAV manufacturers. They reflect a completely new approach to UAV propulsion by redefining the relationship between size, performance, efficiency and reliability. The launch of their range of Heavy Fuel Engines further emphasises Rotron's engineering capabilities as a leading manufacturer in their engine category.
CybAero Awarded China Order
1 July 2014 - CybAero, which develops and sells unmanned helicopters, has received an order guarantee worth SEK 700-800 million through an eight-year framework agreement. The order has been placed by a company in the Chinese AVIC group, one of the world's largest companies which develops and manufactures aircraft and various types of flying vehicles and has over 400,000 employees.
The order is dependent on an export permit being issued by the Swedish Agency for Non-Proliferation and Export Controls (ISP).The order is linked to a framework agreement, through which AVIC has committed to purchasing at least 20 helicopter systems during the first three years and at least a further 50 systems during the following five years.
This gives a total order value of SEK 700-800 million, depending on the final design of the systems. Each system includes helicopters, ground stations and data links. The agreement also covers training and support."This represents a breakthrough in the market for the civil application of unmanned helicopters. Our goal is to become the global market leader with at least 30 percent of the global market. Through this order, which is our biggest to date, we've taken a significant step towards achieving this goal," says Mikael Hult, CybAero's CEO.
To be used by customs, coastguard services and agriculture

CybAero will establish a joint company with AVIC in order to gain access to its volumes and production expertise. In the long-term, the company may carry out some production locally in China for the Asiatic market. CybAero expects to achieve economies of scale through the joint company, which among other things will result in the further streamlining of operations and the potential to operate closer to the local Asiatic market.
Through the joint company, AVIC will entirely target the civil and commercial markets, e.g. customs and coastguard services, the energy sector, agriculture, mapping and rescue services, etc. "The order is the largest ever anywhere in the world in the product segment within which CybAero operates, i.e. vertical take-off and landing unmanned aerial vehicles weighing less than 200kg. This order will be worth nearly SEK 100 million a year if we can turn out the orders over the eight years covered by the agreement. This will provide a stable basis for our entire business for many years to come," says Mikael Hult, and continues:"A condition of the order for AVIC is the granting of a permit by the Swedish Agency for Non-Proliferation and Export Controls, but we don't anticipate there being any problem with this at present. We received an order from the Chinese customs authorities in January worth SEK 50 million, and we have been granted an export permit for this order, which is more complex and technologically advanced. The equipment for which we have now received an order is part of our standard system," says Mikael Hult.
Cyberaero Confirms China Customs APID-60 Order
20 March 2014 - In January, Cyberaero received an order from Jolly Limited (Hong Kong) and the Chinese shipbuilder CSSC (China State Shipbuilding Corporation) for unmanned helicopter systems to be used by China Customs. At the end of February, the company received a license to export from the Swedish Export Agency ISP.
China Customs will use CybAero's unmanned helicopter APID 60 from ships.
"We are extremely excited about the high confidence received from the customer", says Mikael Hult, CEO of CybAero AB. The Chinese order is very important for CybAero in several aspects. "This is a milestone for us. It is our first order from China, an extremely fast growing market with large sea areas to be monitored", says Mikael Hult, CEO CybAero.
CybAero's unmanned helicopter has received considerable global attention due to the fact that it is highly durable and cost effective. It has a range of 200 km and a flight time of six hours. The order for the Chinese customs is the result of many years of work within the Asian market.
"We have received this order in strong competition with both domestic and global leaders. This is an important customer with great future development plans, and we look at this as the start of a long-term cooperation", says Niklas Nyroth, Director Sales and Marketing at CybAero.
The order is a large leap for CybAero into the extensive Asian market.
"This project is for China Customs, and we see great opportunities for further orders from this particular customer", says Niklas Nyroth.
"The project is also an important reference for the entire market in Asia. Several countries in this region view China as a technology development leader, and when a Chinese customer has decided to invest in our unmanned system, so will other clients with similar needs", says Niklas Nyroth.
---
Chinese Customer Places APID 60 Order
28 February 2014 - Swedish-based CybAero has announced that an undisclosed Chinese customer has placed an order in the amount of $7.5 million for the APID 60 vertical take-off and landing unmanned air vehicle.  The vehicle is expected to be operated from ships.
This order was approved by the Swedish Agency for Non-Proliferation and Export Controls.  "We are extremely excited about the confidence we received from the customer. This is our biggest-ever order and proof that we are an interesting provider in a geographic market that is rapidly growing in use and needs of our system," noted Mikael Hult, CybAero's CEO. Deliveries will begin later in 2014.
Video Vault
APID 60 Testing (courtesy CybAero).