ScanEagle UAV
Brazil's Navy Test ScanEagle

18 February 2014 - Boeing demonstrated the ScanEagle Unmanned Aircraft System to the Brazilian Navy during the "Blue Amazon" training exercise 18 February.  Flights took place from the new Amazonas-class offshore patrol vessel built by BAE Systems "APA" (P121) off the coast of Rio de Janeiro.  The testing will support the Aeronave Remotamente Pilotada-Embarcada (Remotely Piloted Aircraft-Embarked: ARP-E) project.  Brazil intends to acquire up to five shipboard-capable unmanned air systems, each with two or three vehicles, a ground control station, data links, and associated sensors.

Royal Navy Chooses ScanEagle
19 June 2013 - The United Kingdom's Ministry of Defense awarded a contract valued at £30 million to operate the ScanEagle UAV on Royal Navy ships.  "ScanEagle represents an important addition to the Royal Navy's intelligence, surveillance and reconnaissance capability," noted Royal Navy Captain Ian Annett.
---
Insitu Demonstrates Compact Launch and Recovery System
27 September 2012 - Insitu Inc., maker of the ScanEagle line of naval unmanned aircraft, demonstrated a more compact version of its launch and recovery system at an Oregon testing range. Sponsored by the Office of Naval Research, the Compact Launch and Recovery System (CLRE) uses a pneumatic launcher and is smaller and lighter than the existing SuperWedge launcher and Skyhook recovery systems. The system is designed for tighter installation on small vessels such as special operations craft.
---
ScanEagles Used in Drone Swarm Testing
14 August 2012 – In June, Boeing and Johns Hopkins University Applied Physics Laboratory teamed to test swarming functions using two ScanEagle drones. According to a Boeing press release, an operator using a laptop and radio "was able to connect with autonomous UAVs, task them and obtain information without using a ground control station." The technology mimics a swarm of insects, synchronizing movement of the drones to autonomously conduct searches and collect intelligence.
Although UAVs have delivered many benefits to those navies using them, the number of sailors and contractors required to operate and process the information from the drones has not necessarily resulted in personnel cost savings required of manned aircraft. The need for further automation in drone operations is one of the drivers for swarming technology. "Swarm network technology has the potential to offer more missions at less risk and lower operating costs," said Gabriel Santander, program director of Advanced Autonomous Networks for Boeing Phantom Works.

comments powered by
---
Dutch ScanEagle Flies First Counter-Piracy Mission

10 August 2012 - The Dutch Navy flew their first ScanEagle mission in support counter-piracy missions launched from HrMs Rotterdam.

---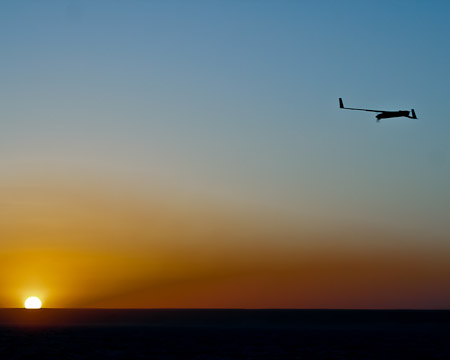 ScanEagle launched from USS Whidbey Island flies an ISR mission over the Indian Ocean - Courtesy of Michael Junge Photography.
Video Vault
28 May 2013 - ScanEagle launched from USS Ponce provides overwatch during IMCMEX 2013.
---
Arabian Gulf (September 2012) ScanEagle recovers aboard USS Ponce AFSB(I)-15