NOAA's Unmanned Systems
The National Oceanographic and Atmospheric Administration (NOAA) has tested and employed a variety of unmanned systems including the Waveglider USV, Puma UAS, and Coyote UAS.  NOAA's missions include weather forecasting, climate monitoring, fisheries management, coastal restoration, and supporting marine commerce.
NOAA Demonstrates Improved Coyote UAS
A team from NOAA and Raytheon successfully demonstrated recent advancements of the Coyote Unmanned Aircraft System (UAS) while completing a mid-flight launch from the NOAA P-3 Hurricane Hunter aircraft on January 7th. The successful flight verified new technology designed to improve Coyote's ability to collect vital weather data to improve hurricane forecasts.
The Coyote was released from NOAA's Hurricane Hunter P-3 aircraft to fly over the Avon Park Air Force Range in Avon Park, Florida in order to measure the transmission range of upgraded technologies. The unmanned aircraft set a new distance record for flight control and data transmission to the P-3, and provided NOAA hurricane forecasters with real-time data on atmospheric air pressure, temperature, moisture, wind speed and direction as well as surface temperature. The Coyote collects all of this essential data at altitudes too low for manned aircraft to safely navigate in the hurricane environment. 

"NOAA is investing in unmanned aircraft and other technologies to increase weather observations designed to improve the accuracy of our hurricane forecasts," said Joe Cione, Ph.D., hurricane researcher at NOAA's Atlantic Oceanographic and Meteorological Laboratory and chief scientist of the Coyote program.  "This successful flight gives us additional confidence that we will be able to use this unique platform to collect critical continuous observations at altitudes in the lower part of a hurricane, an area that would otherwise be impossible to reach with manned aircraft."

Dr. Joe Cione, hurricane researcher at NOAA's Atlantic Oceanographic and Meteorological Laboratory and chief scientist of the Coyote program, holds the Coyote in front of NOAA's P-3 aircraft at MacDill Air Force Base. Image credit: NOAA

The Coyote, a small aircraft launched from the belly of the P-3, is capable of maneuvering in the most violent regions of a hurricane, collecting data to help improve accuracy of current storm conditions and eventually forecasts. Because hurricanes are fueled by warm ocean water, information collected at the interface of atmosphere and ocean is vital to the understanding and prediction of a storm's strength.
"Here at the National Hurricane Center, we are keenly interested in obtaining measurements from the Coyote of the strongest winds near the center of the storm," said Chris Landsea, science operations officer at NOAA's National Hurricane Center (NHC). "Coyote could help us paint a better picture of current storm intensity for our storm updates."

The platform was tested in a major hurricane for the first time during the 2014 Atlantic hurricane season when researchers flew multiple Coyote missions into Hurricane Edouard at controlled altitudes as low as 400 feet, providing NOAA with real-time data on the storm's structure. After the successful hurricane flights, scientists and engineers went to work to upgrade the Coyote technology with the goal of improving its operational capacity.
One of the keys to the future utility of the platform was improving its ability to fly farther from the P-3 launch aircraft while providing continuous data from its array of sensors. Engineers at NOAA's Aircraft Operations Center and Raytheon successfully developed and installed a new antenna and radio, allowing operators to stay in communication with the Coyote as it flew away from the hurricane hunter aircraft during the flight.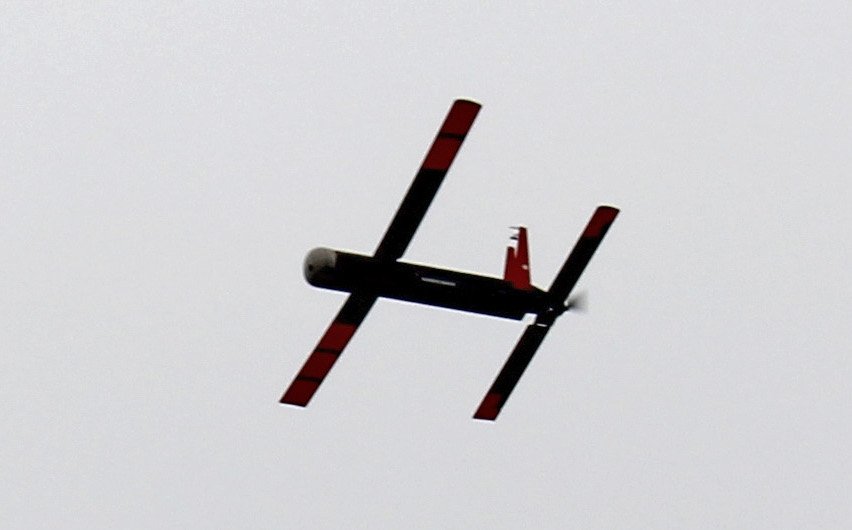 7 January 2016 - The upgraded Coyote UAS flies over the Avon Park Air Force Range during a demonstration flight. Image credit: NOAA

"We've made some significant improvements to Coyote. It can now fly for 50 miles away from the launch aircraft," said Dr. Thomas R. Bussing, vice president of the Advanced Missile Systems product line at Raytheon. "Raytheon technology is playing a key role in enhancing safety for hurricane researchers, and helping to deliver vital information about potentially deadly storms to the American people."
During Hurricane Edouard, the P-3 had to fly within five to seven miles of the Coyote in order to pick up its signal. The increased flight range allows the P-3 to deploy the Coyote and continue on its own flight pattern at a higher altitude while monitoring Coyote's position relative to a storm and the hurricane hunter aircraft.
The Coyote is now equipped with an upgraded instrument package that includes an infrared sensor to measure sea surface temperature. These measurements should help scientists better understand how a hurricane extracts energy from the ocean – and how it might intensify or change. The team also is working towards optimizing battery life, which should allow the Coyote to fly longer in future hurricane flights. 
The flight verified the Coyote's ability to transmit the data collected from its instrument package to operators aboard the P-3 as well as at NOAA's National Hurricane Center, where personnel monitor storms and develop forecasts. Data from Coyote flights will provide NHC with an additional source of real-time measurements that will assist forecasters in the development of the most accurate estimates of a storm's current intensity. Data collected from the Coyote will eventually be incorporated into hurricane models to help fill the data gap created by a lack of spatial coverage in the lower portions of a storm.
NOAA adopted the Coyote, a platform originally developed by the Navy for maritime surveillance, for hurricane research in 2009. Manufactured by Raytheon Co., of Waltham, Mass., NOAA's mission for Coyote is to help improve forecasts of hurricane intensity at levels where it will directly impact people and property.

With the potential for becoming an operational component of NOAA's fleet of hurricane technologies, researchers continue to upgrade components of Coyote that will improve data collection and reduce per unit cost. These improvements could expand Coyote's application to other aspects of NOAA's portfolio where remote access and observation is essential.  
Liquid Robotics Signs R&D Agreement with NOAA
24 April 2014 - Liquid Robotics and the National Oceanic and Atmospheric Administration (NOAA) today announced the signing of a multi-year, Cooperative Research & Development Agreement (CRADA) designed to advance ocean observations to improve U.S. weather forecasting, fisheries management and environmental monitoring. The NOAA/Liquid Robotics CRADA combines the significant product capabilities of the Wave Glider, a revolutionary, wave powered unmanned ocean robot, with NOAA's engineering, data analysis and modeling expertise for applications that will have long-term benefits to the general public. 
"Over several years, we've worked closely with Liquid Robotics on multiple applications with their innovative technology, the Wave Glider. We've used the Wave Glider to demonstrate advances in hurricane forecasting, measure CO2 levels, monitor the Arctic marine environment, detect tsunamis and collect fisheries data," said Craig McLean, NOAA's deputy assistant administrator of the Office of Oceanic and Atmospheric Research. "I am pleased to establish this agreement to strengthen our important partnership and to improve environmental observations." 
The NOAA/Liquid Robotics CRADA will focus research on three primary areas: 
• Expand and enhance integrated sensor capabilities that will augment information needs, fill data gaps and lower data acquisition costs. 
• Improve unmanned platform operational capabilities or geographic scope of coverage to collect data in areas or in conditions too difficult or risky for manned observations. 
• Utilize sensor data collected from unmanned platforms to augment or replace existing data collection technologies (i.e. moored buoys, satellites, research vessels). 
More specifically, the CRADA will involve collaboration for: 
• Improvement of hurricane intensity forecasting models 
• Arctic meteorological and oceanic exploration 
• Coastal mapping/hydrographic surveys 
• Carbon dioxide monitoring and ocean acidification data gathering 
• Fisheries surveys 
• Marine animal population assessments 
• High precision water quality measurements in the Great Lakes 
• Augmentation or replacement of coastal weather buoys 
• Improvement of domain awareness of marine sanctuaries 
Additionally, there will be research expeditions to augment weather satellite data collection records by providing high resolution, surface (in-situ) data over long duration time periods (up to a year) and vast ocean expanses never before affordable or feasible to collect. 
"We are excited to be working closely together with NOAA to advance ocean observations with long duration autonomous systems," said Bill Vass, CEO of Liquid Robotics. "We believe our Wave Glider technology provides a cost efficient way to gather scientific and environmental data to address the many challenges ahead." 
---
NOAA Issues Solicitation for Multi-rotor UAS
18 April 2014 -Yesterday the National Oceanographic and Atmospheric Administration (NOAA) issued a request for quotation set aside for a small business to provide a multi-rotor unmanned air system and associated ground control station for use from a ship or rigid hull inflatable boat. 
The multi-rotor (hexacopter or octocopter) must be capable of carrying a high resolution camera payload weighing up to 360 grams for a 20-30 minute flight at ranges of up to a kilometer away from the control station. The aircraft will be used to assess populations of marine mammals, seabirds, and sea turtles.  It will also collect breath samples from whales. The solicitation is listed here.