---
The Evolution of Drone Motherships - Part I
25 October 2012 - Drones are carried by a wide variety of naval platforms, and in some cases, other drones themselves.
---
Naval Drone Tech: Countering UUVs
14 October 2012- How will navies detect and neutralize the increasing number of unmanned underwater vehicles?
---
DARPA Concludes RQ-4A In-Flight Refueling Program
8 October 2012- DARPA's air-to-air refueling test will benefit future Navy UAV programs.
---
Reversing Asymmetry with Unmanned Naval Systems
30 September 2012 - Can drones reverse the threats caused by the proliferation of mines, diesel submarines, and anti-ship missiles?
---
27 September 2012 - Unmanned naval systems are rapidly reaching the physcal limits of current power technologies and innovation is required to overcome these challenges.
---
21 September 2012 - Multimedia highlights from the unmanned-systems heavy International Mine Countermeasures Exercise (IMCMEX) 12.
---
20 September 2012 - The Navy Warfare Development Command's Navy Center for Innovation will demonstrate John Hopkins University Applied Physics Laboratory's Cloak Blade Micro-Copter on September 24.
---
RQ-21A Integrator Continues Flight Testing

13 September 2012 - The Navy's RQ-21A Small Tactical Unmanned Air System (STUAS) began developmental tests with a 66 minute flight on September 10 at Naval Air Weapons Station China Lake, California.

---
Mine Warfare Gets a Boost From Drones
12 September 2012 - Old ships combined with new unmanned systems upgrade the Navy's MCM capabilities.
---
Art, Technology, and Drones
8 September 2012 - A unique mash-up of unmanned aircraft and 3D printing has implications for future naval operations.
---
5 September 2012 - The Navy has made investments on a number of fronts to support the rapidly growing fleet of unmanned systems.
---
Navy to Establish Dedicated VTUAV Squadron
2 September 2012 - Unmanned Helicopter Reconnaissance Squadron One (HUQ-1) will stand up on October 1 to support the U.S. Navy's growing rotary wing UAV fleet.
31 August 2012 - Technologies developed for the civilian drone market will have naval applications.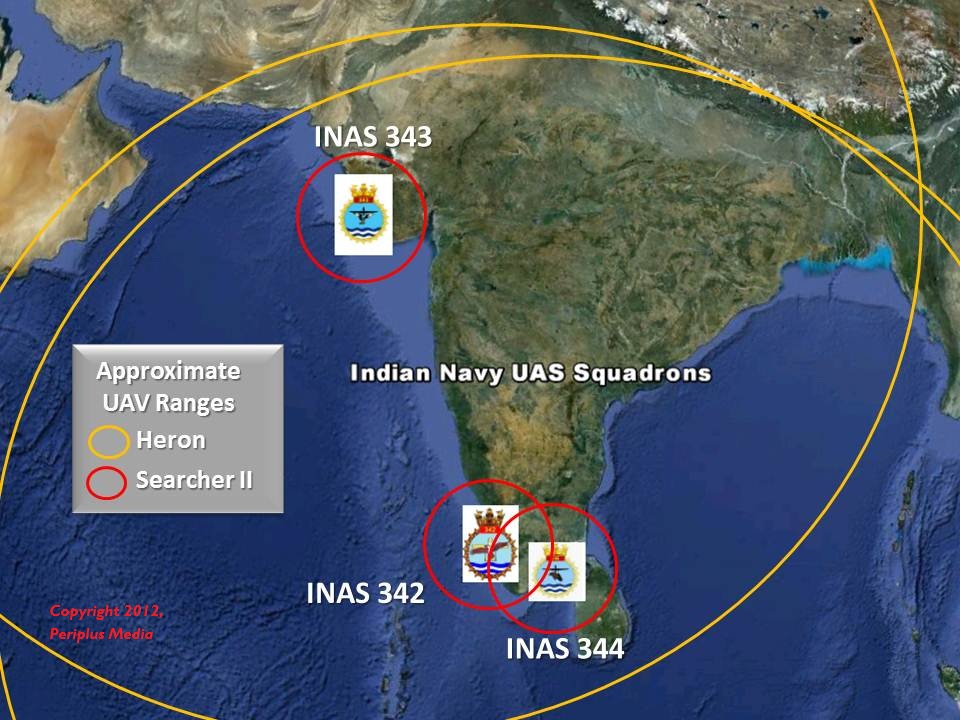 India's three UAV bases.
India's Growing Unmanned Naval Fleet
30 August 2012 - With millions of square km to patrol, unmanned drones are becoming increasingly important for India's Navy.
Wave-powered USV's for Future Naval Intelligence Collection
28 August 2012 - Long duration autonomous vehicles designed for oceanography are also applicable to naval missions.
---
24 August 2012 - Scott Cheney-Peters discusses the operational and tactical aspects of autonomous sub-hunting.
---
Designing for Drones from the Keel Up

21 August 2012 - Naval Drones looks at how the UK might integrate unmanned systems into the Type 26 frigate.
---
Move Over Jessica Biel - Tom Cruise to Fly a Drone in Top Gun II?
19 August 2012 – UAVs will take the starring role in Top Gun II.
---
Navy to Station Triton Drones in Guam
17 August 2012 - The Navy intends to station the MQ-4C Triton at Anderson Airbase in Guam around 2017.
---
Wireless Energy Transmission: Powering Future Naval Drones
16 August 2012 - The introduction of wireless power transmission technology will add tremendous capabilities to future naval drones.
---
ScanEagles Used in Drone Swarm Testing
14 August 2012 – In June, Boeing and Johns Hopkins University teamed to test swarming functions using two ScanEagle drones.
---
CUSV Tested at Trident Warrior
12 August 2012 - Textron Systems Fleet-class Common Unmanned Surface Vessels (CUSV) demonstrated unmanned mine hunting.
---




Dutch ScanEagle Flies First Counter-Piracy Mission

10 August 2012 - The Dutch Navy flew their first ScanEagle mission in support counter-piracy missions launched from HrMs Rotterdam.

---