2014 Naval Drones Headlines
2014: The Year in Naval Drones
30 December 2014- A summary of the top unmanned naval systems stories circulating social media and the news this year.
---
First Navy At Sea Tests for MQ-8C Fire Scout
23 December 2014 – The U.S. Navy and Northrop Grumman Corporation successfully flew the MQ-8C Fire Scout system for the first time off the guided-missile destroyer, USS Jason Dunham (DDG 109), December 16 off the Virginia coast.
---
Fire Scout Operates off U.S. Coast Guard Cutter
16 December 2014 – The U.S. Coast Guard, in conjunction with Northrop Grumman Corporation and the U.S. Navy, flew the MQ-8B Fire Scout unmanned helicopter off the national security cutter (NSC), USCGC Bertholf (WMSL-750), December 5 off the coast of Naval Base Ventura County, Point Mugu, California.
---
12 December 2014 - The U.S. Navy completed tests on the GhostSwimmer unmanned underwater vehicle (UUV) at Joint Expeditionary Base Little Creek-Fort Story (JEBLC-FS), December 11.
---
Swedish Armed Forces to test CybAero UAV from Visby Corvette
26 November 2014 - CybAero has been selected by the Swedish Defence Materiel Administration (FMV) to conduct test and demonstration flights from Sweden's world-leading Visby class corvette in 2015.
---
ONR to Hold Industry Day on LDUUV Antisubmarine Warfare Packages
20 November 2014 - Tomorrow, the Office of Naval Research will hold a classified industry day tomorrow in Arlington, Virginia to inform industry concerning research areas desired for the development of an Anti-submarine Warfare Mission Package (ASWMP) for ONR's future Large Displacement Unmanned Undersea Vehicle (LDUUV). 
---
Leidos Completes As-Sea Testing of Prototype Robotic Sub Hunter
18 November 2014 - Reston, Virginia-based Leidos completed a total of 42 days of at-sea demonstrations of the prototype maritime autonomy system designed to control all of the maneuvering and mission functions of the Defense Advanced Research Projects Agency's (DARPA) Anti-Submarine Warfare Continuous Trail Unmanned Vessel (ACTUV).
Kratos Successfully Tests BQM-177A Target Drone
6 November 2014 - Kratos Defense & Security Solutions, Inc. announced today that its Unmanned Systems Division (USD) has successfully completed its first U.S. Navy flight test for its BQM-177A Subsonic Aerial Target (SSAT) Unmanned Aerial Drone System.
---
NAVAIR Issues Sense & Avoid Radar Solicitation
4 November 2014 - Naval Air Systems command has issued a request for information for airborne radar/antenna capabilities that can serve to meet MQ-4C Triton Unmanned Aircraft System (UAS) Sense and Avoid (SAA) Radar capability requirements.
---
Minehunting Robots in the Middle East: IMCMEX 2014
04 November 2014 - Nineteen unmanned underwater vehicles and more than 40 nations take on the challenge of mine clearance in FIFTH Fleet's International Mine Clearance Exercise.
---
Analysis: Private Security Offers UAVs for Anti-piracy Operations
03 November 2014 - It's not surprising to see another naval mission where unmanned air vehicles have bled into the private sector. At least one private security company has offered UAV services as an anti-piracy solution.

---
SeeByte Automatic Target Recognition Software Now Compatible with L-3 Klein Associates Sonar  
31 October 2014 - SeeByte has successfully demonstrated their Automatic Target Recognition (ATR) software using a L-3 Klein Associates sonar payload (L-3 Klein UUV 3500, dual frequency 455/900 kHz) on an Iver-3 vehicle.
---
S-100 UAV Helps Save 2,800 Refugees
31 October 2014 - As part of the Migrant Offshore Aid Station (MOAS) operation Schiebel's CAMCOPTER® S-100 UAS (Unmanned Air System) helped to save the lives of over 2800 refugees in the Mediterranean Sea during several missions.
---
DCNS Signs Agreement with Airbus Defense & Space for the Development of Tanan Ship-based UAS
30 October 2014 - As part of the 2014 Euronaval exhibition, Airbus Defence and Space and DCNS signed a cooperation agreement on Tuesday 28 October 2014 in Paris to develop a ship-based helicopter UAS capability.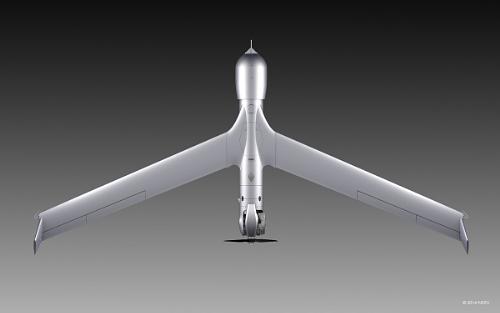 Insitu Unveils Upgraded ScanEagle UAV
29 October 2014 - From its booth at the Euronaval Exhibition and Conference in Paris, Insitu announced today ScanEagle 2, the next generation of its ScanEagle platform.
---
BMT and MSubs Collaborate to Deliver a Maritime UxV Sea Range
25 October 2014 - BMT Isis, a subsidiary of BMT Group Ltd (BMT) and Plymouth based MSubs Ltd are collaborating to develop a fully instrumented Maritime Sea Range in which to test unmanned craft.
---
NATO Research Center Completes Unmanned Search & Rescue Trials
24 October 2014 - The NATO Centre for Maritime Research and Experimentation (CMRE) recently hosted maritime sea trials of advanced robotic platforms which can support crisis intervention teams in detecting, locating and rescuing humans in danger, in maritime and land disaster scenarios. 
---
Analysis: Groping in the Dark - Unmanned Underwater Navigation
23 October 2014- How one junior officer's research will change the way autonomous vehicles navigate in the future.
---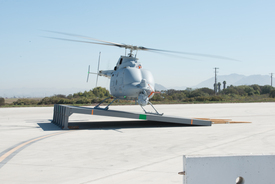 Photo Courtesy of Northrop Grumman
MQ-8C Ready for Shipboard Testing
23 October 2014 –Northrop Grumman Corporation successfully completed precision sloped landing tests Aug. 27 with the MQ-8C Fire Scout at Naval Base Ventura County, Point Mugu, in preparation for at-sea testing.
---
Second Northrop Grumman Triton UAV Takes Flight
16 October 2014 - The U.S. Navy's second MQ-4C Triton unmanned aircraft system (UAS) has successfully completed its first flight. 
Analysis: The Navy's Swarming Boats - Sorting Through the Hype
9 October 2014 - The U.S. Navy recently demonstrated a swarm of automated boats.  But will the hype live up to the reality?
---
Textron Systems Awarded Contract for Unmanned Mine Countermeasures System
8 October 2014 - Textron Systems Unmanned Systems has been awarded a $33.9 million contract by the U.S. Navy to provide the Littoral Combat Ship with an unmanned mine counter-measures system.  
---
Northrop Grumman Conducts Successful Demonstration of Unmanned Mine Detecting Sensor System for US Naval Forces Central Command
16 October 2014 - The U.S. Navy recently conducted trials of a towed mine hunting sonar from an unmanned surface vehicle in the Arabian Gulf.
---
Opinion: On Defending Ships with Countermeasure Drones 
2 October 2014 - Will UAVs drive the next wave of anti-ship defense technology?
NATO Researchers Uncover Seabed Secrets with Underwater Robots 
 
2 October 2014 - The NATO Research Vessel Alliance is conducting the Multinational AutoNomy Experiment (MANEX '14) along the Ligurian coast, in order to demonstrate the advantages of mapping the seabed using autonomous vehicles. 
---
Marine Corps Orders $21 Million of AeroVironment Small UAS
24 September 2014 – AeroVironment, Inc. today announced it has received a firm fixed-price order valued at $21,779,408 for RQ-12 Wasp® AE small unmanned aircraft systems (UAS) and initial spares packages for the United States Marine Corps.
---
Boeing And Liquid Robotics Sign Multi-Year Agreement to Develop Solutions for Maritime Surveillance
23 September 2014 - Boeing and Liquid Robotics today signed a global, multi-year teaming agreement for collaboration on product development, maritime services and operational deployments.
---
DARPA Awards Phase II Ship-based UAV Contract to Northrop Grumman
22 September 2014 - DARPA has awarded a Phase II contract in the amount of $19,267,875 to Northrop Grumman Systems Corporation to for the ship-based Tactically Exploited Reconnaissance Node (TERN) Unmanned Aerial Vehicle.
---
LCS Fort Worth to Deploy with Fire Scout
17 September 2014 - USS Fort Worth (LCS 3) will embark the MQ-8B Fire Scout vertical take-off unmanned aerial vehicle during its 16-month Western Pacific forward deployment later this year.  
---
Kratos Receives $4.8 Million Unmanned Aerial Drone Control System Delivery Order

16 September 2014 - Kratos Defense & Security
Solutions, Inc. announced today that its Micro Systems, Inc. subsidiary of the Kratos Unmanned Systems Division (KUSD) recently received a delivery order from the U.S. Navy for unmanned aerial drone system command and control systems and services.
---
IBC Advanced Alloys Delivers Test Components to Fire Scout Program
15 September 2014- IBC Advanced Alloys Corp. has successfully delivered An assembly of three test components for the Navy's MQ-8B Fire Scout Vertical Takeoff UAS using IBC's proprietary Beralcast® technology. 
---
NAVAIR Integrates UCLASS Common Control System Software
10 September 2014 - NAVAIR engineers recently installed new software for the Navy's Unmanned Carrier-Launched Airborne Surveillance and Strike (UCLASS) system's control station at the program's Naval Air Station Patuxent River lab.
---
Raytheon Missile System Intercepts Over-water UAS
28 August 2014 - Raytheon Company and the U.S. Army achieved the first intercept of a cruise missile by the Accelerated Improved Intercept Initiative missile. An AI3 missile also destroyed an unmanned aerial system (UAS). Both intercepts occurred during the recent Black Dart demonstration – a U.S. military exercise held July 29 - August 11 off the coast of California.
---
Canada's Defense Research Center Integrates SeeByte's SeeTrack Neptune software into Unmanned Surface Vehicle
1 September 2014 - SeeByte and SeaRobotics, a leading provider of autonomous and unmanned systems, are proud to announce the integration of SeeByte's SeeTrack Neptune with SeaRobotics' family of general purpose Unmanned Surface Vehicles (USV) as part of a Defence Research and Development Canada (DRDC) contract.
---
Large Diameter Unmanned Underwater Vehicle Delivered to Submarine Squadron
28 August 2014 - The Large Training Vehicle 38 (LTV 38) was recently delivered for testing and training to Commander, Submarine Development Squadron FIVE's UUV Detachment.
---
X-47B Conducts Joint Flight Ops with Manned Aircraft
17 August 2014 - The Navy's unmanned X-47B conducted joint flight operations with an F/A-18 aboard the aircraft carrier USS Theodore Roosevelt (CVN 71) (video) 
Boeing Names New Insitu President
6 August 2014 –Boeing and subsidiary Insitu Inc. today named Ryan Hartman Insitu president and CEO, effective immediately.
Hartman most recently served as senior vice president, Insitu Programs. He succeeds CEO Steve Morrow, who is retiring.
---
Insitu Integrator Demonstrates 24 Hour Long Flight
22 July 2014 – Insitu announced today the successful 24-hour flight of its Integrator unmanned aircraft.
---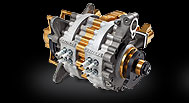 CybAero UAV to be Upgraded with Rotron Engines
22 July 2014 - Rotron has announced that its rotary engines will be installed on CybAero's Apid 60 Helicopter. 
Navy Anti-submarine Warfare Drone Begins Construction
7 July 2014 - An autonomous unmanned vessel designed to track quiet diesel-electric submarines spanning miles of ocean depths for months at a time with minimal human input is now under construction and is expected to set sail for testing in 2015. Leidos (formerly SAIC), has begun construction on DARPA's ACTUV (Autonomous Continuous Trail Unmanned Vessel).
---
Boston Engineering Receives State Grant to Enhance BIOSwimmer UUV
28 June 2014 - Boston Engineering today announced the award of a $200,000 START Stage II grant to advance the development of its BIOSwimmer™ autonomous UUV.
---
Navy Releases Investigation on USS CHANCELLORSVILLE Drone Crash
27 June 2014 - The U.S. Navy's Pacific Fleet has released its command investigation into the malfunctioning BQM-74 target drone that impacted the guided missile cruiser CHANCELLORSVILLE (CG 62) during a missile tracking exercise last November.
---
DARPA and ONR to Team on Long Range Ship-based UAV
13 June 2014 - DARPA and the Office of Naval Research (ONR) recently signed a Memorandum of Agreement (MOA) on a joint DARPA/Navy research and development program called "Tern.
---
NATO Glider Experiment Underway in Sardinian Sea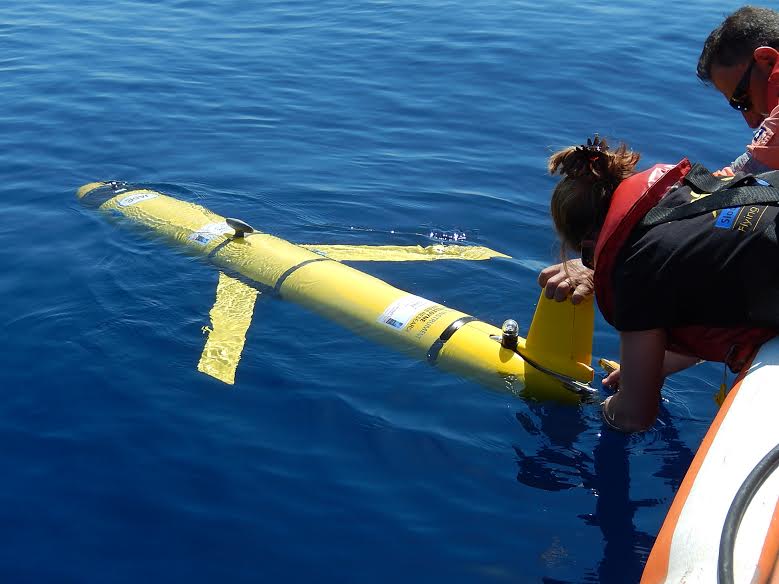 12 June 2014 - From 6 to 26 June 2014 the Sardinian Sea will be the site of the REP14-MED experiment, where scientists and engineers from 21 partners and six nations will test and develop new systems, technologies and solutions for ocean monitoring and seabed characterization using autonomous underwater gliders.
---
Polish Navy Chooses Saab ROV For Mine Countermeasures
10 June 2014 - Defense and security company Saab announces that the Polish Navy has chosen the Double Eagle system for the Kormoran II MCMV.
Schiebel Demonstrates the S-100 to the Brazilian Navy
5 June 2014 – Schiebel´s dedication to the maritime domain and its ability to respond to the evolving unmanned systems requirements lead to a series of trials for the Brazilian Navy from 2nd to 5th June near San Pedro, Brazil, from the Brazilian Amazonas Class Ship APA. 
---
U.S. Navy Extends Textron Unmanned ISR Services
19 May, 2014 — Textron Systems Unmanned Systems announced today a new task order under the U.S. Navy Intelligence, Surveillance and Reconnaissance (ISR) Services program with the Aerosonde that is expected to reach full operational capability by the end of May.
---
UTC Aerospace Selected for Unmanned Vehicle Propulsion Contract
14 May 2014 - UTC Aerospace Systems has been selected by the Office of Naval Research (ONR) to proceed with the next phases of the Long Endurance Undersea Vehicle Propulsion (LEUVP) energy program.
---
Sagetech to Research Development of Miniature IFF Transponder for Navy UAVs
12 May 2014 - Sagetech Corporation announced a new contract with the U.S. Navy Identification Systems Branch to estimate the development of a Mode 5 military aviation transponder
---
Aurora Flight Sciences Awarded Phase II AACUS Contract
7 May 2014 - Aurora Flight Sciences has been down-selected over Lockheed Martin for a $13.7 million contract to complete development of the autonomous aerial cargo/delivery system (AACUS).
---
MQ-8C Fire Scout Prepares for Shipboard Flights
5 May 2014 - In preparation for ship-board flights this spring, the Northrop Grumman Corporation-built MQ-8C Fire Scout will be tested for its ability to operate safely in the intense electromagnetic environment aboard U.S. Navy ships.
---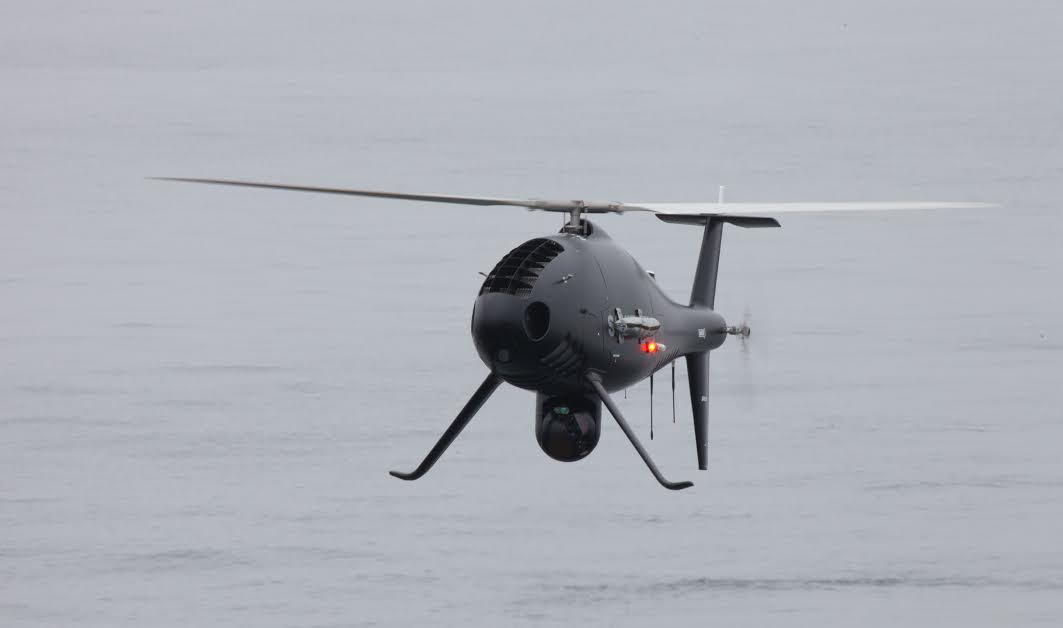 Photo courtesy of Schiebel
S-100 UAS Demonstrated to Dutch Maritime Authorities
30 April 2014 – Schiebel's CAMCOPTER® S-100 Unmanned Air System (UAS) successfully demonstrated its capability to perform in several different maritime scenarios to Dutch Authorities in Den Helder, The Netherlands, on 29 April 2014. 
---
Liquid Robotics Signs R&D Agreement with NOAA
24 April 2014 - Liquid Robotics and the National Oceanic and Atmospheric Administration (NOAA) today announced the signing of a multi-year, Cooperative Research & Development Agreement (CRADA) designed to advance ocean observations to improve U.S. weather forecasting, fisheries management and environmental monitoring. 
---
NOAA Issues Solicitation for Multi-rotor UAS
18 April 2014 -Yesterday the National Oceanographic and Atmospheric Administration (NOAA) issued a request for quotation set aside for a small business to provide a ship-board small unmanned air system.
---
Coast Guard Requests Info on Persistent Unmanned Vehicles
17 April 2014 - The U.S. Coast Guard has issued a request for information to assess the viability of persistent Unmanned Marine Vehicles (UMV) to support its missions.
---
Bluefin 21 "Artemis" Continues Search for MH370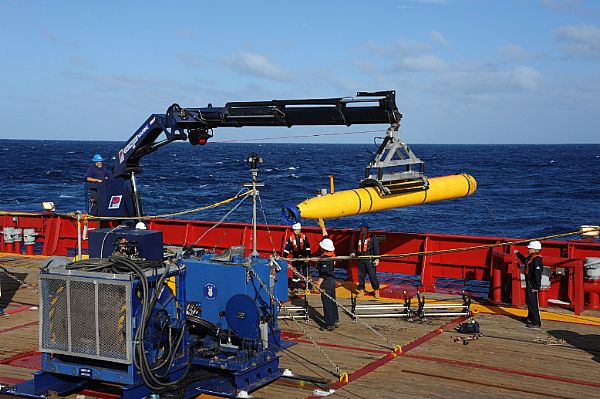 U.S. Navy Photo

16 April 2014 - The U.S. Navy's Bluefin 21 autonomous underwater vehicle "Artemis" continues to search for wreckage from Malaysian Air Flight 370 Boeing 777 in the Southern Indian Ocean West of Australia.

---
Navy Includes LBS-UUV on Unfunded List
3 April 2014 - In a letter to the Chairman of the House Armed Services Committee, Representative "Buck" McKeon, the Chief of Naval Operations requested $6 million for Hydroid's Littoral Battlespace Sensing Unmanned Underwater Vehicle (LBS-UUV) on the Pentagon's Fiscal Year 2015 Unfunded Priorities list.
---
Initial Triton Testing Complete

21 March 2014 - The Navy's MQ-4C Triton completed its initial flight test phase at Northrop Grumman's Palmdale, Calif., facility March 13, bringing the unmanned air system one step closer to introduction to the fleet in 2017.

---
How Naval Drones Could Help Solve the Mystery of Malaysian Airlines Flight #370
20 March 2014 - If the wreckage is found, what happens next? 

---
MQ-8C Surpasses 100 Flight Hours

19 March 2014 - According to Naval Air Systems Command, on 10 March the MQ-8C unmanned helicopter surpassed 100 flight hours.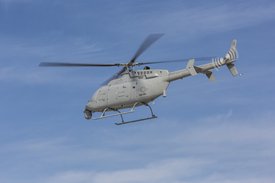 NAVAIR Photo
---
Raytheon Awarded Contract to Supply Remote Minehunting System Sonar
3 March 2014 - Raytheon Company has been awarded $35.5 million to provide the U.S. Navy with AN/AQS-20A minehunting sonar systems and equipment.
---
Chinese Customer Places APID 60 Order
28 February 2014 - Swedish-based CybAero has announced that an undisclosed Chinese customer has placed an order in the amount of $7.5 million for the APID 60 vertical take-off and landing unmanned air vehicle.  The vehicle is expected to be operated from ships.

---
HASC Leader Continues to Press SECNAV on UCLASS Requirements
18 February 2014 - Congressman Randy Forbes, Chairman of the House Subcommittee on Seapower and Projection Forces, penned a second letter to Secretary of the Navy Ray Mabus concerning the forthcoming UCLASS Draft Request for Proposal.
---
13 February 2014 - Northrop Grumman Corporation and the U.S. Navy successfully flew the second MQ-8C Fire Scout unmanned helicopter for the first time. Conducted at Naval Base Ventura County, Point Mugu, California, the flight will allow the team to ramp up testing efforts to prepare the system for operations. 

---
Seebyte Releases New Sonar Mosaic Tool
11 February 2014 - SeeByte has today announced the launch of a new Multibeam Imaging Sonar Mosaic Tool for use with the company's SeeTrack CoPilot software.

---
Kratos Receives U.S. Navy Unmanned Aerial Drone System Single Contract Award
11 February 2014 - Kratos Defense & Security Solutions, Inc. announced today that its Micro Systems, Inc. subsidiary of its Advanced Drone and Targets Systems Division recently received a four-year Basic Ordering Agreement from the U.S. Navy valued at up to $29.6 million for unmanned aerial drone command and control systems and services.

---
IAI Unveils New Unmanned Surface Vehicle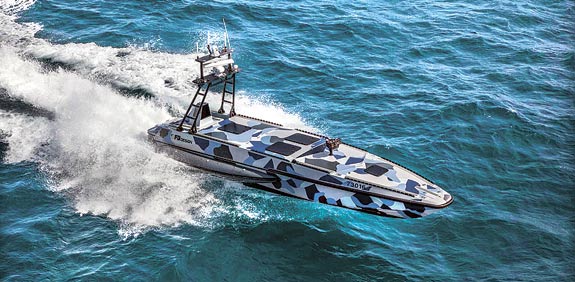 6 February 2014 - Israel Aerospace Industries (IAI) unveiled its new Unmanned Surface Vessel (USV) combat marine system - "KATANA" for Homeland Security applications at the Defexpo 2014 Land, Naval & Internal Homeland Security Systems Exhibition in New Delhi. (Follow  title link to video)
---
U.S. Navy Begins Blackjack UAS Operational Testing
29 January 2014 - NAVAL AIR SYSTEMS COMMAND, PATUXENT RIVER, Md. – The Navy and Marine Corps' newest small unmanned aircraft system RQ-21A Blackjack began its initial operational test and evaluation (IOT&E) in early January at Marine Corps Air Ground Combat Center Twentynine Palms, California.
---
Royal Canadian Navy Integrates New EOD Software into Unmanned Vehicles
13 January 2014 - Edinburgh-based SeeByte has successfully integrated SeeTrack Neptune with the OceanServer Iver2 Autonomous Underwater Vehicle (AUV) for the use of Defence Research and Development Canada (DRDC).
---